The Friday Scramble – Round 1
Friday is upon us and we now know the final teams. I have had a quick look for you to help you through your Good Friday changes.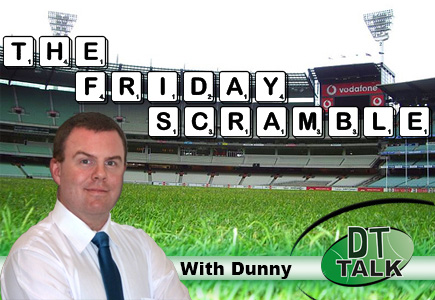 Ahh, this feels familiar, back in my normal place on a Friday.  And Happy Good Friday to you all.  Just thought I would pop in and give you a few thoughts on teams and just a couple of things to watch out for.
Firstly though, did you have Kamdyn McIntosh on the field last night?  Wow he was fantastic for his 101 in DT and 120 in Supercoach!  In two of the three formats I had him on the field, in the other one I had him as an emergency. If you really want his score in AFL Fantasy you could put a non player on the field, some one you think will play soon  if you had Kamdyn as your emergency. That is the only format I would suggest that due to the large number of trades you have. But even if you missed out on his score, you will at least get his price rise!
Great to see Gary Ablett Jnr named. This is enough for me to pick him.  In that same game Adam Saad is named and is third on the bench.  I expect that Greg Broughton will get the vest so Saad should be ok.  The big news from that game is that Vandenberg was not only elevated yesterday but named too.  This certainly helps us all.  Newton and Hogan were also named which helps us and Angus Brayshaw has also been named.  Not sure on this one as I think he and Vandenberg will be fighting for the Green Vest.
Isaac Heeney was named for the swans on the field.  Lock n Load.  Similarly Adam Oxley is also on the field, load him up too.  I see De Goey getting the vest in that game.  For the Eagles we have Tom Lamb named at CHF, so clearly the replacement for Darling.  Don't discount this kid, I saw him live in the NAB and I liked what I saw.  Mitch Honeychurch on the bench worries me but even more worrying is that Brett Goodes is named last on the bench.  I still say pick him up, but put him on your bench if you can as I think he is a vest candidate. Interestingly  Hamling fort he doggies wasn't named.  I saw him in a few draft teams over the last few weeks.  Make the changes accordingly.
For the Giants Cam McCarthy is on an extended bench and is last on that list.  Alarm bells there for me.  Keep a keen eye on final selections tomorrow afternoon when they come out at about 5pm to see if he survives.  I think he will.  Cam Ellis-Yolman has been named on the extended bench. I am a little nervous about this but I think he should be safe.  I see Martin, Lyons and possibly Jenkins being the three that miss out for the Crows.
Lastly Naika Cockatoo has been named for the Cats.  He is first on the extended interchange but personally I would not take the risk with him.  Given this game is on Monday, full lockout for AFL Fantasy will have taken place before you know the final squad for that game.  In the other formats that both have rolling lockouts this weekend you will be able to take the risk as you can still make changes with other options available.
Just my few thoughts on the team sheets with particular emphasis on the rookies for you.  I will be back with a regular Friday Scramble for you next week.  Enjoy the rest of your Easter Break and I will catch you all next week.  Cheers