The Thursday Scramble! – Round 1
Round 1 is here already! Seems like it took forever to get here but now it seems like we don't have any time left! Bloody hell, that means it is time to SCRAMBLE!!!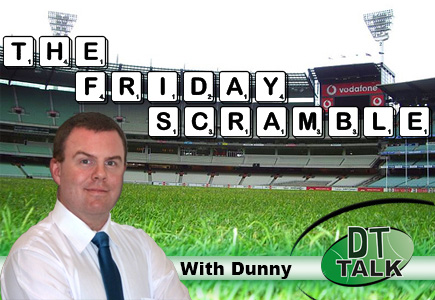 Wow, what a difference a day makes, this is all new territory being here on a Thursday instead of my normal Friday slot, but hey, if the AFL want to start things a Thursday I don't have any issues with that! So… lockout, what do you need to know? Well I have tried to summarize all of the different things for you below.
Gary Ablett again
So we are now hearing that Gaz will be named tonight. Do we pick him? Let's be honest, it is Gaz we are talking about here. The man is Fantasy Royalty. I must say I am now trying to work him into my sides. I don't have the exact numbers at hand, but last time he came off of no pre-season I recall he ended up with an average over the 110 mark. I know that last week I said we should be cautious, but when it comes down to it I am struggling to leave him out of my team.
Rookies
Now that we have teams announced for one game we know which rookies are playing and which aren't for Carlton v Richmond and so this may also have triggered another big change to your sides (particularly if you were counting on Kane Lambert playing!). Just remember that we will know the green vests for this game and for the Saturday afternoon game between Melbourne and Gold Coast. This is critical so we will know whether or not Saad, Hogan, Salem and any other rookies should be on our ground or not before our final AFL Fantasy lockout.
In RDT and Supercoach we have full rolling lockouts of course this week (and only this week in RDT) so you will know the vests as we get further through the weekend. However, just remember, the further through the weekend you get the less other options you have, so you may just have to take one of the guys with a vest this week on your field as if you leave it until Monday hoping that say someone like Jed Anderson misses out on the vest and he is a late withdrawal then you are stuck and will end up with some spud that you didn't want in the first place. So just make sure that you have a plan B in place all the way through the weekend.
Given that Kamdyn McIntosh has been named on the wing, I am assuming that he won't be getting a green vest. I know Jeppa says questionable job security, but being named on the field goes a long way for me.
Click here to read Jeppa's Rookie Guide.
Essendon
We know now that the Essendon players are all available to play this weekend. This does two things for you. Firstly we now know we can pick them with confidence (pending any appeals process, but I am ignoring that for now as this legal stuff could take a while). This means that guys we were overlooking like Hibberd, Heppell and Bellchambers are now all good to go and can be picked. This is especially important in your draft leagues. There may have been some quality players that were overlooked in your draft because they were from Essendon and people were playing it safe. If you haven't already jump into your league and look at the waiver wire and see what bargains are there to be found. This could just win you the league!
Lockouts
This weekend we have a couple of differences to our lockouts for the different games, so listen up and I will try make this as simple as I can. Will I stuff it up? Maybe.
AFL Fantasy – Partial Lockout tonight. So all Carl and Rich players will be locked and then a Full Lockout commences on Saturday Afternoon when the Melbourne v Gold Coast Game starts.
Real Dreamteam – For this weekend only, there is a Full Rolling Lockout. This means that players will only lock once their game commences. So you can still play with Hawks and Cats players right up to the start of their game on Easter Monday.
Supercoach – Always a rolling lockout, so nothing to see here, move along.
Click here for Calvin's Captains.
Leagues
With your leagues, make sure that they are full today. Don't wait any longer, fill them with anyone you can as after tonight you may find them having random people in them.
AFL Fantasy leagues lock as at lockout TONIGHT. Also your teams need to have 30 players in them and be complete, even though you can make changes on Friday.
Supercoach 10 team leagues will lock at lockout TONIGHT. So you need to have them filled up.
Supercoach 18 team leagues will need to be filled prior to SUNDAY NIGHT. So make sure you have it done by Sunday Afternoon and you should be fine.
Real Dreamteam leagues will need to be filled prior to SUNDAY NIGHT. So like Supercoach, make sure you have filled them prior to Sunday Afternoon.
 Things To Remember:
AFL Fantasy Prices Change after 1 game!  BEWARE! You have been warned!!
Rookie selection is important but if you miss one it isn't the end of the world, you can make a corrective trade in the next week or two before their price rises (depending on game type).
One low scoring game from a Premium isn't the end of the world. Don't drop them from just one bad game. Everyone has a bad day now and then.
One week doesn't make a season. If you have a shocker in the first week don't despair. I recall reading that some of the winners of DT in the past had bad first weeks and continued to climb from there.
Don't Panic!!
Just a few thoughts there guys.  Stay tuned to twitter etc on Thurs Night/Friday as we all digest the team announcements etc as it will be important with your rookies. I might throw up an abbreviated Friday Scramble early Friday morning once we have seen teams.
If you haven't read it yet, get on to Jeppa's Junior 2015 Season Guide.  But let's be honest if you read DTTalk you have read, re-read and printed Jeppa's guide!
It is a long season guys, so buckle up, settle back and let's have some fun!  You can catch me on Twitter @pkd73 throughout the year, I will do my best to help you all out.