The Bacon Cup – Elite draft 2015
See how Roy, Calvin and Warnie's mates draft panned out.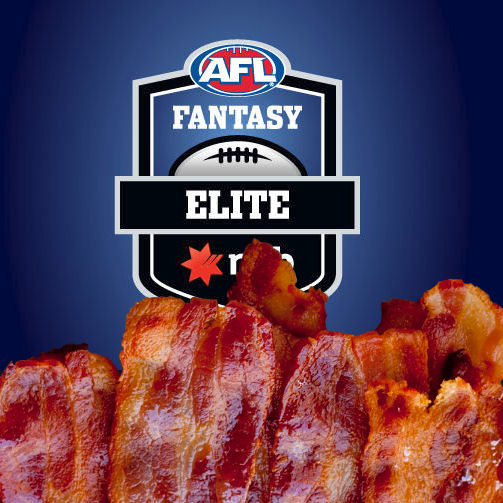 We held our mates draft last night in AFL Fantasy Elite called the "Bacon Cup"… as we love our fantasy pigs. Last week we decided our draft order drawing a runner in the Golden Slipper.
I won't go into too much about what happened as I'm about to do my DT Shiva draft. I have pick 4, much better than the pick 10 I had last night. Anyway. Check out the table below to see how it all unfolded. It was interesting as quite a few blokes were taking part in their first draft. All in all it was fun and a few have learnt a lot from the night. Best of all the beers were flowing!
Some notes:
The first forward went at pick 4 with Stu backing in Dane Swan. Following was Jimmy Bartel (#5 Roy), Dustin Martin (#9 Chop) and Robbie Gray (#11 Chook).
Scottie is a Lions fan and backed in Stefan Martin pretty early… some would say stupidly early. I was happy to take Sam Jacobs with my second pick (#15).
Tit-ed took Dyson Heppell at 18 as the first Bombers. There were a few coaches not scared off by the Bombers.
Below is the draft order in a table. Followed by the teams as drafted.
| PICK | COACH | FIRST NAME | LAST NAME | CLUB | POSITION |
| --- | --- | --- | --- | --- | --- |
| 1 | Manzacs | Tom | Rockliff | BL | MID |
| 2 | Calvinator | Gary | Ablett | GC | MID |
| 3 | Thunder Thighs | Dayne | Beams | BL | MID |
| 4 | The Soup Nazi's | Dane | Swan | COLL | FWD/MID |
| 5 | destROY | Jimmy | Bartel | GEEL | FWD |
| 6 | Pokestars | Scott | Pendlebury | COLL | MID |
| 7 | Tackling Tit-Ed | Steve | Johnson | GEEL | MID |
| 8 | Scottie Doesn't Know | Stefan | Matin | BL | RUC |
| 9 | A Point For Trying | Dustin | Martin | RICH | FWD/MID |
| 10 | Warne Dawgs | Jordan | Lewis | HAW | MID |
| 11 | Merv Gray Autos | Robbie | Gray | PA | FWD/MID |
| 12 | SIGABRT | Michael | Barlow | FRE | MID |
| 13 | SIGABRT | Steele | Sidebottom | COLL | MID |
| 14 | Merv Gray Autos | Brett | Deledio | RICH | FWD/MID |
| 15 | Warne Dawgs | Sam | Jacobs | ADE | RUC |
| 16 | A Point For Trying | Luke | Hodge | HAW | DEF/MID |
| 17 | Scottie Doesn't Know | Nick | Malceski | GC | DEF |
| 18 | Tackling Tit-Ed | Dyson | Heppell | ESS | MID |
| 19 | Pokestars | Joel | Selwood | GEEL | MID |
| 20 | destROY | Luke | Parker | SYD | MID |
| 21 | The Soup Nazi's | Josh P. | Kennedy | SYD | MID |
| 22 | Thunder Thighs | Nat | Fyfe | FRE | MID |
| 23 | Calvinator | Lance | Franklin | SYD | FWD |
| 24 | Manzacs | Brendon | Goddard | ESS | FWD/MID |
| 25 | Manzacs | Kade | Simpson | CARL | DEF |
| 26 | Calvinator | Adam | Treloar | GWS | MID |
| 27 | Thunder Thighs | Shane | Mumford | GWS | RUC |
| 28 | The Soup Nazi's | Michael | Hibberd | ESS | DEF |
| 29 | destROY | Matt | Priddis | WC | MID |
| 30 | Pokestars | Devon | Smith | GWS | FWD |
| 31 | Tackling Tit-Ed | Todd | Goldstein | NM | RUC |
| 32 | Scottie Doesn't Know | Brent | Harvey | NM | FWD/MID |
| 33 | A Point For Trying | Matthew | Lobbe | PA | RUC |
| 34 | Warne Dawgs | James | Kelly | GEEL | DEF |
| 35 | Merv Gray Autos | Dayne | Zorko | BL | FWD |
| 36 | SIGABRT | Toby | Greene | GWS | MID |
| 37 | SIGABRT | Jack | Redden | BL | MID |
| 38 | Merv Gray Autos | Ivan | Maric | RICH | RUC |
| 39 | Warne Dawgs | Harley | Bennell | GC | FWD/MID |
| 40 | A Point For Trying | Jarryd | Roughead | HAW | FWD |
| 41 | Scottie Doesn't Know | Jack | Ziebell | NM | FWD/MID |
| 42 | Tackling Tit-Ed | Travis | Boak | PA | MID |
| 43 | Pokestars | Patrick | Ryder | PA | RUC/FWD |
| 44 | destROY | Jack | Newnes | STK | DEF/MID |
| 45 | The Soup Nazi's | Trent | Cotchin | RICH | MID |
| 46 | Thunder Thighs | Shaun | Burgoyne | HAW | DEF/MID |
| 47 | Calvinator | Will | Minson | WB | RUC |
| 48 | Manzacs | Rory | Sloane | ADE | MID |
| 49 | Manzacs | Jack | Macrae | WB | MID |
| 50 | Calvinator | Dion | Prestia | GC | MID |
| 51 | Thunder Thighs | Chad | Wingard | PA | FWD |
| 52 | The Soup Nazi's | Andrew | Mackie | GEEL | DEF |
| 53 | destROY | Luke | Dahlhaus | WB | FWD |
| 54 | Pokestars | Bryce | Gibbs | CARL | MID |
| 55 | Tackling Tit-Ed | Jack | Gunston | HAW | FWD |
| 56 | Scottie Doesn't Know | Heath | Shaw | GWS | DEF |
| 57 | A Point For Trying | Matt | Suckling | HAW | DEF |
| 58 | Warne Dawgs | Jamie | Elliott | COLL | FWD |
| 59 | Merv Gray Autos | Corey | Enright | GEEL | DEF |
| 60 | SIGABRT | Tom | Mitchell | SYD | FWD/MID |
| 61 | SIGABRT | Shaun | Higgins | NM | DEF/FWD |
| 62 | Merv Gray Autos | Jarrad | McVeigh | SYD | MID |
| 63 | Warne Dawgs | Brodie | Smith | ADE | DEF |
| 64 | A Point For Trying | Dan | Hannebery | SYD | MID |
| 65 | Scottie Doesn't Know | Kieren | Jack | SYD | MID |
| 66 | Tackling Tit-Ed | Justin | Westhoff | PA | FWD |
| 67 | Pokestars | Matthew | Jaensch | ADE | DEF |
| 68 | destROY | Jobe | Watson | ESS | MID |
| 69 | The Soup Nazi's | Nick | Riewoldt | STK | FWD |
| 70 | Thunder Thighs | Callan | Ward | GWS | MID |
| 71 | Calvinator | Josh | Gibson | HAW | DEF |
| 72 | Manzacs | Bachar | Houli | RICH | DEF |
| 73 | Manzacs | Paul | Chapman | ESS | FWD |
| 74 | Calvinator | Heritier | Lumumba | MELB | DEF/MID |
| 75 | Thunder Thighs | Grant | Birchall | HAW | DEF |
| 76 | The Soup Nazi's | Steven | Motlop | GEEL | FWD/MID |
| 77 | destROY | Marcus | Bontempelli | WB | FWD/MID |
| 78 | Pokestars | Ben | McGlynn | SYD | MID |
| 79 | Tackling Tit-Ed | Kade | Kolodjashnij | GC | DEF |
| 80 | Scottie Doesn't Know | Paul | Duffield | FRE | DEF |
| 81 | A Point For Trying | Jack | Riewoldt | RICH | FWD |
| 82 | Warne Dawgs | Nathan | Jones | MELB | MID |
| 83 | Merv Gray Autos | Ryan | Griffen | GWS | MID |
| 84 | SIGABRT | Mitch | Robinson | BL | FWD/MID |
| 85 | SIGABRT | Nic | Naitanui | WC | RUC |
| 86 | Merv Gray Autos | Sam | Gibson | NM | MID |
| 87 | Warne Dawgs | Matthew | Boyd | WB | MID |
| 88 | A Point For Trying | Kane | Cornes | PA | MID |
| 89 | Scottie Doesn't Know | Craig | Bird | SYD | FWD/MID |
| 90 | Tackling Tit-Ed | Shannon | Hurn | WC | DEF |
| 91 | Pokestars | Michael | Johnson | COLL | DEF |
| 92 | destROY | Aaron | Sandilands | FRE | RUC |
| 93 | The Soup Nazi's | Marc | Murphy | CARL | MID |
| 94 | Thunder Thighs | Allen | Christensen | BL | FWD/MID |
| 95 | Calvinator | Tom J. | Lynch | GC | FWD |
| 96 | Manzacs | Matthew | Leuenberger | BL | RUC |
| 97 | Manzacs | Josh J. | Kennedy | WC | FWD |
| 98 | Calvinator | Taylor | Adams | COLL | FWD/MID |
| 99 | Thunder Thighs | Patrick | Dangerfield | ADE | MID |
| 100 | The Soup Nazi's | Ben | McEvoy | HAW | RUC |
| 101 | destROY | Jed | Adcock | BL | DEF |
| 102 | Pokestars | Danyle | Pearce | FRE | FWD/MID |
| 103 | Tackling Tit-Ed | Jeremy | Cameron | GWS | FWD |
| 104 | Scottie Doesn't Know | Andrew | Swallow | NM | MID |
| 105 | A Point For Trying | David | Mundy | FRE | MID |
| 106 | Warne Dawgs | Brandon | Ellis | RICH | MID |
| 107 | Merv Gray Autos | Lachie | Neale | FRE | MID |
| 108 | SIGABRT | Adam | Cooney | ESS | FWD/MID |
| 109 | SIGABRT | Andrew | Walker | CARL | DEF |
| 110 | Merv Gray Autos | Harry | Taylor | GEEL | DEF |
| 111 | Warne Dawgs | Dale | Thomas | CARL | FWD/MID |
| 112 | A Point For Trying | Sam | Mitchell | HAW | MID |
| 113 | Scottie Doesn't Know | Brad | Ebert | PA | MID |
| 114 | Tackling Tit-Ed | Ollie | Wines | PA | MID |
| 115 | Pokestars | Jarrod | Harbrow | GC | DEF/MID |
| 116 | destROY | Jaeger | O'Meara | GC | MID |
| 117 | The Soup Nazi's | Mitch | Duncan | GEEL | MID |
| 118 | Thunder Thighs | Mark | LeCras | WC | FWD |
| 119 | Calvinator | Levi | Greenwood | COLL | MID |
| 120 | Manzacs | Brent | Stanton | ESS | MID |
| 121 | Manzacs | Paul | Seedsman | COLL | DEF |
| 122 | Calvinator | Andrew | Gaff | WC | MID |
| 123 | Thunder Thighs | Garrick | Ibbotson | FRE | DEF |
| 124 | The Soup Nazi's | Sam | Docherty | CARL | DEF |
| 125 | destROY | Jack | Grimes | MELB | DEF |
| 126 | Pokestars | Pearce | Hanley | BL | MID |
| 127 | Tackling Tit-Ed | Robert | Murphy | WB | DEF |
| 128 | Scottie Doesn't Know | Luke | Shuey | WC | MID |
| 129 | A Point For Trying | David | Zaharakis | ESS | MID |
| 130 | Warne Dawgs | Trent | McKenzie | GC | DEF |
| 131 | Merv Gray Autos | Rohan | Bewick | BL | DEF/MID |
| 132 | SIGABRT | Liam | Picken | WB | DEF |
| 133 | SIGABRT | Tom | Liberatore | WB | MID |
| 134 | Merv Gray Autos | Dom | Tyson | MELB | MID |
| 135 | Warne Dawgs | Isaac | Smith | HAW | MID |
| 136 | A Point For Trying | Rhyce | Shaw | SYD | DEF |
| 137 | Scottie Doesn't Know | Chris | Yarran | CARL | DEF |
| 138 | Tackling Tit-Ed | Liam | Shiels | HAW | MID |
| 139 | Pokestars | Matthew | Wright | ADE | FWD/MID |
| 140 | destROY | Leigh | Montagna | STK | MID |
| 141 | The Soup Nazi's | Shane | Savage | STK | DEF |
| 142 | Thunder Thighs | Joshua | Kelly | GWS | FWD/MID |
| 143 | Calvinator | Tom | Lynch | ADE | FWD |
| 144 | Manzacs | Jack | Steven | STK | MID |
| 145 | Manzacs | Tom | Hawkins | GEEL | FWD |
| 146 | Calvinator | Brent | Reilly | ADE | DEF |
| 147 | Thunder Thighs | Nick | Vlastuin | RICH | DEF |
| 148 | The Soup Nazi's | Hamish | Hartlett | PA | MID |
| 149 | destROY | Sam | Fisher | STK | DEF |
| 150 | Pokestars | Luke | Breust | HAW | FWD |
| 151 | Tackling Tit-Ed | Adam | Tomlinson | GWS | FWD |
| 152 | Scottie Doesn't Know | Zac | Smith | GC | RUC |
| 153 | A Point For Trying | Bernie | Vince | MELB | MID |
| 154 | Warne Dawgs | Chris | Masten | WC | MID |
| 155 | Merv Gray Autos | Ricky | Petterd | RICH | FWD/MID |
| 156 | SIGABRT | Scott | Thompson | ADE | MID |
| 157 | SIGABRT | Matthew | Pavlich | FRE | FWD |
| 158 | Merv Gray Autos | Scott | Selwood | WC | MID |
| 159 | Warne Dawgs | Travis | Cloke | COLL | FWD |
| 160 | A Point For Trying | David | Swallow | GC | MID |
| 161 | Scottie Doesn't Know | Cyril | Rioli | HAW | FWD |
| 162 | Tackling Tit-Ed | Dane | Rampe | SYD | DEF |
| 163 | Pokestars | James | Frawley | HAW | DEF |
| 164 | destROY | Sharrod | Wellingham | WC | FWD/MID |
| 165 | The Soup Nazi's | Taylor | Walker | ADE | FWD |
| 166 | Thunder Thighs | Alex | Fasolo | COLL | DEF/FWD |
| 167 | Calvinator | Matthew | Stokes | GEEL | MID |
| 168 | Manzacs | Lachie | Hunter | WB | FWD |
| 169 | Manzacs | Shaun | Atley | NM | DEF |
| 170 | Calvinator | Jeremy | Howe | MELB | DEF |
| 171 | Thunder Thighs | Brad | Crouch | ADE | MID |
| 172 | The Soup Nazi's | Stephen | Hill | FRE | MID |
| 173 | destROY | Scott | Lycett | WC | RUC/FWD |
| 174 | Pokestars | Jake | Carlisle | ESS | DEF/FWD |
| 175 | Tackling Tit-Ed | Nick | Dal Santo | NM | MID |
| 176 | Scottie Doesn't Know | Will | Langford | HAW | MID |
| 177 | A Point For Trying | Jay | Schulz | PA | FWD |
| 178 | Warne Dawgs | Mark | Baguley | ESS | DEF |
| 179 | Merv Gray Autos | Sam | Mayes | BL | DEF/MID |
| 180 | SIGABRT | Jeremy | McGovern | WC | DEF/FWD |
xx
1. MANZACS – Brett
2. CALVINATOR – Calvin
3. THUNDER THIGHS – Wombat
4. THE SOUP NAZI'S – Stu
5. DESTROY – ROY
6. POKESTARS – Pokey
7. TACKLING TIT-ED – Ruz
8. SCOTTIE DOESN'T KNOW – Scottie
9. A POINT FOR TRYING – Chopper
10. WARNE DAWGS – Warnie
11. MERV GRAY AUTOS – Chook
12. SIGABRT – Luke
Got my man Zorko, snagged a Dee and watched @CalvinDT draft six injured players. All boxes ticked in the #BaconCup. pic.twitter.com/tLBM5keogj

— Dave Joyce (@ChookDT) March 27, 2015
Also picked up Scooter Selwood in the #BaconCup as a kinda awkward tribute to one of my #AFLFantasy heroes @Tbetta9. Great night, @WarnieDT.

— Dave Joyce (@ChookDT) March 27, 2015