The Friday Scramble – Pre-Season Ed2
The NAB is done, business time! Let's get those teams set and ready to go for round 1! Less than a week til the first lockout now. It is SCRAMBLE TIME!!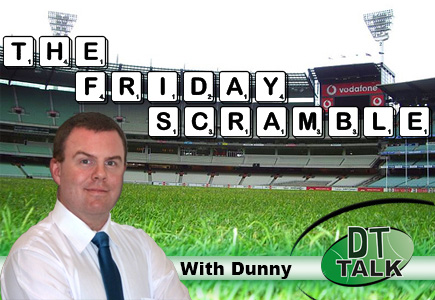 We now have all the data we need (well all the data we are going to get) from the pre-season games. There is nothing more we can see or read apart from any injuries that may occur on the training track of which of course we hope there are none. There are a few things to take into account now and a couple of big issues that you need to think about as we head towards round 1 and our first lockout.
The Ablett Conundrum
It is what we all feared.  The little master has not arrived for any of the pre-season games and is eyeing off a possible round 1 return. From what I have read the club were all guns a blazing about slotting him in to that last NAB game but he wasn't keen. Up until the last week he was still avoiding contact drills at training. This doesn't sound to me like a guy that has complete confidence in his shoulder. It is for that reason that I am in the camp of not starting with the great man.
Another risk to his playing is the draw that the Gold Coast have across the first two rounds of the season. They meet both Melbourne and St Kilda. I would expect that the Gold Coast have enough talent to be able to win both of those games without Gary in the team. I suspect that if he plays in those games and GC have the game wrapped up he could be thrown the red vest.
If he does come back a little slowly from the injury then you could pick him up a little cheaper. Just keep an eye on the press and anything coming from GC over the coming weeks.
Bye Bye Byes?
Just something to consider is that if you are playing in AFL Fantasy leagues this years, your commissioner may have set them up to not play during the bye rounds, most default AFL Fantasy Leagues aren't playing the Bye rounds 7FNFRULL . This is a massive thing to take into account. If none of your leagues are playing byes, just ignore them and move on. Your team planning should be a lot simpler!
If you are playing the byes in your league or you are looking for an overall ranking then you of course need to consider your bye structure. I try to follow a formula whereby I have more players playing in the first week of the byes, particularly rookies, so that they can be traded out after that game to guys that have had their bye in that first week and hence you skip a bye essentially. So you might have 8 players missing week 1, 9 missing week 2 and 13 missing week 3 in your starting squad with the intention of trading out rookies from weeks 2 and 3 to premiums from week 1 and hence have less players out.
Structural Issues?
Hopefully by now you have had a thought about your structure. How will you be setting up your team? Do you know how many premiums you will start with, how many mid pricers and how many rookies? These are all things that you need to think about whilst you are putting your final teams together. Whilst you are doing this you also need to think about where your cash generation will come from so that you can do the upgrades you need to get your team to full premium.
Make sure you start with enough premiums such that you allow for emergency trades and fix ups. This is obviously more of an issue in the trade limited games like Real Dreamteam and Supercoach. I try and map out my starting squad right through to full premium at the start just so that I can see what I have to play with. Obviously the names and prices will change, but it is always good to start with a plan in mind.
There is a time and place for Set and Forget
And that time isn't now! You need to be monitoring your team all through the next week and half right up until lockout! Taking note of every press conference and every injury report just to make sure that if something is happening to one of your guys that you know exactly what it is and can make the necessary adjustments. Always have a plan B.
Lastly, make sure that all of your leagues are full so that you don't end up with randoms in your league. Fill them up with your mates, it is always more fun.
Speaking of Randoms, I have a league in RDT that kind of has only me in it so far!  So if you want to join me then jump on in 874505.  But if you are in one of my leagues already whether they be RDT, SC or AFL Fantasy perhaps leave this one for those that aren't in one yet.
I will be back with a special Thursday edition next week prior to lockout with any last minute thoughts!  Until then you can catch me on twitter @pkd73. Also a bit of a shoutout to the guys in Joshy's Sacred Heart College Middle School league, it was great to see a few of you guys the other day, I am looking forward to taking you all on.