NAB Challenge 2015 Hype Team #2
As promised, Warnie has put together a NAB Challenge Hype Team based on what people liked over the last four weeks.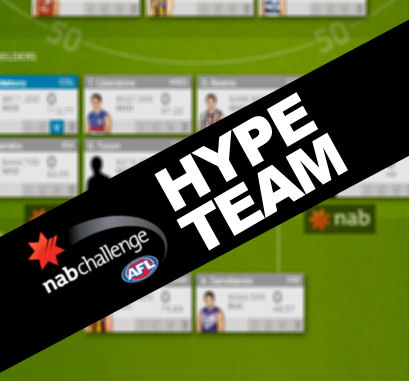 Last week I whacked together a team based on the performances over the first three weeks of the NAB Challenge. I've updated this a bit after seeing teams field much closer to their best 22s and subsequent scores, coupled with who is getting AFL Fantasy coaches tongues wagging.
Click here for what we learned from the NAB Challenge.
If you had a look at last week's team, you will notice quite a few changes… not only to the names, but also with the structure of the side. It is an interesting experience putting a team together based on NAB performances and names I have heard thrown around over the pre-season – especially the last couple of weeks.
A lot of these players won't be making my side (side note: look out for the DT Talk Writer's position-by-position team reveal starting Thursday night), but I can justify having everyone of these guys in my starting line up. If you're just starting your team now, this could be a bit of a base to work off.
The structure has changes a lot. Last week's hype team has Mumford and Lycett in the rucks. They have gone and have been replaced by two cheaper players; Zac Smith and Matthew Leuenberger. The 'Berger was written off by many coaches during the NAB but he has popped back into plenty of teams and sits in this team – which helps with the cash and structure to fit in other hyped players. Smith has had a great NAB for his price and justifies his positions based on his 84 from 78% TOG in the last game.
This allowed us to go with 4 top 8 potential premiums in the midfield (sorry, Rocky had to go for cash) but keep Ryan Griffen in there and add Daniel Rich. This allowed us to just have two 'rookies' on the field in Ben Newton and Patrick Cripps who have both been awesome. Aaron vandenBerg and Cam Ellis-Yolmen are on the bench, but there are fears their points may be wasted there.
Instead of 3 premiums and 3 players under $200K in the forward line, we've been able to get Marcus Bontempelli in. The Bont had the top score of the NAB Challenge with 144 and makes his way into the team at F4. That line is looking pretty slick, however I would have liked to have had Dane Swan there. Alas, this isn't my team and this is how it looks!
The backline had wholesale changes. Josh Gibson's 97 and 114 could not be ignored and quite a few are keen on him – including a pirate with a patch on his eye. Shaun Higgins pumped out 88 and 85 in his two appearances while it looks like a lot are on the Kade Kolodjashnij bandwagon with Roy. Harry Taylor had a NAB Challenge that may make him a little unlucky to have missed a spot here.
This team goes in with $60K in the bank. Not a bad figure for the first week of trades to play with some things.
As I mentioned, this is not my team nor is is a perfect squad based on the NAB Challenge. It is still made with keeping a suitable structure and players that are reasonable choices for this year.
Anyway – discuss it in the comments and be ready for our team reveal series starting at 7pm AEDT tomorrow (Thursday) as our writers post their squads, line-by-line.