What we learned from the NAB Challenge
The DT Talk team take a look at each club and what we got out of their performances (or lack of) in the NAB Challenge over the last four weeks.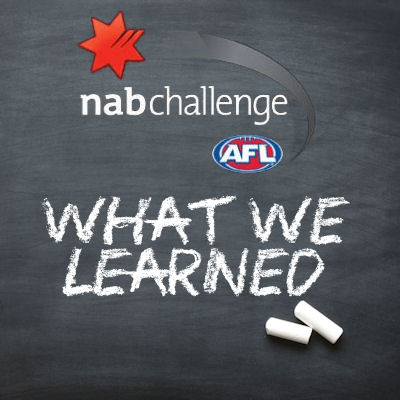 The DT Talk team take a look at each club and what we got out of their performances (or lack of) in the NAB Challenge over the last four weeks.
ADELAIDE CROWS
IMPRESSING
Lock in Cam Ellis-Yolmen (MID $120,000). This guy has been ultra-impressive over the NAB Challenge and should be locked onto your midfield bench or even on your ground. He has scored 82, 70 and 66 over the series and has slowly but surely got better with every game and even found the ball 26 times in his last game against the Power. He's a big lad who will fill the void that has been left by the injured Brad Crouch. This guy is the real deal and should be the most selected Crows this year.
START STRESSING
In case you have missed the news, Brad Crouch (MID $524,000) has injured his foot and will miss the next 8 weeks of footy. This is terrible news for the young gun who just can't take a break at the moment (no pun intended). But the biggest disappointment from the Crows this pre-season has to be Brodie Smith (DEF $465,000). He has failed to step up to the plate after being labelled as a top 6 defender earlier this year. He still has the potential to do this but has only registered scores of 45 and 55 over the NAB. Smith has been pushed out of many Fantasy sides as the weeks have rolled on, as coaches are chasing more value and avoiding what seems to be a certain head ache.
STILL GUESSING
Tom T. Lynch (FWD $327,000) has shown some potential over the NAB with scores of 93 and 76 in his last two games. He is only priced at an average of 62 and will show much more than that this year. Finally, I have Nathan Van Berlo (MID $272,000). This is a controversial statement, but I don't think Van Berlo has shown us enough with scores of 62, 63 and 37. Yes, he is slowly warming up, and with the departure of Crouch it may work in his favour. But on a whole, many coaches including myself are passing on the veteran, saving a little bit of coin by chasing better options. Van Berlo still has the potential to average 75/80 but hasn't quite show this so far in 2015.
BRISBANE LIONS
IMPRESSING
Although he hasn't been spoken about much at all, Dayne Zorko (FWD/MID $488,000) has had a great pre-season with scores of 73, 93 and 85 and it looks like he could benefit from the influx of star power at the Den. It can take time for a player to fit in at a new club, but Dayne Beams (MID $609,000) has not missed a beat, playing all three NAB games with an impressive scoring rate (1.1 PPM) and finishing game three with a score of 109.
START STRESSING
Matthew Leuenberger (RUC $277,000) looked on the surface to be an easy selection in the ruck department after averaging over 90 in the past and being available for such a low cost. Although TOG has affected some scores over the NAB, his returns of 43, 21 and 73 playing predominately as a key forward are far from convincing. Although we don't expect huge scores from Daniel Rich (MID $268,000), his NAB output of 59, 55 and 71 at 0.7 PPM is less impressive than some rookies priced over $100K below his asking price.
STILL GUESSING
Fantasy's newest Pig Tom Rockliff (MID $763,000) did something this pre-season that coaches have learned not to expect from him, and that is to score under 100 on all three occasions. It remains unknown if he can manage to score at anywhere near his world record rate that we witnessed last year with the acquisition and return of a number of midfield stars to the line-up. I don't think he can go that high again, but can he still do enough to justify the price as a walk-up captain? Stefan Martin (RUC $635,000) is the number 1 ruck at the Lions, but it is obviously a shared duty now with the return of Matthew Leuenberger. He scored an impressive 100 on the weekend, a feat which not many rucks have achieved over the NAB Challenge.
CARLTON
IMPRESSING
In terms of value for money, the Carlton player who stood out in the NAB Challenge was Patrick Cripps (MID $163,000). From limited game time, Cripps pulled out respectable scores of 58 and 75 in the first two matches, playing entirely in the midfield. The important takeaway from those two games wasn't his scoring but the clubs reliance on him in the middle. He's been given important roles and has delivered each week. This all came to fruition in game three when Cripps pulled out a score of 119, dominating from start to finish. Not only did he have 32 disposals but he went forward and had two set shots at goal. Coming off his "best pre-season since 2011," Andrew Carrazzo (MID $461,000) has been incredibly impressive. Finishing with scores of 85 and 94 in his two outings, Carrazzo could be a good option for those in draft leagues or maybe even a good left-field choice for your side. You know, if you're feeling adventurous.
START STRESSING
The obvious person here is Matthew Kreuzer (RUC $244,000) who was in almost every team at the start of the summer. Unfortunately, Kreuzer, in all likelihood, will not play the first few rounds of the season and should definitely not be in your team. There aren't many other candidates for Carlton in this category but the likes of Bryce Gibbs (MID $574,000) and Marc Murphy (MID $544,000) will be going into round one underdone with limited game-time during the NAB Challenge.
STILL GUESSING
Blaine Boekhorst (MID $243,000) will probably play round one but he is odds on favourite to start in the green vest and maybe even stay there for a few weeks and this brings about a conundrum. Do you go with him and risk the vest that Mick loves giving to first year players, or do you look elsewhere? Carlton is playing on Thursday night and this will allow you to see if he is selected to start the game, this should aid your decision. The other player with a question mark on him is Dale Thomas (MID/FWD $429,000). Daisy, despite not having any injury worries, only played the one NAB Challenge match and was mediocre in it. He scored 63 points and never really stood out at any stage. Thomas is expected to get back to his best this year but there will be a question mark hovering over his head going into round one about what kind of scoring we can expect from him early.
COLLINGWOOD
IMPRESSING
Steele Sidebottom (MID $612,000) is getting the nod from me at this stage. He has been brilliant throughout the NAB Challenge, scoring 90 and 113 at an average of close to 120 points per 100 minutes. He won't get tagged too often and will rack up on a wing, he's locked himself into my side. Scott Pendlebury (MID $614,000) is still a safe bet to be well inside the top 8 midfielders come seasons end, as his ton on the weekend proved. Forget his NAB Challenge, if you want to bank points he is the man to go for.
START STRESSING
Hold on to your butts, because things are about to get controversial. From what we've seen during the NAB, I'm starting to stress about the great pig Dane Swan (FWD/MID $531,000). He still has it in him to average 100+ don't get me wrong, however it's been clear that the Magpies are looking to blood a younger midfield. He is on the wrong side of 30 and the Pies aren't winning a premiership anytime soon, plus he is massively handy up forward. The injury to Levi Greenwood (MID $576,000) may give him a chance, but that's a guessing game. From what we've seen, he's set for a similar role to last year. Nathan Freeman (MID $174,000) looked like a lock early pre-season, however he has been out in the cold in recent weeks. Greenwood's injury may give him a chance, however his spot in their best 22 looks flimsy at best.
STILL GUESSING
Taylor Adams (FWD/MID $404,000) has been a lock in my side all pre-season. His 112 in the final NAB game all but assured him a place in my squad. That was until Greenwood went down (ruled out for at least 2 months). Bucks has thrown his name into the ring for a tagging role, not what you want from a bloke who needs to average 90 to be a viable pick. He could still be great, but there's a lot of doubt now.
ESSENDON
IMPRESSING
I'll only talk about the listed players here to start with as they're the only guys we can select at this stage. Going into his fourth year, Elliott Kavanagh (MID $142,000) has been great over the NAB with scores of 68, 47 & 86. Nick O'Brien (MID $120,000) showed enough that he would make some good coin if playing. He scored 75 from 22 touches whilst tagging Armitage in NAB2.
START STRESSING
We have to be stressing about all of the Bombers, 2012 listed or not. Once we know the outcome next week, our Essendon selections may come a bit clearer, but for now we're in the dark. If they are suspended (even for a couple of weeks), I wouldn't want to start with any of them… including a possibly under-priced Brendon Goddard (FWD/MID $550,000) who scored 49 and 89 in his two games. Goddard will have a mountain of work to do if they are suspended and his fantasy output may not meet expectations.
STILL GUESSING
Behind Goddard, the most popular Bomber is Tom Bellchambers (RUC/FWD $281,000) who would be a very handy ruck. He's the #1 guy at Essendon, tribunal decision pending. With Bellchambers on the sidelines over the NAB, Jonathan Giles (RUC $342,000) was the main man alongside Shaun McKernan (FWD/RUC $189,000). Giles is on my radar if he's needed as the #1 but I still have small doubts. If he was under $300K I'd be all over him. We're still guessing with all of the Bombers, so probably wait until next Tuesday to make up your mind. For not, just avoid them. We'll have all of the intel on the top-ups, etc if they're included in the game. For the record, Mitch Brown could be a good buy if he comes in at around $250K (what he was last year) after scoring 103, 74 and 65 down back in his 3 NAB Challenge games. Going at 0.97 points per minute, VFL player Marcus Marigliani would end up pretty cheap if he was added to fantasy. He scored 94, 69 and 22 (vest) in his three outings.
FREMANTLE
IMPRESSING
The story out of Fremantle this preseason is Lachie Neale (MID $466,000)! Relishing more midfield action and attacking the ball like an angry jack russell, Neale has lifted his performance to a new level! Or has he? Some would say Neale has just carried over his form from the tail end of last season which is even more encouraging! Neale's last 5 games of 2014 read 94, 107, 124, 104 and 99. Add onto that his NAB scores of 79, 131 and 79? Well we're starting to see very encouraging signs of a player priced at 84 points who can definitely lift his average! Nathan Fyfe (MID $579,000) has jumped into this preseason ticking all the right boxes and finishing with a completely dominating display in the last NAB Challenge game against West Coast. NAB scores of 76 and 113 saw Fyfe finish with a very healthy 1.16 points per minute. If his atack on the ball during NAB is anything to go by, Fyfe is in for a huge season! Lets just hope he can avoid the injury and suspensions that's plagued his last seasons!
START STRESSING
If Aaron Sandilands (RUC $490,000) was in anyone's plans I'd be taking him out now. The big guy only managed 3 quarters during the NAB Challenge and didn't look very mobile as he lumbered around the ground, scoring 37 points (18 of which came from hit outs). An interrupted preseason and being on the wrong side of 30 has added up to a slow start for the big 211 this year who'll be relying on being eased into this season if Fremantle want him to have an impact at the business end. After a fairly solid 80 point average in 2013 and then an interrupted 6 game 2014, a fully fit Michael Walters (RUC $353,000) walked into the 2015 preseason with a discount that saw a lot of coaches considering him as a POD option in their forward lines. I think we can confidently say though that after playing all 3 NAB challenge rounds and producing scores of 66, 39 and 47 at an underwhelming average of 0.59 points per minute, we can put a line through Walters as a viable Fantasy option this year.
STILL GUESSING
Clancee Pearce (DEF/MID $280,000) has narrowly avoided the 'Start Stressing' list due to speculative circumstances and his price. At face value Pearce could be the player we all need, a low/mid price defender who is in their teams best 22 in a position fantasy coaches are desperately looking to fill with cheap players. His performances have been up and down over the course of NAB which possibly hint at a massive standard deviation to his average. Playing all 3 preseason games saw Pearce score 93, 20 and 74. The hard part with Pearce is that Fremantle have a whole heap of external factors currently playing out that could effect the type of role Pearce will play. Firstly Fremantle have suffered a couple of injuries to players such as Suban and Silvagni. This could certainly see Pearce's Job Security improve. But what 'Job' will that be? With Crowley facing suspension Pearce is looking like being the player Lyon may rely on to take the tagging duties. We all know how tagging can impact a players score. Locking Pearce in at this stage is a major gamble as we really won't know what role Pearce will play in round 1. Speaking of players being impacted by others, Garrick Ibbotson (DEF $336,000) is another who still has a massive question mark on him. With Silvagni injured we may see Ibbotson needing to play a lockdown role on oppositions second or third tall forwards. We also haven't had a chance to see what role he'll play once Paul Duffield slides back into Fremantle's defence. Ibbotson's 55 points from 71% TOG against Sydney wasn't terrible but it was his score against West Coast which raises the biggest concern for me as it highlights the massive difference in his game styles. his first half saw him playing loose and rebounding out of defence, knocking up a score of 49 by half time. Then after half time he tightened up on Kennedy and only scored 14 points in the second half. He finished the game with 63 points from 98% TOG. We'll know more once we see what role he plays in a full strength Fremantle backline.
GEELONG
IMPRESSING
Fortunately for Fantasy coaches worldwide, there is an abundance of players from the ever strong Cats sides that have impressed so far. None other than Jimmy Bartel (FWD $562,000), who has raised the bar this pre-season notching up some very impressive figures. Another note to add is that the inclusion of Steve Johnson on the weekend didn't seem to slow him down, producing 84 in 47% game time with the addition of a mystifying green vest he had to wear during the first quarter. Mitch Clark (FWD $156,000) has also seemingly proven he possesses some incredible value and at just under $160K, his last two NAB Challenge Cup performances suggest that he can have a positive impact in his long awaited return this season.
START STRESSING
Steve Johnson (MID $613,000) hasn't show anyone this pre-season that he is worthy of a spot in your midfield. I can understand he has had an interrupted start to the year with various injury complaints and VFL game time, but for a player who is valued at 108.6 I'm starting to think he may be an upgrade target after the bye rounds? Stevie J scored 67 in 90% game time on the weekend which shows slight potential, however, we need premium midfielders who will deliver premium scores week in, week out. Unless something dramatic changes, it's a no from me.
STILL GUESSING
Joel Selwood (MID $603,000), Andrew Mackie (MID $475,000) and Mitch Duncan (MID $521,000) seem perfect for this perplexing category. Three players that pose Fantasy relevance, however, they have been among shadows throughout the pre-season and not really staked a claim for our sides. Selwood will always be there or thereabouts but it seems his previous Fantasy form has been overshadowed by the youth and excitement of Brad Crouch and Dayne Beams respectively. Andrew Mackie has proven to be a somewhat reliable defender in recent years but the money could be better spent elsewhere. Lastly, Mitch Duncan scored an impressive 106 in 82% game time last night against Carlton but his price is too much to pay and doesn't scream out value to me in the midfield.
GOLD COAST
The 2015 NAB Challenge series saw the now 5th-year Suns start to show signs of what they'll be like without the reliance of skipper and two-time Brownlow Medallist Gary Ablett Jnr.
A round one win over the Cats saw a mix of old and new stand up; whilst a loss to expansion rival GWS brought them down to earth; before this weekend saw them draw level with fellow Queensland club, Brisbane in a scrappy affair that bared some positive signs in the lead up to the Round 1 proper.
IMPRESSING
Could 2015 be the year that Harley Bennell (FWD/MID $484,000) finally makes the step up to AFL premium status? After flirting with fantasy coaches for a few seasons, his injury and personal demons appear to be a thing of the past as he worked his way into stellar form for the upcoming AFL season. After 78 points in Week 1, he top scored for the Suns in both Week 2 and 4 with 95 and 111 respectively. Jump on as a point of difference before it's too late. The name K. K-jashnij at DT Live has garnered a lot of attention lately, and it's completely warranted. With 59 points from 65% TOG in W1; 72 from 77%; and 87 points against Brisbane – Kade Kolodjashnij (DEF $387,000) is ready to buck the second-year-blues and become a valuable fantasy contributor in 2015.
START STRESSING
Midfield Champion and Son of Football GOD Gary Ablett (MID $675,000) has had a troubling pre-season hampered by a shoulder injury that has over 50,000 AFL Fantasy coaches nervous. I wonder if many of the 52.59% who own him know that he hasn't played a minute of actual football since mid-2014… Regardless, he'll still be Top 2 in the game (fantasy-wise) in 2015 so if he's named (and plays) round 1, and his shoulder holds out – you can feel that little bit more confident that he'll be the same old Gazza we all know and marvel at. Speaking of players that haven't played a pre-season game, Jaeger O'Meara (MID $525,000) appears touch-and-go for the Suns' start of season clash with Melbourne – whilst still valuable in draft formats, perhaps he's a wait n' see proposition in Fantasy for 2015.
STILL GUESSING
Ex-Hawk Mitch Hallahan (MID $345,000) lead the Suns in Week 1 with 93 points before backing it up with an uninspiring 79 in Week 4 as he poses some interesting questions of Coach Eade with regards to Round 1 selection. If he makes next week's line up, he could be a nice mid-price option or sneaky free-agency pick up in your draft league (still available in 41% of teams).
Once again, Gold Coast looms as a fantasy-relevant team in 2015 – it's just a matter of jumping on the right players.
GWS GIANTS
IMPRESSING
Heath Shaw (DEF $456,000) has scored 82 and 83 in the two games he has played so far this season. He is the Giants go-to rebounder and looks in solid form. At an average price of 80.56, impacted by a score of 18 following a KO in round 15 last year, Heath is actually looking like a dependable premium defender this season. Did I just say that? Cameron McCarthy (FWD $136,000) should be considered a round one starter by Leon Cameron and therefore a very nice forward bench option. Seven goals across two and a half games has helped his cause. Scores of 45 (subbed on at half time), 81 & 52 suggests that he may be able to find some reasonable scores early. Ryan Griffen (MID $485,000) is one of the Giants biggest locks. Despite the likely tag, Griffen has shown he can average 100 this season and scores of 107 & 83, both from 79% game time show his scoring potential.
START STRESSING
Adam Treloar (MID $586,000) has only managed scores of 71 & 82 in his two outings, and Toby Greene (MID $583,000) hasn't been any better, with 82, 68 & 76. The two may be suffering from Griffen's addition. Josh Kelly (FWD $395,000) hasn't reached great heights with 59 & 76 in two outings and breakout contender Will Hoskin-Elliott (FWD $384,000) hurt his shoulder in the game against Sydney, limping off with just 21 points – not a great backup to his 69 against the Suns. Curtly Hampton (DEF $387,000) has also struggled with form, with scores of 69, 54 and a vested 26. Will he even make the round one team? I'm not sold.
STILL GUESSING
Jack Steele (MID/FWD $227,000) will play games this year, but I don't think they will be early. Similar things can be said about Andrew Phillips (RUC $149,000), who has surely been knocked out of the squad due to McCarthy's form. Tom Scully (MID $440,000) is… I'm just kidding. The answer is no.
HAWTHORN
IMPRESSING
Although Jordan Lewis (MID $621,0000) didn't play NAB 1, he kicked his season off in amazing style in NAB 2 with 97 points against the Kangaroos, followed by 143 against the Saints in NAB 3. Shedding the puppy fat that plagued him in his first half of his career at the Hawks, he is now an elite midfielder. Will be an elite premo in 2015 as well. After his finish to 2014 (was arguably the best player in the Hawks finals campaign), Will Langford's (MID $392,000) two NAB challenge scores were 89 in NAB 1 and 103 in NAB 3; he didn't play in NAB 2. He played in the guts for the Hawks game against the Saints, he knows how to find the ball and also has a great sense around the goals. He might surprise a few this year.
START STRESSING
Two of McEvoy, Ceglar and Hale will be picked each week, I think Ben McEvoy (RUC $437,000) and Ceglar are the front runners, but there are still question marks. McEvoy's scores of 65 in NAB 1 and 85 in NAB 3 (did not play in NAB 2) don't scream 'pick me', so at this stage, I'm none the wiser. We didn't see Grant Birchall (DEF $464,000) in the preseason and from all reports his injury is not significant, but start stressing when players have interrupted pre-seasons like Birchall has… avoid early.
STILL GUESSING
Jed Anderson (MID $172,000) is an absolute gun, as shown in his 3 NAB Challenge games, although his scores didn't necessarily reflect that (97, 47, 61). Potential vest candidate, and obviously has a bit of competition for that wing/half forward role. He will get early games. Jono O'Rourke (MID $220,000) impressed me during the pre-season, with scores of 52 and 74 in NAB 2 and 3 respectively (did not play NAB 1). He looked very much at home in NAB 3 in particular – but does he fit in the side? Tough midfield to crack. He is a potential vest candidate if he plays as well.
MELBOURNE
IMPRESSING
Ben Newton (MID $192,000) is one of the most talked about rookies this season, and there's good reason for it. Scores of 51, 59 and 72 don't sound brilliant, however he has played 58% TOG on average. This could be taken one of two ways, perhaps his tank isn't ready. You still have to lock him in, can easily average 70+. Herritier Lumumba (DEF/MID $402,000) is another Demon putting his hand up, I'll admit I wasn't convinced until the weekend. He ran through the middle for his 113 (31 disposals) and should comfortably average 80+ this season. Forget the possible tags, lock him in. But wait, there's more! Christian Salem (FWD $193,000) has shown us exactly what to expect. One week he plays a full game for 32, the next he pumps out 118. His solid 91 on the weekend locked him into my side, at his price you can't ignore his potential.  He's done everything you can ask of him this pre-season. Sod it, Melbourne just have too much value to ignore. Aaron vandenBerg (MID $120,000) has to be in your sides, presuming he gets elevated off the rookie list. He has done everything possible to impress, notching a 71 including 2 snags on the weekend. Plenty of value at the dees!
START STRESSING
Jesse Hogan (FWD $194,000) hasn't done as much as I'd hoped. Scores of 56, 34 and 48 from full games are a massive warning sign. At the end of the day he is a key forward and even though he's a gun, I'm not willing to pay the premium over other rookies.
STILL GUESSING
Dom Tyson (MID $510,000) has actually impressed me the most this pre-season, he looks like a DT star and an average of 100+ is well on the cards for him. Scores of 91, 105 and 91 at a ridiculous rate speak volumes about his ball winning ability, however his awkward price has to keep us guessing. Keep him on your watchlist.
NORTH MELBOURNE
IMPRESSING
With no Roo in over 10% of teams, there aren't too many guys on the radar. Andrew Swallow (MID $508,000) is under-priced and with 98 in his first game and a solid 81, despite copping attention from Grigg on the weekend, he was solid enough to justify selection priced at under 90 points per game. Todd Goldstein (RUC $496,000) doesn't have a lot of love, but as pretty much a sole ruckman, he is worth considering for a unique option. Goldy scored 50 (69% TOG) and 104 in his two matches. New Roo Shaun Higgins (DEF/FWD $430,000) has enjoyed a great pre-season that saw him rack up 88 and 85 points in his two games. With defensive stocks low, he's a decent price to call a semi-premium down back.
START STRESSING
30 points in NAB1 and not sighted since, Trent Dumont (MID $120,000) is the most selected Roo due coaches thinking he was a ball-magnet in the VFL and he may eventually get a gig this year. Take him out of your squad an hope he plays later in the year and is a worthy downgrade option.
STILL GUESSING
Despite only appearing in 5% of teams, Daniel Wells (MID $356,000) has been talked up by a few as a potential mid-priced option priced well below the 93 average he managed in 2011. Yep he's running through the midfield and scored 92 on the weekend but I'm not picking a guy like him who has a ceiling of around 90 when there are rookies who will make me some quicker cash and balance my side. He is still a solid pick and will make some cash, but not for me. A few rookies are popping up on the radar and the 'heartbeat' type dudes may not be needed but if desperate, Joel Tippett (DEF $143,000) and Robbie Tarrant (FWD $142,000) are probably 50 average type guys worth considering for your bench. Their NAB games have been okay with Tarrent the best fantasy option of the duo in my opinion. Brent Harvey (FWD/MID $565,000) may still be a top FWD this year, but he should only be considered as an upgrade target. Lastly, Jack Ziebell (FWD/MID $480,000) was bashed around on the weekend after a fast start. He scored at almost a point per minute in the NAB. Under-priced, yes… however I've got more faith in other guys around that price in the forward line.
PORT ADELAIDE
IMPRESSING
So early on in the season I was a little unsure if this guy could keep it going and maintain his price.  But Robbie Gray (FWD/MID $546,000) has done nothing but impress in the pre-season.  He was fantastic in the internal trial game and has posted 111 and 99 in his two NAB appearances.  Quite simply he has convinced me so just lock him in!  Whilst there is no tagging generally in the NAB Travis Boak (MID $540,000) showed more than enough to show that he may be a little underpriced at $540K.  A 139 in NAB 3 against Adelaide was a fantastic performance with over 30 touches and 10 tackles.  I think he would be a great unique in your team and should continue to perform well.
START STRESSING
One of the bench locks early on was Nathan Krakouer (FWD/MID $142,000) given he was a hardened body mature ager.  He is a rookie listed player so needs to be upgraded (although there is a spot available at the moment) but the main concern is that he only played the first two NAB games and was green vested in the first.  He scored 22 and 35 and whilst he looked ok he didn't make the third game which was a near full strength side for Port.  Looks like he won't break into the team and at the moment I would have Karl Amon (MID $120,000) in front of him for a game.
STILL GUESSING
It may seem a bit harsh but I am going to put Ollie Wines (MID$517,000) into this category at the moment.  He had a great game against the Crows with 116 points, but his first outing against West Coast was only 54 and I wasn't completely sold on what I saw that day.  Yes Boak had a quieter game but since he has scored consistently over time I gave him a pass.  For now I am putting it down to being the first game back, but I am a little wary that he could have a big standard deviation (large margin between best and worst).  At his price I would consider paying a little more and getting Boak.  Paddy Ryder (FWD/RUC $502,000) is still a complete mystery as to how he will fit in (if at all this season) with Matt Lobbe (RUC $505,000) which also puts selecting Lobbe as a risk too.
RICHMOND
IMPRESSING
The Tigers will be heavily owned this season and for a wealth of quality reasons. Brett Deledio (FWD/MID $548,000) tops the list, having previously averaged 110 points per game just two seasons ago. The former #1 draft pick is now listed as a forward and produced scores of 79 and then 98 on the weekend. Dustin Martin (FWD/MID $553,000) also begun his 2015 campaign in dominant fashion, managing a 109 and then a 98, suggesting he'll continue on producing his elite fantasy numbers for the season ahead. You simply can't go wrong with Dusty! Another to impress was the ex-Crow Ivan Maric (RUC $483,000). With his first full preseason at the club, Ivan is ready for a big campaign ahead and with a 62 from 3 quarters and an 81 last week, he must be strongly in calculations for a starting spot in your team!
START STRESSING
Many were keen on 2012 first rounder Nick Vlastuin (DEF/MID $370,000), after recalling some of his humongous debut season scores when released into the midfield. Unfortunately the hard nut has stayed in defence, playing all 3 matches in that role and only recording a high of 76. The obvious conclusion is to avoid at all costs, he won't be lifting his average given the evidence at our disposal.
STILL GUESSING
This is where it gets tricky, but thankfully the Tigers play in the opening game of the season so we'll have plenty of time to determine exactly where their rookies sit in the pecking order. Kane Lambert (FWD/MID $120,000) has shone this preseason, delivering scores of 69, 39 and 43. He's playing the small forward role with occasional stints up the ground, so don't expect much more than a 50 from him. Kamdyn McIntosh (DEF $120,000) is also highly worthy of consideration this season. Having produced scores of 67 and 60, McIntosh's run and distribution off the wing has drawn high praise within the various Richmond footy forums. If he debuts Round 1, he's a lock for our defensive benches!
ST KILDA
IMPRESSING
It looks like the preseason hype is on Jack Newnes (DEF/MID $464,000) is well deserved. Scores of 94, 73 and 101. Lock – nothing more needs to be said. Jack Steven (MID $491,000): Only played  half in NAB 1 (28 points), but followed that up with scores of 79 and 117 in NAB 2 and 3 respectively. Under-priced, knows how to find the footy, and I don't think he is 'damaging' enough to get a tag – which is a good thing. He's sitting nicely in my side as we speak.
START STRESSING
Tough to put a kid in here when he hasn't played a game, and he's not even here through fault of his own – Paddy McCartin (FWD $303,000) will be starved of opportunities. Scores of 53, 21 and 40 in the NAB Challenge, his starting price WILL DROP with that kind of output (which probably says more about the pricing structure of rookie players more than anything). Hopefully the inclusion of NRoo will help him, but still – don't pick him. Fellow forward Tim Membrey (FWD $165,000) failed to impress in the NAB Challenge, with scores of 26, 53 and 35. Also competing with Tommy Lee and McCartin for that 3rd tall forward position. Money can be better spent elsewhere.
STILL GUESSING
Probably could fit under the 'start stressing' category, since we didn't see him all preseason (due to very sad circumstances), however – it is Nick Riewoldt (FWD $516,000). Can he carry the young saints forward line again? An absolute champion – but he's not getting any younger. With scores of 27, 48 and 63 for the second year mid – I'm sure Blake Acres (MID $166,000) be given opportunities, but with the Saints likely to be on the wrong side of a few shelackings, I can't see him performing with much consistency.
SYDNEY SWANS
IMPRESSING
Without a doubt, Luke Parker (MID $585,000) is ready to take another step this season. Going at 1.1 points per minute, Parker went 66, 104 and 120 across the NAB Challenge series. Roy controversially put in him in his top 8 midfielders for the year and I can see him averaging around 110, making him a value pick as he is priced at 103. Isaac Heeney (MID $246,000) will play in round one. I'm pretty confident on this but he might be a little too much to spend in AFL Fantasy with some risk with vest and subsequent job security.
START STRESSING
The second most selected Swan, Zak Jones (DEF $142,000) wasn't sighted over the NAB so cross him off your list. Toby Nankervis (RUC $120,000) is fourth most selected but he is down the ruck pecking order according to the NAB. There will be better place holders than him.
STILL GUESSING
The Swans went in with a decent team on Sunday. Lance Franklin (FWD $536,000) played minimal game time in both of his games; in the second, he was subbed after being knocked out for -3. This shouldn't change your mind, but he is purely an upgrade target for me. Now the big one… Tom Mitchell (FWD/MID $432,000). The ball-magnet was in my team up until the NAB Challenge and then was in and out over the last month. In his first two games he scored 52 (72% TOG) and 66 (73% TOG) with minimal midfield time. This was worrying. Then on Sunday he started in the green vest, even more worrying. I have no idea why they would do that if he was going to be in the best 21 come round one. Anyway, with an injury to Kieren Jack, he get plenty of midfield time and racked up a massive 84 from 56% TOG. We all know he has awesome scoring potential, but I'm 'still guessing' as to where he sits in the team and therefore, despite being cheap, I don't think I can do it. However, risk v reward.
WEST COAST
IMPRESSING
Another pre-season under Coach Adam Simpson has the West Coast midfield infinitely more fine-tuned than they were at the same point in 2014. Luke Shuey (MID $526,000), Chris Masten (MID $494,000) and Andrew Gaff (MID $526,000) have all enjoyed busy pre-seasons, threatening to pick up where they left out at the end of last year; as a trio, they each lifted their averages by 17 points per game over the last five games of 2014 compared to the first 18 rounds of the season. They all find themselves in the awkward sub-Premium price range so picking them would be both unorthodox and unique, even if the NAB Challenge PPM numbers suggest they're super value. Masten has been the headline act from a production point of view, averaging the fifth-best points-per-minute numbers (1.21 PPM) of players who've played multiple NAB Challenge matches. On the bargain side of things, eye-catching utility Tom Lamb (FWD $201,000) is a shoo-in for early games in the absence of Jack Darling, but early signs are that he'll find it difficult to drum together equally eye-catching fantasy numbers. You're clearly after job security if you're buying from the Lamb Van, not the fantasy gravy on top.
START STRESSING
Beau Waters' shocking (yet hardly surprising) retirement coupled with a Eric McKenzie's wonky knee has left the Eagles short-handed in defence. That gave Brad Sheppard (DEF $377,000) an opportunity to shine and he did just that in early NAB Challenge outings, notching scores of 99 (84% TOG) and 67 (83% TOG) off half-back. However, West Coast's new bubble-wrap victim Mitch Brown was absent against the Dockers and this forced Shep to tighten up, eking out just the 46 points from a full tilt. He's essentially one injury away from fantasy irrelevancy and is worth stressing about if he sits in your current side. Another to wipe off the watchlist is Sharrod Wellingham (FWD/MID $381,000) – he seemed like value based on the glowing pre-season reports assaulting our ears and eyes from the West Coast PR machine, but he was much more FWD than MID against the Dockers despite the generous DPP allocation. Once again, he's earned the nickname "Sharrod Underwhelmingham" after sitting pretty at F4 for me all NAB Challenge.
STILL GUESSING
Nic Naitanui (RUC $413,000) and Scott Selwood (MID $459,000) have only played the 1 game each – how much can we read into their efforts, and is it enough to justify their fantasy selections? It's hard to deny both are under-priced, but whether they've shown enough exposed form to earn a precious spot in your side is highly debatable. Nic Nat looked rusty for his 48 points (13 hitouts) but will be better for the run, while Scooter had my heart swelling inside my chest with 108 DT from just 63% burn.
WESTERN BULLDOGS
IMPRESSING
The NAB Challenge has basically been a coming-out party for Marcus Bontempelli (FWD/MID $392,000) climaxing with his 144-point highlight reel of a game against the Pies on Sunday. Figures of 29 touches, 4 marks, 9 tackles and a game-defining 3 goals is basically fantasy footy porn, so it's no wonder he has everyone excited for his second-year prospects, particularly with the 'TENANTS WANTED' sign sitting over the Bulldog's engine room. Speaking of, Mitch Honeychurch (FWD $179,000) has seemingly answered that same advert, pumping out solid scores of 75 and 76 whilst noticeably roaming between the arcs in the past fortnight. If he's not currently sitting in your forward line, you need to be launching an investigation as to how he's slipped past the keeper thus far.
START STRESSING
Tom Liberatore's season-ending ACL injury only compounds the midfield chasm that was already opening up with Ryan Griffen and Adam Cooney moving on in the off-season. While the under-priced pups will benefit, last year's break-out Jack Macrae will find it hard to replicate his 2014 numbers. While his 1.01 PPM is certainly nothing to sneeze at, he's the obvious tag candidate who posted those numbers over a month of what is essentially an unofficial tag-free zone. It's always a worrying sign when you get tagged in your own intraclub match, as the Bulldogs did back in early February…
STILL GUESSING
Where will Matthew Boyd play this year? Coach Luke Beveridge claimed Boyd will be sent back in a Sam Mitchell-esque capacity, but guess who the new Bulldogs coach called upon to stem the bleeding once things got messy back NAB 2? Interestingly, this could be win-win situation – if he plays as a full-time midfielder now that Libba is out of 2015's horoscope, he'll likely pump out a tidy average in line with what we've come to expect from a career fantasy legend. If he sits off halfback, he's a super chance to gain DEF eligibility later on in the year and help balance out our fledgling fantasy backlines. The Bulldogs have spots for grabs and we're screaming out for rookies in defense – how about some synergy here guys? Unfortunately, despite some strong results from cheapies in Brett Goodes (DEF $192,000 – 1.02 PPM) and Joel Hamling (DEF $120,000), both sit on the cusp and there are no guarantees of a jumper when the squads are called out for Round 1.