The Friday Scramble: Preseason Ed 1
The season is just about here and so is the busiest time of the year for a Fantasy coach and that is deciding your starting squad! So I thought it was time that we all started Scrambling!!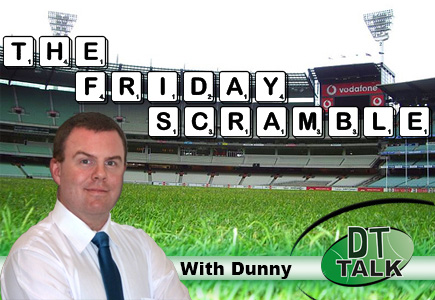 Hi Everyone, I hope you have all had a great off season and have been studying hard and are ready for the 2015 fantasy season!
We are now at the business end of the NAB Challenge for AFL Fantasy. There are only a couple of weeks left before our first lockout of the season. It is the third game for all teams this week which means that coaches will be trialling their round one setup. It is these games that you need to keep a keen eye on. So here are a few things that I will be looking at over the weekend.
Rookies Not only who gets a game but most importantly who gets the vests. Whilst it is great to have a rookie that is playing, one that is only scoring 20 points because they came on just before three quarter time is of minimal use to you.  Make sure you look out for Jeppa's final post NAB rookie article in the next week o so.
Has your star played? Make sure that your star players have had at least one game. This is particularly concerning in the case of Gary Ablett who we now know won't play a NAB game and is in serious doubt for R1. It is even more important when you are looking at players that have come back from injuries last season.
Is there anyone else to come back in? Watch for guys that have played one or two NAB games and are usually first 22 but don't play. If this happens, just be careful if your favourite mid-pricer or rookie plays more time than you expect.
Has the players role changed? This is important, if you have someone that is listed as a forward or a defender but are now playing predominantly in the midfield then they would be someone that you should be picking as they should score higher than their previous averages suggest.
Injuries Before picking your final team go over the injury lists for each and every team. Make sure you know who is injured or carrying a niggle. Take all of this into consideration.
Once you have taken all of this into consideration then make sure you have got things like your structure sorted. Are you going Guns and Rookies or are you going Midprice Mahem or even some mixture of both. I know we say it every year but this is another tough season to pick a side with the lack of rookies down back and the need to spend more dollars there 7WYM9MKF.
I just thought I would throw these few thoughts together for those of you that might be new to DTTalk, for the seasoned veterans this is what we have been waiting for all NAB Challenge.
Last year I had a couple of Friday Scramble leagues for AFL Fantasy and we did bloody well!  We had two leagues in the top 5 overall leagues, what a bloody great effort.  So if you are wanting to join up this year, keep an eye on my preseason scrambles (like this one) for a league code and jump on in!
I will be back again next Friday and each and every Friday throughout the season to see if I can help you out! If I can get a good one organised in time I will release one of my teams here next Friday for you to look at, critique etc.
Of course you can always get me on Twitter @pkd73 and I will keep you up to date with anything that I manage to hear around the place.