NAB Challenge Notes – Week 4
The final and most important weekend of the NAB Challenge as reviewed by the DTT team.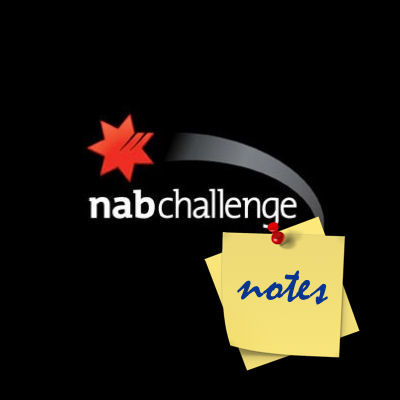 We'll update each game of the weekend with our notes from them.
St Kilda v Hawthorn – Etihad Stadium
Thursday 19 March – By Crutton
Click here for DT Live stats/scores.
Alright, to be honest, I could think of better ways to spend my Thursday night… The best side in the competition nearing full strength, against the worst side in the competition at half strength. I probably could have reviewed this halfway through the first quarter… But here we go anyway!
I'll start the review like this: the hawks won by 106 points. ONE HUNDRED AND SIX. The hawks controlled the game, played keepings off and honestly, just were not challenged, from start to finish.
Jordan Lewis (143) is a gun. Yep, you'll pay top $$ for him, but he just accumulates, and he just gets better with age. I'm going out on a limb here – he will average higher this year than last. I was asked about Sam Mitchell (131) on twitter tonight. If he was defender eligible, i'd just about tell you to lock him in. But he's not, so I won't. He'll be rested, and the Hawks won't be playing the Sandringham Under 14's every week. Luke Hodge (105) was subbed out late in the last quarter, and was the Luke Hodge you know and love. Controlled the game in the midfield and across half back, again, if I wasn't so concerned about him being rested, he'd be a lock as well. But you know about those three… Let's look a little deeper.
Anyone who knows me will tell you about the man love I have for Brad Hill (105). He looks like he has bulked up a bit, he runs as hard as any – and he runs both ways. He was one of the best on the park tonight. Will Langford (103) also gives me heart flutters – he played on the ball for a majority of the night, and he is one of the next wave coming through. Jono O'Rourke (74) and Jed Anderson (61) were busy, I like the look of O'Rourke, he reads the play so well. Jed is just a bloody star. The one though that I really want to talk about, is big Jonny Ceglar (92). We all know him as the one who made way for Benny McEvoy (85) last year in the grand final, and I reckon he will come out firing this year. As far as I'm concerned, the ruck/forward combo for the hawks is Ceglar/McEvoy, with Hale as number 3… he might battle to get a game. Ceglar is one of the strongest marks at the club, pushes forward to kick goals and is a very good tap ruckman. Consider him if you want to look outside the square.
9 players for the hawks scored more than 100, and 16 scored more than 70. Make of that what you will – they were playing witches hats.
As for the Saints, I'm not sure what to make of them tonight – not much, to be honest. Sure, they were under full strength, but watching them butcher the ball all night and their decision making was cringe worthy. Jack Steven (117) is locked as M4 in my side at the moment, he'll lead their midfield in 2015. Jack Newnes (101) was good through the midfield – don't even hesitate with him. Locked. Paddy McCartin (40) will play games, but with the supply he's going to get, and give he's still very raw, you can spend your rookie money better elsewhere. Tom Hickey (43) was quiet, but again, what do you make of a game as one sided as this?
Luke Dunstan (92) was busy, he looks the goods that kid. Blake Acres (63) didn't do much, but I guess 15 touches isn't a bad night, all things considered.
Unfortunately there wasn't much to take out of this game – it was so ridiculously one sided that I considered switching over to re-runs of The Big Bang Theory, but I persevered. What to take out of it, in short: Jack Steven is a gun, Jordan Lewis is the clear cut number 1 midfielder at Hawthorn, Jack Newnes will play in the guts all year, and it's going to be a long year for St Kilda fans…
Melbourne v Essendon – Etihad Stadium
Friday 20 March – By Calvin
Click here for DT Live stats/scores.
After 19d (64pts) at the half, Heritier Lumumba (DEF, $402,000) certainly stood up for one more final time, to be selected in the defensive half of your Fantasy team. He finished with a game high 113 (WTF?) and was very good and certainly worth his value after being priced at an average of only 71. He had 31d and 5 tackles, very very good. I feel sick saying this but I think I may have been wrong about the prince. He's certainly worthy. Give him a crown!
Christian Salem (FWD, $193,000) backed up his effort from last week and scratched up an impressive 49pts at the half. He kicked on to have 91 (20d) and is well and truly in the mix for a spot on your ground. I think he can average 70 this year and at his price, he's a steal if he can keep this up.
Aaron VandenBerg (MID, $120,000) dominated again with 49pts in the first half. He finished with 71pts (6 tackles) and is surely paying $1.03 to be promoted to the senior list and to be named round one. Lock this lad in.
He's been placed on the field of many desperate teams (wishfully thinking) but tonight, Laughlan Dalgeish (DEF, $219,000) didn't really step up to the expectations from the coaches who have placed faith in him. He scored 51 which is solid and is still good value based on his price.
Brendon Goddard (FWD/MID, $550,000) took a while to get going, but he finished the night on 89 and will miss many teams for round one after being a lock after gaining DDP status earlier this year. Too much doubt surrounds the great man, but he will be a top 6 forward by the end of the year.
He's on many grounds and Ben Newton (MID, $192,000) was very good again for his 72pts and before this pirate has another Boags, I better quickly mention Jesse Hogan (FWD, $194,000) who was ok for his 48pts but nothing to be overly excited about.
Alright everyone make sure they have s gos dia angd zzzzzzzz (pirate out)
I will add some Time on Ground info on Saturday. Taking for ever!
Gold Coast v Brisbane Lions – Metricon Stadium
Friday 20 March – By Roy
Click here for DT Live stats/scores.
Judging by the influx if messaged I got last night, this game may as well have been the Rocky Horror Show! Coaches must be crapping their dacks (some people blaming me) for Tom Rockliff's (MID, $763,000) third pre season game where he hasn't managed a ton. He scored 89 from 21 touches and his NAB games would suggest it is best to pass on him with the additions and returns to the Den this year. Personally I don't think he cares about these games.
Dayne Beams (MID, $609,000) was awesome again with 109 and Jack Redden (MID, $609,000) looks primed for a big year after a massive first half, eventually scoring 105 with a trademark 7 tackles.
Stefan Martin (RUC, $635,000) cracked the ton despite sharing duties with Matthew Leuenberger (RUC, $277,000) who got off to a shocking start but did enough in the end to justify selection with 2 goals and 73 from 68% game time.
I've been keen on Kade Kolodjashnij (DEF, $387,000)  all pre season and he continues to tick boxes. Last night he had another good game with 26 touches and 6 marks for 87 points, all but locking himself into my side. Harley Bennell (FWD/MID, $484,000) looks poised to take his game to the next level after scoring 111 from 31 touches.
Despite only scoring 52, Adam Saad (DEF/MID, $120,000) look amazing, and has to be a sure thing to be elevated off the rookie list. I'm not sure how a player with such skill and poise slipped so far. Fellow youngster Touk Miller (MID, $211,000) drew praise from his coach after knocking up 70 points, including a goal and 6 tackles and he looks set to debut round 1. I thought he looked really good out there and get the feeling he could rack up enough games to justify his selection, his inflated price is the only concern.
Zac Smith (RUC, $366,000) once again put his hand up for coaches on the search for mid priced Rucks with a score of 84 which included 27 hit outs.
It looks like Rocky might be as rare as a Duroc at the start of the season.
Richmond v North Melbourne – Etihad Stadium
Saturday 21 March – By muttley
Click here for DT Live stats/scores.
Dumont or not Dumont? That is the question. Unfortunately it remains largely unanswered as the popular bargain rookie didn't actually play this game – oh well – we better get used to that for now because North Melbourne are good. Real good. Luckily there are plenty other newbie cash cows going around who'll get more regular game time in this rapidly approaching season. Take for instance Richmond's Kamdyn (yes Kamdyn) McIntosh who'll find himself on most wily DT coaches' DEF benches after his lively 17 disposals here. At $124k in NAB Fantasy ($120k RDT) I'd gladly take his 60 points come Round 1, especially if he can stop conceding those 3 FA's.
As for the game, this had more positives than a box of batteries. We had the good ol' Saturday arvo footy in Melbourne, with lots of sunshine (even if it eclipsed the indoor stadium's playing surface like a Polaroid photo), two old-school teams with young talent and high ladder aspirations, high scoring and high-speed game play, oh and a stack of Fantasy scoring options. The Roos were the victors but hey it's only NAB Challenge, so everybody wins.
Winning early was a bloke who looked like a young Nick 'Roo' Riewoldt, but is in fact a different type of Roo. Two high-powered goals and a crunching tackle in Q1 had everyone asking the question "so, who the hell is Mason Wood?" which the North Melbourne one-gamer answered thereafter with almost complete silence, but at least he finished with 63 DT pts – not bad for a $249k/$260k FWD with arms like boulders.
Tiger Ben Lennon ($207k/$189k FWD) showed early that despite his terribly crooked haircut he does have a long straight kick although his 50 points won't thrill everyone, especially as mature-aged rookie and DPP Kane Lambert tallied a similar 43 points at half the price ($103k/$120k MID/FWD).
Jack Ziebell looked dangerous in every sense as he worked his way to 50 points in less than a half, or hospital – whichever came first. Unfortunately it was pretty much both the above as he got subbed off via stretcher, so buyers beware if you're considering him as a somewhat unique POD selection as it may inevitably cost you a trade at some stage due to his sheer courageous lunacy.
Maybe it was the new moon, because another Jack – Jack Riewoldt – played two completely different halves as though his name was Jekyll Nincompoop. His first half was outstanding, but the second was outrageous. Let's just say that on his way to 88 points he helped North achieve twice as many free kicks as Richmond for the day.
Rance was Richmond's main defensive lynchpin as he gathered 17 disposals with 5 tackles for a score of 71 points, just ahead of Houli with 70. Ruckman Ivan Maric looked to be dragging his mullet around at times as though he'd rather have gone fishing, although perhaps nothing new there as he still managed a respectable 80 points. If you want to (or can afford to) spend bucks on your rucks, go for Goldstein… go you Goldstein, go. With no stinky Currie or pesky Daw knobs out there stealing possessions and hitouts from the big man, Goldy racked up 17 disposals and 29 hitouts for a very handy, game-high 104 points.
The Tigers' big three: Cotchin, Martin, Deledio were all their usual prominent selves, but no Tiger (or anyone other than Goldstein) scored over 100 points. Take note Cotch did only play the first three quarters as planned to successfully keep his hamstring intact.
In the Kangas' midfield Wells quietly accumulated 26 touches for 92 points which spells bloody good value at $356k/$351k. Swallow had his usual 5 tackles and 22 disposals to yield only 78 points, so it could be worth spending the extra $40k up from him to Gibson who came on as sub to gather 73 points in just over a half (!) of footy to just pip Dal Santo's entire game of 74.
In case you're wondering, the new Kangas recruit and DPP DEF/MID Shaun Higgins light-footed his way to 2 goals and 75 DT points, but his $428k/$430k price and undeniable injury history might scare off a few Fantasy coaches. Fellow recruit Jarrod Waite also didn't play unfortunately as this game would've suited him much more than the tiring albeit cheaper Drew Petrie (1 goal; 67 DT pts). Or you could go even cheaper again for Lindsay Thomas (86 pts) whose preseason form has been feisty.
Finally, if you're just plain desperate Ty Vickery (24 pts) stunk it up all day so you'd be forgiven for thinking he was just another goal post. Meanwhile Vlastuin (29 pts) once again somewhat failed to flap his defensive wings into something far more pick-worthy.
Port Adelaide v Adelaide – AAMI Stadium
Saturday 21 March – By Dunny
Click here for DT Live stats/scores.
As with all NAB games I watch/review, I first took note of who wasn't out there as that always influences the scores of others.  For Adelaide there was no Podsiadly, Scott Thompson, Kerridge or Jaensch.  For Port there was no Wingard, Trengove, Hartlett, Ryder or Monfries.
Yo! That is exactly what we heard from Crow's youngster Cam Ellis-Yolman (Mid $120,000) has put his hand up for both Phil Walsh and every single Fantasy Coach out there.  26 touches and 5 tackles for 82 points is more than enough for me.  He had 9 kicks and 17 handballs which isn't ideal, but for his price you simply cannot look past him.  He was attending centre bounces which I am not sure will happen during the regular season and this will affect his numbers, but not enough that I wouldn't pick him.  At half time Patrick Dangerfield (MID $524,000) had only 3 kicks and 7 handballs.  He ended up with 12 kicks and 9 handballs, 4 tackles and 6 marks.  He really started to turn it on after half time and showed what he could do.  102 DT points certianly is enough for me.  Rory Sloane (MID $592,000) has been a popular discussion point, like Paddy he was on 3 and 7 at half time.  He ended with 9 and 13 for 82 points.  Much like Danger I didn't notice him a great deal in the first half but after half time he also started to get back to what I expected.  At the moment I would be picking Danger over Sloane purely on price.
Nathan Van Berlo (MID $272,000) was playing mostly on a wing and didn't have a tight tagging role for his 62 points although he did try to run with Boak for a little while, but the two were apart for a lot of the game.  9 kicks and 7 handballs with 3 tackles.  Certainly not what we were hoping for from him, but it is more than what he is priced at so he will make you some money.  I was hoping for an 80 out of him.  Still on my radar though.  Brodie Smith (DEF $465,000) has also been a popular pick throughout the pre-season.  I did notice that at the opening bounce he lined up on the wing.  During the game he was drifting across half back as well as in the middle.  However, it certainly wasn't his best game.  6 and 8 with 2 tackles which only netted him 45 points.  This is pretty much what I was worried about with him.  Not sure how this changes with Jaensch back in the team.  Brad Crouch (MID $524,000) was subbed out at quarter time with a sore foot.  He needed the ambulance cart to get across the ground at half time.  Just keep an eye on things over the next week before you lock him in your side.
As some of you know I have been a little skeptical on whether or not Robbie Gray (MID/FWD $546,000) could keep up the great play and whether he was worth it.  Quite simply lock him in. 99 points, 29 possessions and 2 goals 2 behinds.  Go for it.  Travis Boak (MID $540,000) was pretty much left alone and he had a game high 34 touches and 10 tackles.  This resulted in 139 points.  He won't be left alone like this all that often, but I still see him averaging over 100 and he could be a great unique player for your team as he is only in just under 3,000 teams at the moment.  Ollie Wines (MID $517,000) had 32 touches of which 22 were handballs to go with 7 tackles for 116 points.  If he can reverse that K:H ratio then he will most certainly have another break out just like we are all looking for.
Whilst Aaron Young (MID/FWD $237,000) isn't really all that fantasy relevant, what he did do was score 93 points from 20 possessions.  I say he isn't relevant because when Hartlett and Wingard come back in he will be relegated to less time in the midfield and back to the bench and possibly vest again.  The key to this though is that with a performance like that he is certainly going to be keeping Karl Amon (MID $120,000) out of the side going forward.  Lastly I just want to mention Mr Consistent Brad Ebert (MID $560,000) who had 24 touches. 6 tackles for 116 points.  His possessions were kick heavy (17:7) which is exactly what we like.  Just like I said in my previous article about him I think that he is a great unique who should score very consistently.
Overall a good game and the Crows certainly looked a better side than they were last year so I expect big things from them which will only help their players scoring.  The overall feature of this game was handball, there was a heap of it!  Whilst there were some big scores, this just emphasized how tight it was and how hard it was to get a kick out there.
Western Bulldogs v Collingwood – Etihad Stadium
Saturday 21 March – By Warnie
Click here for DT Live stats/scores.
Earlier this week a few questioned the inclusion of Marcus Bontempelli (FWD/MID $392,000) in Thorpy's team. With 15 touches in the first quarter, he had an epic game collecting 29 disposals and kicking three goals in 79% TOG. A highlight of The Bont's Kouta-like performance was his 9 tackles to help him get to 144 points; the most of any player over the NAB Challenge. I love the selection of The Bont in fantasy teams as there will be plenty of improvement. Is 44 trades enough to justify picking him for a mid-80 average or so and to be used as a mid-priced stepping stone?
The Bont! So awesome, so underpriced, so the first Dog I would tag #AFLFantasy

— Adam Roy Davey (@RoyDT) March 21, 2015
Bontempelli's team mate Luke Dahlhaus (FWD $494,000) finished with 32 touches and 133 points while Mitch Wallis (MID $329,000) pumped out 11 tackles on his way to 109 points (78% TOG). I've been keeping my eye on Wallis because we know he is a fantasy ball-magnet and is mega cheap, but there are questions marks over his role. The reason he is so cheap is because of a tagging role. We haven't seen this in NAB, but I'm not sure if I can go there.
The Dogs smashed the Pies with 10 players scoring over 90 fantasy points.
Brett Goodes (DEF $192,000) could be a nice D6 if he is upgraded to the senior list. He gathered 19 disposals, laid 6 tackles and knocked up 99 points in 78% TOG. Other notable performances from the Dogs included Mitch Honeychurch (FWD/MID $179,000) with 76 points and Lin Jong (MID $253,000) with 90 points – both plenty of value in the salary cap game. I'll be including the former in my team. Joel Hamling (DEF $120,000) was good for his 49 points, but starting in the vest alongside Caleb Daniel (FWD $157,000) you can almost put a line through their names for me. If Hamling is named round one though, there may not be a heap of D8 options so you may as well jump on. I just fear for his job security after starting in a vest in a bigger than normal squad.
The best of the Pies was Steele Sidebottom (MID $612,000) chalking up 113 points from 30 disposals and 7 tackles. I've got him all but locked in my squad after being high on the radar thanks to a great end to 2014. He might sit next to Scott Pendlebury (MID $614,000) who hit his straps in NAB3. Like The Bont, Taylor Adams (FWD/MID $404,000) is priced where we will almost certainly see some improvement. His 112 came from 83% TOG. I pretty much saw him play the MID/FWD role. Stints in the midfield then running around in the front half of the ground.
Alright… Dane Swan (FWD/MID $531,000). If you look at his score of 96 from 75% TOG you'd be pretty happy. The issue was that he does look like he will be playing that FWD/MID role that he did spend a lot of time doing last year. He kicked one goal but due to spending time forward, his scoring went in patches. For example, it took him a little while in each quarter to register a stat. But the thing we know about the Fantasy Pig is that he'll do what he can to get some numbers. With 'only' 21 touches to his name, Swanny went on to lay 7 tackles. He is still nothing short of a lock for me.
A few other things of note was the ankle injury to Levi Greenwood (MID $576,000). He will spend time as the stopper in the midfield and is likely to 'miss weeks'. This could throw a little spanner in the works for the Collingwood midfield. There was no Nathan Freeman (MID $174,000) again for the Pies, so get him out of your plans.
When touching on the midfield, @ncb_cfc suggested Crisp + Adams as potential taggers/ lock down players in the absence of Caff + Greenwood.

— Collingwood FC (@CollingwoodFC) March 21, 2015
Alright. That's about all I've got! There were plenty of relevant players in the game and there will be a lot of Pies and Dogs who will be in the mix for our squads this year.
GWS Giants v Sydney Swans – Startrack Oval
Sunday 22 March – By Warnie (with some help from Griff)
Click here for DT Live stats/scores.
Griff headed to the GWS game in Canberra and took some notes while I spent the whole game watching from the couch. Here are a few things to take out of it.
The top scorer for the match was Luke Parker (MID $585,000). There really is no reason to not have him in your team this year. He will take it to another level after scoring 66 and 104 in his first two NAB games and then knocking out 120 today from 84% TOG. Beast! Two other boys brought up the ton; Phil Davis (DEF $296,000) and Nick Smith (DEF $347,000) but don't get tricked into them. Smith is possibly justifiable after spending time on the wing, but I won't even consider it.
At the beginning of the game I had written off Tom Mitchell (FWD/MID $432,000) from my squad. He was given the green-vest and really, this meant curtains for me. Why would they do that if he is a member of the best 22 after being a fringe player last season? He hasn't spent hardly any time through the midfield, attending minimal centre bounces. Today that changed. Once subbed on, he racked up 84 points in 56% TOG with 18 disposals, 5 marks and 6 tackles. No one has ever doubted his ball winning prowess… it's all about his role. Mitchell ran through the midfield and spent time up forward – largely because Kieren Jack was taken to hospital after a lower abdomen injury left him floored. There was no McVeigh or McGlynn today either. While I had written him off, I've pulled out the eraser but I can still see that faint line through his name.
https://twitter.com/RLGriffinGWS/status/579494962884038656
Okay. Let's look at some of the other players quickly.
Heath Shaw (DEF $456,000) – Started like a house on fire. He will be a good option this option and I was looking at whacking him into my team after his 41 point first quarter. When he sweeps off HB, he is fantasy gold… but his inconsistency isn't just game to game, it's quarter to quarter.
Isaac Heeney (MID $246,000) – Absolute gun and will be in their round one team. Sadly he's priced a bit too high for me in AFL Fantasy but is a lock in other formats. Heeney is easy to spot with his blonde hair and we will be seeing a lot of him this year.
Ryan Griffen (MID $485,000) – Still has to be considered. He will obviously cop attention and today Bird ran with him. 83 in 81% TOG was promising and shouldn't change your mind either way.
Sam Naismith (RUC $165,000) – Shouldering the ruck responsibility, we might see some of the project ruckman this year and although he is worth a few more dollars than basement price, he might be our best bet as a R3. He scored 68 points.
Lance Franklin (FWD $536,000) – KO'd in the first quarter in a sickening head clash with Gary Rohan. He's all good. Was on the radar earlier in the pre-season but the smart thing to do is to start with the FWD/MID guns and if Buddy is looking to be a top 6 FWD, then we can upgrade to him.
Carlton v Geelong – Etihad Stadium
Sunday 22 March – By Daniel
Click here for DT Live stats/scores.
Make no mistake, the last weekend of NAB Cup always throws up a few shocks and surprises that make you want immediately press the 'garbage' button on a few players. However, the final round is generally the best indicator of the performances that we should expect of the players we are selecting.
Teams look to play the best 22 possible and for us Fantasy coaches, this must means we can look at some major factors that go into selecting players such as Job Security and Form.
Without wanting to drift off topic too much, I shall share with you some of the more interesting facts and figures that were produced during the high scoring Carlton v Geelong match (Carlton 2.10.14 92 v Geelong 0.17.9 111 if you were wondering!)
Carlton Head Turners:
Struggling for a decent M7/M8? Look no further then Patrick Cripps ($163,000 MID), who again racked up a monstrous score this weekend against another strong outfit. His score of 119 in only 83% game time proves that his job security and form is at a stage where I am happy to select him in my side, two pivotal factors that were mentioned just above.
The other high scoring players for the Blues were Andrew Carrazzo ($461,000 MID) and Troy Menzel ($281,000 FWD), but I can't see either slipping into any Fantasy sides this year so these stats don't worry me.
Carlton Face Palmers:
Not many players to name in this category this week, but if i had to choose one it would be Matthew Dick ($120,000 DEF) who scored 37 in 88% game time. I must admit he was firmly on my radar as bench cover for my under strength defense not long ago, but after this showing I can drift my attention elsewhere.
Job security is promising but unfortunately his Fantasy scores aren't good enough.
Geelong Head Turners:
The Cats had a few players that were on song tonight, most notably Tom Hawkins ($436,000 FWD) who scored an impressive 113 in 96% game time. Gave the young Carlton back line a masterclass with 5 goals in quick succession and isn't going to be producing those figures frequently so I would stay away.
Joel Selwood ($603,000 MID) played a good game racking up 97 points in 76% game time while been tagged by Carrazzo. You can look at this performance in two ways really. Either your impressed with his numbers or your concerned about the tag situation. Is the glass half empty or is it half full? The choice is yours.
The ever reliable Jimmy Bartel ($562,000 FWD) didn't crack the ton but still played his part in a hard fought victory. The incredible thing is though, he scored 87 in only 47% game time. He strangely started with the green vest, then came on to put in a solid performance. Without a doubt a solid pick in the forward line and with Stevie J back as well, it seems his numbers haven't taken a tumble. However, that green vest is an interesting one…
Mitch Clark ($156,000 FWD) battled to score 74 from 86% game time. He hurt his finger in a ruck contest late in the 4th quarter and had the umpires blowing whistles at him all day just to add fuel to the Fantasy fire but the value he possesses is just incredible. He is surely a must have?
Geelong Face Palmers:
This maybe harshly categorized but Stevie J ($613,000 MID) didn't have the best run today scoring 65 from 90% game time. He did have an injury cloud coming into the game with an interrupted week in training and hasn't had a say in many Geelong games this pre-season but the potential is evident. Upgrade target definitely as I just feel its too risky starting with him considering he is up against the likes of Beams, Crouch, Pendles etc.
Apart from Stevie J, Nakia Cockatoo (177,900 FWD) scored 33 from 77% game time. Not sure how many people currently have him but after this performance he might find his ownership percentage slowly drop.
Make sure to keep checking back through the week for more articles/podcasts. As the season approaches the Fantasy competition heats up so don't miss anything that could jeopardize your chance of success this year!
West Coast v Fremantle – Domain Stadium
Sunday 22 March – By Anthony
Click here for DT Live stats/scores.
In the last game of the NAB challenge we saw West Coast and Fremantle go head to head fielding practically their best 22.
This is possibly the closest example of what we can expect to see from these players during the regular season.
Quite a few fantasy talking points have come out so lets have a look, might be a bit of a read this one!
Chris Masten ($496,000 Mid) was the highest scoring player, he burst out of the gates with a massive 51 point first quarter, finishing the game with 123 points from 80% TOG. Really worked hard to get to each contest and find his own ball, could be in for a decent season. Although we probably say this every preseason…
Nathan Fyfe ($579,000 Mid) continued his beast like efforts racking up the points when Fremantle are flying. Attended practically every bounce and just went HAaM at the contest all day. 113 points from 81% TOG. If you've got him on the ground you'll be pretty happy with that.
The player I was personally watching the closest was Scott Selwood ($459,000 Mid). This was his first game of the season to find some match fitness before round 1 and from all indications if you had him in your team before you can leave him in there now. He started the game forward and floated in and out of the midfield from there. He also spent a little time following Fyfe around but that certainly didn't impact his score either. I'm thinking it may be enough to slot himself back into TBetta's team too!
108 points from 89 mins game time.
Lachie Neale ($466,000 Mid) started the game on fire but slowed up after half time. He finished the game on 79 points. While the stats say he had 78% TOG his attack on the ball didn't seem as furious as the week before. This slowed down his second efforts and I believe it's one of the reasons his scoring wasn't as high today.
Garrick Ibbotson ($336,000 Def) looked great in the early stages of the game. This was mainly due to him playing loose man in defence and West Coast kicking the ball directly to him. He was also joining in a lot of Fremantle's rebounding chains. At half time he was on about 49 points but once Fremantle stamped their authority on the game he didn't see much of the ball. He finished the game on 63 points from 98% TOG.
Michael Johnson ($439,000 Def) did what Ibbotson should have been doing though. Rebounding out of defence for the entirety of the game. Took 11 marks in defence opted to kick the majority of the time he had the ball. This all spells a decent fantasy return. My only knock on Johnson's game is that he didn't lay a single tackle. If he could add that to his game he could be incredible. Even without it his output was decent. 101 points from 99% TOG.
Cam Sutcliffe ($383,000 Def) and Tom Sheridan ($216,000 Mid) posted very handy scores today after relishing the chance to run free. I wouldn't be locking them in just yet though but could definitely be worth keeping an eye on once Fremantle's midfield settles again. 103 and 114 point respectively.
While West Coast had Andrew Gaff ($562,000 Mid) and Dom Sheed ($237,000 Mid) who impressed a lot. 107 points from 86% TOG for Gaff saw him linking up through the mids as he does best. Attracted a bit of close attention from Pearce and kept his output up so that helps with the worry of how he'll perform with a tag.
Sheed looked possibly the best I've seen him scoring 82 points from 70% TOG. I wouldn't be locking Sheed in just yet based on this but definitely keep an eye on him. Looked very sharp linking up with fellow west coast players who were running out of defence.
Brad Sheppard ($377,000 Def) is a player who's been talked about quite a lot this year. Unfortunately today wasn't one of his best outings. He spent the first half playing a lock down role on Mayne, freed up in the 3rd quarter and then went back to a lock down role in the last quarter. Unfortunately this could be the story of Sheppard's season. West Coast will need him to try lock down dangerous opposition small forwards which will certainly hinder his scoring. 46 points from 78% TOG.
Nic Naitanui ($413,000 Ruck) started his 2015 season in typical fashion. Impacted and influenced a lot of contests but still looked underdone in regards to marking and taking possession. Today's game only saw him score 48 points from 89 mins. I wouldn't be able to lock him into my round 1 Fantasy team with any kind of confidence based soley on that. Don't read too much into his presence effecting Scott Lycett's output. Lycett ($410,000 Ruck) was subbed out but took on his fair share of ruck contest in tandem with Nic Nat. Scored 40 points from 57% TOG which unfortunately seems to be his average.
West Coast rookies Nelson and Lamb may look like seeing a bit of action this year but neither seem to have scoring potential to justify selection as of yet. Tom Lamb ($201,000 Fwd) possibly may in the future but definitely needs another AFL preseason at least. Not this year for mine, even with his JS looking solid with Darling out.
Fremantle rookies Smith, Blakely and Duffy didn't do enough for mine either. With Smith and Blakely starting with the vest and having little to no impact when coming on, Max Duffy ($142,000 Fwd) looked the best option of them. Just can't see where he fits into a full strength Fremantle line up when Ballantyne returns. 62 points from 70% TOG.
Clancee Pearce ($280,000 Def/Mid) still looks like a massive gamble to me. With 28 points to half time playing off the wing he was then given the tagging job on Gaff to finish the game on 74 points from 81% TOG. Not a bad return for his price.
Without Crowley could 'Pearce the Tagger' be a fitful DTer?
Click here to read the other NAB Challenge reviews from the last three weeks.