NAB Challenge 2015 Hype Team #1
Now that each team has played twice, Warnie pieces together a hype team that includes a group of players who have increased in popularity over the NAB Challenge thus far.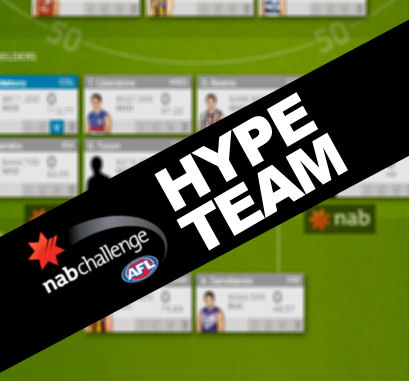 I've put together hype teams the last couple of years on DT Talk, but they've usually come out a little earlier than this. I was waiting for all teams to play twice so we can have a good feel of who coaches are keen on. This is going off what I'm hearing on Twitter on weekends and the questions I'm asked, what teams are looking like in My Team and the rubbish that is spoken by Roy, Calvin and myself when we get together.
Usually I don't go much into why, etc… but here are some words by position and my two cents on some of the players.
DEFENDERS
Basically Jack Newnes is going to be a very low risk pick as everyone is doing it. Currently in 30.6% of teams, Newnes scored 94 and 73 in his first two games. I'm locking, but mainly because everyone else is and I don't have to think about it too much. Heritier Lumumba has spent plenty of time at centre bounces and while his numbers are world beating, he's a very popular choice. Due to injury, Brad Sheppard's ownership has increased. Pushing himself into around 5% of teams, he has been taking plenty of marks across half-back with 97 in NAB1, followed up with a 67. Apparently Jarryn Geary isn't playing tonight after injuring his hamstring. The Saints tweeted that he will be right for round one. At that price, if he's playing, then he's a good selection. Calvin has been talking everyone into Taylor Hunt now that he is at the Tigers while Roy is all over Bomber Lachlan Dalgleish to fill D6. On the pine is the rookie listed Adam Saad (43 and 57 in NAB) and the heartbeat of Nathan Brown who has actually been okay with 41 and 58 points.
MIDFIELDERS
Starting off with Tom Rockliff after is 97 points in NAB2 that didn't include a tackle (this will change when the real season starts), the new Fantasy Pig gets a gig with the doubt over over Gary Ablett for round one. His new team mate Dayne Beams hasn't shown any issues with starting at a new club. Luke Parker pumped out 104 and has been a popular premium option after Roy talked it up that he will be in the top 8 midfielders by season end. New Giant Ryan Griffen had the ball on a string in his first showing for the Giants with 107 points. Will he get it that easy? Hmm… he is bloody cheap! I'm not doing it thought. Lachie Neale made everyone excited with a whopping 131 points from less than 75% playing time. No classic mid-pricers make the team so the last three MID spots are made up of Patrick Cripps, Ben Newton and the rookie listed Aaron vandenBerg have done more than enough to lock themselves in our team. Strong showings from Karl Amon and Cam Ellis-Yolmen give them a place on the bench.
RUCKS
Going at 1.2 point per minute before being vested, Shane Mumford is included as a premium option alongside West Coast's Scott Lycett. The West Coast ruckman has been going at it without NicNat, however this will most likely change after this weekend. Andrew Phillips and Jason Holmes are two bench options that have shown something over the NAB.
FORWARDS
Of course Jimmy Bartel takes F1 due to his massive two games through the midfield that saw him score 110 and 111. Dustin Martin smashed it up in his only showing with 109. Absolute jet. I'm all over him being the #1 forward this year – knocking off Swanny, who doesn't make this team as people are questioning him (which I think is stupid). Robbie Gray has played one game for 111 and looks set to take it to another level this year. Three on-field rookies, due to where the value is, complete the 22. Christian Salem got himself back in contention after 118 on the weekend putting his 32 the week before in the back of our minds. Mitch Honeychurch has been solid and will get an opportunity to increase in value while Mitch Clark dusted off the cobwebs last week with six goals and 108 points in NAB3. Cam McCarthy and the rookie listed Kane Lambert round out the bench.
There is a whopping $343,000 left in the kitty.
Discuss who you think are good selection and who you wouldn't touch because hype is all they are in the comments. Also throw in other players who you think are hyped up due to their NAB performances. I'll post another hype team next week after the NAB Challenge is completed.