Jeppa's Juniors – 2015 Forwards & Rucks
More rookie analysis from Jeppa has arrived! Check out which forward and ruck 'juniors' are the must haves this season. There is plenty to consider.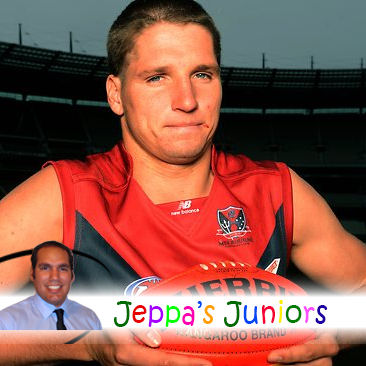 With many opting for a gun forward line this season, coaches should be narrowing down their forward rookie choices to a top three or four. Easy right? Not entirely. Job security is obviously the highest criteria for rooks that you need to consider and they should be cheap too considering the amount of money already spent on the likes of Bartel, Dusty, Goddard, Franklin, etc!
As for the rucks, well it's slim pickings as usual. I'm a huge fan of just one ruck on the bench in Dreamteam this year as it changes strategy and keeps things interesting. I've touched on my own ruck strategies below.
Let's get into it shall we…
FORWARDS
Christian Salem
AFL Fantasy Price: $193,000
AFL Dreamteam Price: $192,800
Predicted Average: 66
After an apprenticeship up forward in 2014, Christian Salem looks to be shifted to the half back line this season. A licence to roam free and set up teammates from the back half, should see a healthy boost in Fantasy scores and the Dees will want the ball in his hands given his elite kicking skills. Reports to date are that Salem has had an excellent summer and he was one of Melbourne's best in their intra club last week. Priced just under $200,000 in both Fantasy and Dreamteam will turn plenty off Salem however, his job security is quite high and the upside is positive. Keep a close eye on what he can produce in the NAB Challenge because I think we'll all be pleasantly surprised.
AFL Fantasy Price: $146,000
AFL Dreamteam Price: $222,000
Predicted Average: 63
It's not every day that an All-Australian player is this cheap! Ben Reid suffered multiple soft tissue injuries last year and recent reports are that he's on track for the start of the season (source). If he's named for Round 1 then he should be on your Fantasy bench. The tall utility is such an integral part of the Collingwood's line-up it's just a matter of whether he can reach his best form. If he can get some continuity in his footy then I reckon he's good for 60 to 65 Fantasy points per game. Fingers crossed he can stay injury free this season.
Mitch Clark
AFL Fantasy Price: $156,000
AFL Dreamteam Price: $162,600
Predicted Average: 62
We're lucky a strong, athletic and proven key forward is available to us at bargain prices. Mitch Clark is refreshed and back amongst AFL ranks. The 27 year old has made an early impression at his new club Geelong and Chris Scott insists that he'll make his team better (source). With the gun Geelong midfield feeding him the footy, Clark should be good for an average in the low 60's. Against the Suns last Sunday, he finished with 9 possessions, 2 marks, 2 tackles, 2 goals and 48 Fantasy points but looked quite unfit! Assuming he continues to build on his fitness and stays injury free, Clark will be hard to ignore.
AFL Fantasy Price: $180,000
AFL Dreamteam Price: $153,700
Predicted Average: 58
Saad is another mature forward showing promise this season. The 25 year old was suspended for 18 months after testing positive to a banned substance but the Saints hierarchy know what he's capable of hence why they redrafted him to their rookie list last November. Saad looks a picture of good health and coach Alan Richardson expects him to play a significant role for the club this season (source). He didn't set any records in the NAB Challenge last weekend, scoring just 30 Fantasy points from 75% game time however, he is capable of holding down a small forward role this season. With Arryn Siposs and Farren Ray on the sidelines for an extended period, he could be upgraded to the Saints primary list prior to Round 1. Keep an eye on him!
Patrick Karnezis
AFL Fantasy Price: $197,000
AFL Dreamteam Price: $140,200
Predicted Average: 64
Yep, I did it but with good reason. The Karnezis name is tarnished amongst AFL Fantasy ranks after promising plenty in 2013 only to fail dismally. So what's different? For one, a new club in Collingwood. The Pies saw plenty of potential in Karnezis and traded him to the club, unfortunately his first season was ruined by injury. Next, confidence. Karnezis looks supremely fit and against the Hawks in Round 1 of the NAB Challenge he was a notable performer finishing with 11 kicks, 4 handballs, 5 marks, 5 tackles, 3 goals and 89 Fantasy points. I can see Karnezis fitting into the Pies 22 as a lead up medium forward and given his price he has to be considered, especially in Dreamteam. Not for the faint hearted!
Jesse Hogan
AFL Fantasy Price: $194,000
AFL Dreamteam Price: $138,900
Predicted Average: 69
Make no mistake folks, Jesse Hogan has game! As a pre draft selection, Hogan had to spend all of 2013 in the VFL. That year, as an 18 year old, he averaged 15 disposals, 7 marks, 2 tackles and 2.6 goals per game which was good enough to see him win Casey Scorpions' B&F! Back problems ruined the young key forward's 2014 season but thankfully he is now fit and ready to make his AFL debut. Usually, I'm against picking young key forwards in Fantasy and Dreamteam but Hogan is that good you can't afford not to have him.
AFL Fantasy Price: $204,000

AFL Dreamteam Price: $231,400
Predicted Average: 60
Templeton was a cult hero for the Saints last season and his stigma as a small forward looks to be short lived. In the AFL's #AskTheCoach, Alan Richardson confirmed that he is very keen to get Eli up and running on a wing! Back in action for the first time last weekend since badly breaking his arm, Templeton was quiet against Brisbane with just 8 possessions and 21 fantasy points from 67% game time but I wouldn't write him off. The Saints are young and looking for their next batch of stars. With plenty of senior opportunities likely this season, Templeton could be a very handy pick up. He's far from being a lock but you'd be silly not to put him on your watchlist.
Kane Lambert
AFL Fantasy Price: $120,000
AFL Dreamteam Price: $102,900
Predicted Average: 70
Lambert could be the cashcow of the season. The mature age recruit was picked up by Richmond to add to their midfield depth however, not many expected him to be doing this well, this early. Lambert has impressed Hardwick throughout the preseason with his work rate and his ball winning ability in Richmond's training scrimmages (source). He was named in the bests for the Tigers last weekend in the NAB Challenge after collecting 15 possessions, 4 marks, 5 tackles and 69 Fantasy points from 65% game time. To me, he looks like a natural footballer and given his bargain basement price and DPP forward/mid status, he'll be in my team(s) assuming he is promoted from the rookie list and named for Round 1.
Caleb Daniel
AFL Fantasy Price: $157,000
AFL Dreamteam Price: $117,900
Predicted Average: 56
Bargain time! Daniel was Champion Data's top ranked player from last year's Under 18 Championships and he comes to us very cheap this season. The half forward is an elite kick and the Dogs will be keen for him to deliver it lace out to the likes of Boyd, Stringer, etc. Daniel only stands at 169cm however, he can still mix it with the big boys. He played 11 senior SANFL matches last season and was named in the bests for his side in two of them. The Western Bulldogs do have an abundance of small/half forwards but with a few injuries down at the Kennel, Daniel does move up the pecking order. He didn't get a run in the first round of NAB Challenge but keep a close eye on him. Only downside is that he's a massive green vest risk.
Ben Kennedy
AFL Fantasy Price: $237,000
AFL Dreamteam Price: $251,200
Predicted Average: 64
Picking Kennedy is a case of high risk, high reward. Expensive for a 'rookie', Kennedy has shown vast improvement over the summer. He was a standout for me in last Thursday's NAB Challenge match against the Hawks, with his work rate and pressure efforts. He finished with 17 possessions, 5 tackles, 69 Fantasy Points and no green or red vest! If that's the trend the season then Kennedy will be a handy little cashcow. I doubt he'll be a popular selection this season given his history, which wants me to pick him even more. If I do pick him it will be in Fantasy only so I can trade him out if it turns pear shaped. Put him on your watchlist…trust me!
Contrary to many, I won't be picking Tim Membrey. Yes, Membrey is cheap and yes, he has great job security however, he will barely average 50 Fantasy points. The tall forward is limited to taking marks and kicking goals, he's not a great tackler and he won't have a decent and consistent supply from the young Saints midfield. With Riewoldt the focal point up forward, Membrey will also be playing second fiddle. Pass.
Other rookie priced forwards that could come into Fantasy and Dreamteam contention include Kyle Langford, Luke McGuane, Cameron McCarthy, Orazio Fantasia, Michael Apeness, Nathan Krakouer, James Sicily, Fraser McInnes, Robbie Tarrant, Jack Steele, Ben Lennon, Darcy Moore, Jayden Laverde, Dean Towers, Nick Kommer, Daniel Markworth, Blaine Johnson, Mitch Honeychurch, Patrick McCartin, Brent Staker, Tom Boyd, Tom Lamb and Murray Newman.
RUCKS
Andrew Phillips
AFL Fantasy Price: $149,000
AFL Dreamteam Price: $182,900
Predicted Average: 48
With Giles traded to Bomberland, young Phillips is now second in line for senior ruck duties at GWS. The lad from Lauderdale has had a fantastic preseason and was a notable contributor in the Giants intra club game last weekend (source). Given that Patton is injured and Tom Boyd is no longer, I wouldn't be surprised if GWS decide to play both Mummy and Phillips regularly in the same senior side this season! Note that Phillips is not going to set any Fantasy scoring records this season but at the R3/R4 position, you could do a lot worse. He's in my Fantasy side!
AFL Fantasy Price: $142,000
AFL Dreamteam Price: $248,200
Predicted Average: 62
Griffin is another ruckman second in line for senior action. Aaron Sandilands is not getting any younger at Freo and I highly doubt that the 32 year old, 211cm and 120Kg ruckman will play all 22 games this season. Enter Griffin. In the WAFL last season Griffin was a solid performer averaging 13 possessions, 5 marks, 2 tackles, 29 hitouts and 83 Fantasy points per game and he's got plenty of experience. Playing the odds, I've got Griffin on my Fantasy bench alongside Philipps. Here's hoping both get plenty of opportunities this season. Unfortunately, big Jono is too expensive for Dreamteam.
Sam Durdin
AFL Fantasy Price: $252,000
AFL Dreamteam Price: $147,900
Predicted Average: 50
North Melbourne were all smiles when they picked up Durdin with their first pick (16) in last year's draft. The young key position player is a great talent. He's strong in the air, can play both forward, back and even pinch-hit in the ruck. When you think of Durdin, think of 'Jesus' Westhoff. Unfortunately, Durdin was a late omission for the Kangaroos NAB Challenge game last weekend but I'd say he'd be given an opportunity this Sunday against the Hawks. With his dual position status as a defender/ruckman the options are plenty and that's a big selling point for me. Dreamteam relevant only due to price!
Sam Naismith
AFL Fantasy Price: $165,000
AFL Dreamteam Price: $180,600
Predicted Average: 52
If Mike Pyke goes down with injury then it will be up to Derickx and possibly Naismith to carry the load. Naismith was the Swans preferred ruckman in the NEAFL last season with Nankervis playing predominately as a forward and limited time on ball. This suggests that Naismith is ahead of Nankervis if a selection dilemma were to arise. Note that Naismith is currently on the Swans rookie list but there is room for him to be upgraded prior to Round 1. He's not for me but if something happens to Pyke between now and Round 1 then he'll be the hottest thing since sliced bread.
Last year it was Fraser Thurlow this season it's Mason Cox. Cox won't play a senior game this season but he is still a common choice in both Fantasy and Dreamteam. As the cheapest dual position ruck/forward, coaches are opting for Cox at R3/R4 in conjunction with Bellchambers in their forward line for suitable ruck coverage. I'm not against the idea, I just don't like having Bellchambers in my forward line with all the guns available and my preferred 5 premo, 3 rook forward line set up.
Look out for my post NAB Challenge analysis on the forward and ruck rookies that performed well, those that struggled and maybe one or two that snuck under the radar! Remember rooks are classified as players under $250,000 in either Fantasy or Dreamteam.
Remember you can follow me @JeppaDT for all rookie relevant topics and more!