Interview with Bec Wilson, the 2014 AFL Fantasy champion
EXCLUSIVE: We are lucky enough to pick the brain of the 2014 overall champion and try to get some insight into how we can live the dream and be the best.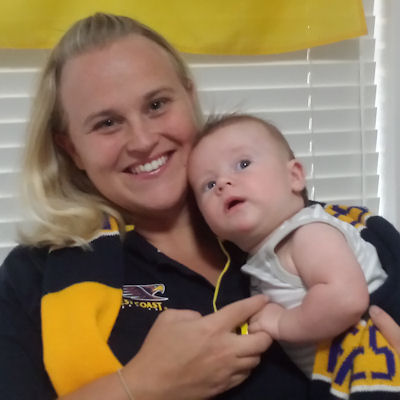 Hello and congratulations to Bec Wilson, who currently holds the title of 'Best Fantasy player in the world!' We are lucky enough to pick the brain of the 2014 overall champion in AFL Fantasy Classic and try to get some insight into how we can live the dream and be the best.
Did you go into the 2014 with a set strategy? If so, what was it?
To be honest I never really had a set strategy. I have always just tried to have a nice mix of guns, rookies and a few smokeys who may be in for a good season or have shown good NAB form.
Before becoming the toast of the country, what was your previous best ranking?
Before winning last season my best rank would have been between 200 and 300. I have probably been playing for about 8 seasons now and I haven't always had a good ranking, from year to year it can change quite dramatically.
Did you start with any unique players that didn't receive a lot of pre-season hype?
I don't think I had anyone that I could say people hadn't talked about them.
How much thought did you put into the bye rounds when you selected your initial team?
When I first picked my team I tried to be mindful of the byes but found it too hard to get it to a point where I was happy with my team, so after previous seasons troubles with the byes I decided to just pick my team and to start trading and preparing for the byes as the season went on.
Did you select any players based on heart and not strategy?
Nah. I've learnt from previous seasons you can't pick a player solely based on heart otherwise half of the West Coast Eagles would have been in my team. You have to look at point scoring ability but at the same time if you're deciding between 2 similar players I've often just picked the player I like better.
Were there any pivotal moves throughout the season that got you over the line in the end?
Many! I started with Dale Thomas and gave him the flick for Jack Macrae after the very first week! I also brought in Toby Greene late in the season when he decided to go on an insane scoring stretch and bringing in Jordan Lewis for the final week of the season. I also started with Luke Parker who was outstanding all season long and traded in Brandon Ellis after his slowish start to the season at a bargain price. Don't get me wrong, I had my fair share of luck – like the week Ablett got injured and I had switched him out of captain for a red hot Rockliff! I was also lucky enough to avoid plenty of other injured players during the season.
At what stage did you think you might be a chance to win it?
For the entire 2nd half of the season I was probably ranked inside the top 50 and was just climbing on average about 5 spots per week. I was super stoked to be ranked so highly but never thought it would be possible to actually win it until the last 4 weeks when I was ranked in the top 5 or so and scoring was very tight at the top. Heading into the last round I was 2nd overall and I think about 50 points behind.
What was the feeling like watching games in round 23, and when did you think you had it in the bag?
I never thought it was in the bag!
Oh my god, what a weekend! It was a stressful lead up to the final round when I was trying to finalise my last 2 trades of the season to make the winning move to come from 2nd overall to try and win it. I made a very late Friday night trade to bring in Jordan Lewis who pumped out about a 150 from memory. Every game was stressful watching my players, from having quiet quarters to bouncing back the next with a big one. I also like most other coaches had the red hot Tom Rockliff as captain who was a late withdrawal which had me scrambling trying to remember who was my vice, enter Toby Greene the saviour of my season in the very last game of the season. Toby Greene will forever be held in high regard after dragging my team the Mighty Midgets over the line to win the 2014 Fantasy season. Toby may also be granted with an automatic start in my 2015 side after his impressive finish to 2014.
And also all this while being heavily pregnant!
How many hours research were you putting in per week?
It's hard to put a number on how many hours a week went into it. At a guess I'd say 1-2 hours of research a week with the majority of that time being spent on Thursday team selections and Friday team finalisations. I love my AFL so I normally catch most of the games over the weekend while keeping track of my Fantasy team and cheering on my players.
What do you look for when watching players during the NAB Challenge games?
There's a few things I keep an eye on during the NAB: Keeping an eye on players who have changed teams over the summer who may now get greater opportunities at their new club. Players changing positions which could increase/decrease their scoring ability and just keep a good view of all the youngsters coming through and judging who is most likely to crack some games in the early going of the season.
What starting strategy do you think will work best in 2015?
I seem to find strategies change from year to year depending on where the good value players seem to be positioned. I normally like the Guns + Rookies strategy but i think there will be a greater need for more mid pricers in players starting teams this season.
Are there any smokeys on your radar?
There is always smokeys on my radar! The hard part is deciding how many smokeys and exactly which ones. A couple in the forward line I'm looking into this season are: Lachie Hunter and Sharrod Wellingham
Who will be your first picked DEF, MID, RUC and FWD?
Geez thats tough, I'll have to go with:
Defender – Michael Hibberd
Midfielder– Gary Ablett
Ruck– Sam Jacobs
Forward– Dane Swan
What is your favourite DT TALK article?
I can't choose between Calvins Captains and Jeppa's Juniors but while I also have the chance I'd like to say what a wonderful job all the guys at DT TALK do for the fantasy football lovers.
Thanks Bec for your time. Congratulations and good luck in going back-to-back!