Jeppa's Juniors – 2015 Midfielders
There's plenty of value amongst rookie priced midfielders this season but picking the right players can still be daunting. Here's our resident rookie expert's take on the best cheap midfield options for season 2015. Enjoy.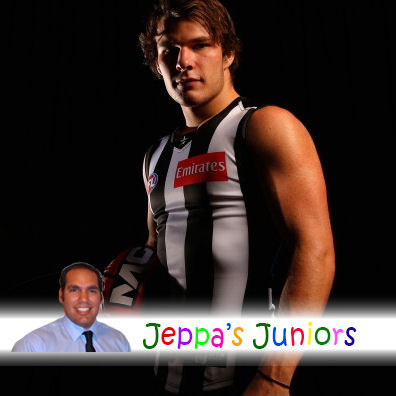 There are plenty of rookie midfielders to choose from this season. Some are expensive thus a little risky, others have been around for a while but returning from serious injury and there's a few value picks available too. With so many options, I've had to extend my Top 10 to a Top 12!
Taking into account job security, on field role and scoring potential, here are my best rookie priced midfielders ($250,000 and under) for 2015…
Nathan Van Berlo
AFL Fantasy Price: $272,000
AFL Dreamteam Price: $231,200
Predicted Average: 87
What do Gary Ablett, Dane Swan, Jesse Hogan and Nathan Van Berlo have in common? All four will be the most popular players to start with this new Fantasy season. Van Berlo has fully recovered from an achilles injury that saw him miss all of last year and he's burning up the track with top placing's in each of the Crows time trials this preseason. NVB also looks set to roam free in the midfield this season with new coach Phil Walsh confirming that he'll be released from his former tagging duties (source). With his experience I'm expecting 85+ scores each week. Don't waste your time thinking about it, just lock him in.
Nathan Freeman
AFL Fantasy Price: $174,000
AFL Dreamteam Price: $124,600
Predicted Average: 78
I don't think there's a bigger rookie lock than Nathan Freeman. The highly rated youngster missed all of 2014 with numerous hamstring problems but he's now healthy and ready to tackle the big season ahead. In last Thursday's intra club match, Freeman was one of Collingwood's better performers amassing 9 kicks, 12 handballs, 6 marks, 1 goal and 75 Fantasy points in reduced playing time. If he's used as a half forward/midfielder in the season proper, he should be good for 75+ Fantasy points per game. At this stage, he's a must have in Fantasy and Dreamteam so make sure he's in your team. Here's hoping he stays fit and healthy.
Trent Dumont
AFL Fantasy Price: $120,000
AFL Dreamteam Price: $124,600
Predicted Average: 75
He's in trouble with the law but as it stands, Dumont is still Fantasy relevant. In a recent Q&A, coach Brad Scott confirmed that Dumont's mishap in October was out of character and he's responded in the best possible way with a sensational preseason (source). He averaged 25 possessions, 5 marks, 6 tackles and 107 Fantasy points in 17 VFL games last year and appears to be the front runner to replace the recently departed Levi Greenwood. Assuming Dumont gets a slap on the wrist from his misdemeanour and is free to play in the NAB Challenge then you'll need to pick him in your team. I'm a big fan!
Jed Anderson
AFL Fantasy Price: $172,000
AFL Dreamteam Price: $151,000
Predicted Average: 70
When you think of Jed Anderson, think of a young Dayne Beams! That's how highly I rate this kid. Anderson had a shocker last year, firstly with pneumonia then a season ending shoulder injury. Now stronger and a little more mature, Anderson is a big contender for a breakout season. It's not going to be easy with the Hawks star-studded midfield however, there has to be some succession plan from the brown and gold and to play 5 games in his first season suggests he is rated highly internally. Anderson is prone to a green vest or two, which will put plenty off nevertheless; I'll be closely monitoring his form and fitness during the NAB Challenge.
AFL Fantasy Price: $243,000
AFL Dreamteam Price: $132,900
Predicted Average: 72
Carlton surprised many when they drafted Boekhorst with their first selection (19) in last year's draft but he was picked to fill a specific void. The athletic midfielder is best known for his blistering speed through the middle of the ground and Carlton could definitely use some more runners. Boekhorst averaged 12 kicks, 9 handballs, 4 marks, 2 tackles and 76 Fantasy Points in the WAFL last season and I expect a similar output in the AFL. He was a notable performer in the Blues intra club match last Friday and all signs are pointing to an early season debut. Boekhorst is a little pricey for my liking in Fantasy but he hasn't left my Dreamteam bench. Here's hoping he continues to perform during the NAB Challenge.
Blake Acres
AFL Fantasy Price: $166,000
AFL Dreamteam Price: $208,800
Predicted Average: 68
After a wretched 2014, Acres has been able to get his body right over the preseason. The young sandgroper was managed carefully throughout the summer and ticked all the boxes for the Saints intra club on the weekend. Playing at half back and on a wing, he finished with 13 possessions, 3 marks, 2 tackles and 49 Fantasy Points in very limited playing time. As a big part of the Saints future, I have no doubt that Acres will be given plenty of on field opportunities this season as long as he can stay fit. Acres wont be the biggest Fantasy scorer going around thus suiting your Fantasy bench. I wouldn't pick him up in Dreamteam due to price.
Ben Newton
AFL Fantasy Price: $192,000
AFL Dreamteam Price: $232,800
Predicted Average: 81
After just 4 games in 4 seasons at Port Adelaide, Newton decided to move to the Dees for more playing opportunities. There's no doubt that the lad from South Fremantle can play, he just couldn't break into Port's star studded midfield. Interestingly, Newton led the SANFL last season for disposals and clearances per game and was named in the bests for the Port Adelaide Magpies 13 times from 16 games! He was a solid performer in Melbourne's intra club last Saturday, playing as a rover and with his ball winning capabilities and solid job security, he'll be a popular pick this year. Don't miss the boat!
Patrick Cripps
AFL Fantasy Price: $163,000
AFL Dreamteam Price: $205,100
Predicted Average: 70
Cripps is another talented youngster worthy of some Fantasy and Dreamteam hype. He is discounted after playing just 3 games in 2014 thanks to a broken fibula but having completed a full preseason this summer, Cripps is now fitter, stronger and ready to tackle the long season ahead. He was a notable performer in the Blues intra club match last week (source) and there appears to be an inside midfield role with his name on it. I don't think Cripps will be a huge Fantasy scorer (he's more suited to Supercoach) but he'll still be a handy M9 even with his hefty rookie price tag. I'll be watching his stat line closely during the NAB Challenge. Consider.
Aaron Vandenberg
AFL Fantasy Price: $120,000
AFL Dreamteam Price: $136,900
Predicted Average: 80
Mature age rookie alert! Vandenberg was recruited by Melbourne to add to their midfield depth and he has the tools to be as good as past mature age guns, Michael Barlow and Dayne Zorko. The Ainslie product is an absolute ball magnet. He averaged 32 possessions, 5 marks, 6 tackles, 1 goal and a whopping 127 Fantasy points in the NEAFL last season…you can't ignore that! Dees assistant coach, Brady Rawlings recently stated that Vandenberg is likely to surprise fans this year after what he's shown over the summer (source). He's a bargain in both Fantasy and Dreamteam and ideal bench backup but he'll need to be promoted from Melbourne's rookie list prior to Round 1.
Isaac Heeney
AFL Fantasy Price: $246,000
AFL Dreamteam Price: $137,900
Predicted Average: 78
The Swans got a bargain in Heeney (pick 18) and as a result he comes a lot cheaper to Fantasy and Dreamteam coaches this season. There's no denying this kid's talent. He is an elite ball winner that can play inside and win the contested ball or use his speed and fitness in an outside midfield role (check out his highlights here). Recent knee tendonitis issues have put a bump in the road for Heeney's Round 1 preparation but he is still a chance for NAB Challenge games (source). Niggling injuries aside, Sydney's history of 'managing' their young guns with plenty of rest and green vests does not sit well with me but Heeney is that good he could be an exception. Watch this space!
AFL Fantasy Price: $294,000
AFL Dreamteam Price: $212,900
Predicted Average: 82
Brayshaw is an inside, goal-kicking midfielder with an elite disposal off both sides of his body. He dominates the clearances and his workman like attitude sees him compared to Fantasy favourite Joel Selwood. At 88 kilos, Brayshaw is ready made for the AFL and with Petracca out for the year, he'll definitely fit in somewhere in Melbourne's senior side. I suspect he'll be used on the flanks early in the season with short stints on the ball thus he should be good for a 20 possession, 80 point Fantasy return most weeks. Brayshaw is an absolute Dreamteam lock but I wouldn't spend circa $300,000 on any first year player in Fantasy especially with Daniel Rich and Nathan Van Berlo cheaper!
Jordan De Goey
AFL Fantasy Price: $285,000
AFL Dreamteam Price: $202,900
Predicted Average: 86
Due to his price, I never really considered De Goey but his performance in the Pies intra club match last Thursday night changed that quickly. Against Collingwood's best, the 187cm and 82kg midfielder was dominant all over the ground finishing with 24 possessions, 4 marks, 2 tackles and 85 Fantasy points! De Goey showed amazing power, speed and skill from start to finish and he's a short priced favourite to be named for Round 1. The dilemma I have is his expense but if he tears it up in the NAB Challenge, we might have to fork out for a bit of coin for some very healthy scores.
As good as they are, second year players Dom Sheed and Billy Hartung are too expensive to start with in Fantasy and Dreamteam this season. Both are far from guaranteed a spot in their team's best 22 and if they do play they are susceptible to the green vest. Jono O'Rourke and Ben Kennedy also fall into the category. I'd stay well away!
A couple of older youngsters returning from injury that may be decent downgrade targets during the season include Clay Smith and Anthony Morabito. Keep an eye on these blokes, especially Smith.
Other rookie priced midfielders that could come into Fantasy and Dreamteam contention include Jarrad Jansen, Clem Smith, Billy Stretch, Billy Evans, Brandt Colledge, Alex Woodward, Nakia Cockatoo, Liam Duggan, Karl Amon, Harry Marsh, Daniel Robinson, Liam Dawson, Nathan Drummond, Matthew Goodyear, Connor Menadue, Touk Miller and Jackson Nelson.
Look out for my post NAB Challenge analysis on the midfield rookies that performed well, those that struggled and maybe one or two that snuck under the radar! Remember rooks are classified as players under $250,000 in either Fantasy or Dreamteam.
Remember you can follow me @JeppaDT for all rookie relevant topics and more!