Food for thought for your Fantasy defenders
There were 28 players in the 2014 AFL season who racked up an average of more than 100 fantasy points, none of which were defenders.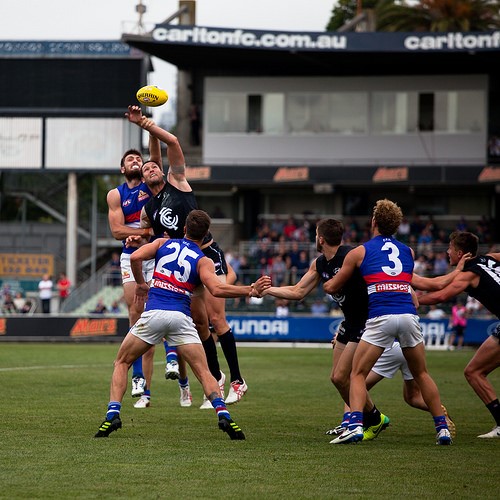 There were 28 players in the 2014 AFL season who racked up an average of more than 100 fantasy points, none of which were defenders.
If last season showed how hard it is to select the most reliable and valuable defenders for fantasy coaches, that task has become even harder in 2015. Indeed, a host of top defenders are now only available in midfield this season.
David Swallow, Jarrad McVeigh and Sam Mitchell are just three players who have lost their dual position status in 2015, and there doesn't appear to be the same level of options this year than there has been in the past.
Without the abundance of talent out there, fantasy coaches could do worse than look to save some of their money in defence in order to strengthen elsewhere. Whether having a bet on the AFL odds or reinforcing your fantasy side, there are some solid players available at decent prices this season.
Brendan Whitecross (Hawthorn)
On the back of two serious knee injuries, Hawthorn's Brendan Whitecross is available at a price that fantasy fans would have jumped on a few years ago. But after missing much of the last couple of years with knee problems, the 25-year-old is back fully fit and ready to get back to where he was in 2011 and 2012. With the potential to average more than 80 points a game, Whitecross could well be one of the bargains of the season as long as he can now stay injury-free.
Sam Gilbert (St Kilda)
St Kilda's Sam Gilbert is a similar proposition to Whitecross in this season's fantasy league, a super talented defender whose fantasy price reflects his horrendous run on injuries rather than his ability. A premium defender in 2010 with an average of 93, injuries has plagued Gilbert over the past five years. While the 28-year old-only managed five appearance in 2014, the defender posted impressive scores of 75,67 and 73 and proved just what he brings to this St Kilda side when fully fit.
Paul Seedsman (Collingwood)
Now in his fourth season in the AFL, Paul Seedsman looks to be one of the most under-priced players in the league this year. With an average of 64 last year, the Collingwood defender has the ability and potential to go way better this year now he is fully fit and injury free. A hip problem bothered Seedsman during much of 2014. The Pies will therefore be delighted to have seen the defender back in training ahead of the new season and looking ready to prove his doubters wrong.
Garrick Ibbotson (Fremantle)
Another player who is coming off a season of injury problems, Fremantle's Garrick Ibbotson showed in 2013 just how good he can be for fantasy coaches. He averaged 93 points during an impressive season. While his Achilles and shoulder issues in 2014 played a part in his points tally last season, a fully fit Ibbotson is well worth taking a punt on this year. That is especially the case when looking at his price tag. There might be more glamorous options out there, Ibbotson's price and ability will no doubt make him a popular choice with fantasy coaches this year.
Guest post by  zoonabar