Jeppa's Juniors – 2015 Defenders
Jeppa's back and primed for another big year as our resident rookie expect. He starts his analysis with value defender options, which is music to the ears of most coaches struggling to put together a competitive backline. Enjoy.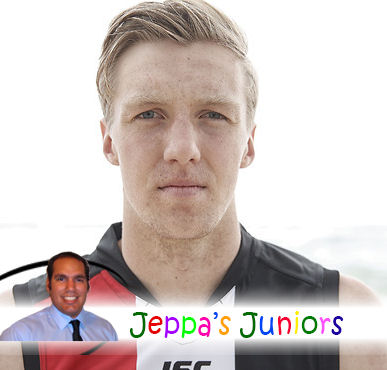 Ok guys, I'm back and things are getting serious. Both AFL Fantasy and AFL Dreamteam have opened for business and many of us have already changed our lineups 50+ times…or is that just me?
Like every preseason, the challenge is to find rookies that will score well and earn you the big bucks fast. I'll be honest, there aint too many rookie priced gems this year thus I am seriously considering diverting away from my traditional guns & rooks structure. Eeek!
The backline is easily the most challenging to get right this season but there are a few cheap options that tick many boxes. In no particular order, here are my best defender rookie options for 2015…
Billie Smedts

AFL Fantasy Price: $177,000
AFL Dreamteam Price: $200,400
Predicted Average: 68
There hasn't been much love for Smedts this preseason but don't let his Fantasy history fool you. A fractured leg sustained early last year hindered most of his performances hence why he is so cheap this season. Now fully recovered, Smedts has hardly missed a beat this summer (source). With Christensen and Varcoe gone there's a great opportunity for the 22 year old to not only cement a spot in Geelong's starting side but also play a large on-field role. Personally, I see him as a running half back but his versatility means he'll spend some time in the midfield and up forward. As far as scores go, opportunity and improvement should see Smedts average over 65 but don't expect much more than that. Given his job security, he's a certain starter for me in both Fantasy and Dreamteam.
Matthew Dick
AFL Fantasy Price: $120,000
AFL Dreamteam Price: $124,600
Predicted Average: 63
Dick is a smokey Fantasy selection. Largely unknown by many footy fans, Dick was signed by Carlton from the Swans as a delisted free agent in November and he's made a great early impression at his new club. The big question is whether or not he is good enough to be a regular in Carlton's 22? If the Blues hierarchy want to use Dick as a rebounding defender then he has got plenty of competition in Simpson, Walker, Yarran and Docherty but as a midfielder there's more hope. His speed and clean skills would complement the Blues midfield and Malthouse would love his workman like attitude. Dick will need to prove himself in the NAB Challenge so put him on your watchlist because he's a dual position def/mid and cheap as chips.
Zak Jones

AFL Fantasy Price: $142,000

AFL Dreamteam Price: $156,600
Predicted Average: 72
Jones is as tough as they come and that hardness and determination will see him push for regular senior opportunities this season. In his four games last year, he failed to excite the Fantasy world with an average of just 28 but you can excuse him given that he was vested in three out of his four games. With Malceski gone things have changed and Longmire has nominated Jones as one who could fill the void. He has the tools to become an effective running defender but he could easily play a role at half forward or on the ball. His versatility will work in his favour so make sure you keep a close eye on him as he looks to be a very handy pick up.
Joel Hamling

AFL Dreamteam Price: $124,600
Predicted Average: 54
When Hamling was delisted by Geelong last year, the Bulldogs swooped immediately. In three seasons at the Cattery, the key defender failed to get a senior opportunity with Lonergan, Taylor and Rivers doing the job week in, week out. Now in a team where key backs are scarce, Hamling is very much in the mix for a tall defender / swingman role. At 194cm and 88kg, he's quick, a solid competitor and good in the air but his disposal can let him down. History tells us that young talls do not score well but his job security and bargain basement price could still make him a very handy D8. I'm very keen to see what he produces in the NAB Challenge.
Brendan Whitecross
AFL Fantasy Price: $258,000
AFL Dreamteam Price: $221,800
Predicted Average: 75
Cha-ching! Assuming all continues to go to plan, Whitecross will be one of the biggest cashcows of the season. On the comeback trail from a second knee reconstruction, Whitecross is back running and on track to play Round 1 (source). I suspect Alistair Clarkson will use him as a hard running link player from half back/wing, which means plenty of Fantasy points given the Hawks love to share the ball around. Cheap defenders with excellent job security are rare commodities this year so if he plays decent minutes in the NAB Challenge and is named for the start of the home and away season then do not hesitate to lock him in.
Kristian Jaksch

AFL Fantasy Price: $186,000
AFL Dreamteam Price: $217,900
Predicted Average: 64
Jaksch looked set to miss the majority of this season with a stress reaction injury in his foot however, a speedy recovery has him back in Fantasy contention. Carlton's new recruit confirmed last week that he had returned to full training and is aiming to play in the NAB Challenge (source). Jaksch also stated that the Carlton coaching staff want to use him in defence, namely as a third tall. He's got very good skills for a big man and I expect him to improve significantly on his Fantasy output from his first 2 years at GWS. With not too many 195cm+ defenders on Carlton's list, his job security appears quite decent. A sound option but don't expect huge scores.
Brayden Maynard
AFL Fantasy Price: $194,000
AFL Dreamteam Price: $117,900
Predicted Average: 71
Not a lot of first year players are as fit and strong as Brayden Maynard. The Sandringham product is ready made for Round 1 but it will take a big NAB Challenge campaign to slot into Collingwood's 22. Maynard has drawn comparisons to Nick Malceski and Matt Suckling given his pinpoint left foot kick and ability to create from half back and through the middle. He averaged 100 Fantasy points in the TAC Cup last season so he is very relevant and if the rumours are true and Marley Williams is to be released up the ground this year then Maynard could play a defensive role early on. Maynard comes dirt cheap in Dreamteam and his dual position status, as a defender/mid is a big bonus. He is currently my D7 in Fantasy and D8 in Dreamteam so hopefully he gets some opportunities early on.
Harrison Wigg
AFL Fantasy Price: $192,000
AFL Dreamteam Price: $117,900
Predicted Average: 62
Adelaide has picked up a gem in Harrison Wigg. Wigg is a rebounding defender with arguably the best kick from last year's crop of draftees. He averaged the most disposals for any backman in the U/18 championships and was the number one player for metres gained (look out Brodie Smith). Fellow Crow defenders, Andy Otten (knee reco) and Brent Reilly (skull) have long roads back to senior football, moving Wigg up the pecking order…fingers crossed. Keep in mind that if he does get games they are likely to be vest affected. Only consider him for your bench.
Hugh Goddard
AFL Fantasy Price: $236,000
AFL Dreamteam Price: $122,900
Predicted Average: 72
Young Goddard has the tools to become a jet footballer. He's strong, athletic, good overhead, an accurate kick and can run and create from defence much like teammate Sam Fisher. There is no doubt that Goddard will play a fair chunk of senior footy this season but it may not be from Round 1. During #askthecoach last week, coach Alan Richardson hinted that Goddard would have to battle experienced campaigners in Delaney, Fisher, Gilbert (inj.) and Dempster for a spot in the team. I hope that was Richardson's way of keeping the spotlight off the young fella! Looking at their list, Goddard would slot in nicely as a third tall defender meaning he would just need to be ahead of Bruce and Simpkin. As a dual position Def/Fwd he'd be a great pickup and I'm backing him in.
Jackson Ramsay

AFL Fantasy Price: $204,000
AFL Dreamteam Price: $214,500
Predicted Average: 70
Tough, composed and hard working. These are the words that describe Jackson Ramsay. Ramsay got a taste of AFL football in Rounds 22 & 23 last season and with some big personnel changes at the Pies in the offseason it could be a big year ahead for the youngster entering his third season of AFL. He's pricey for a rookie but considering he tackles well, runs hard and takes plenty of marks it could be money well spent. As far as job security goes, Ramsay often played the role of tagger in the VFL last year (admirably I might add) so maybe he is the front-runner to replace the injured Brent Macaffer? Watch this space.
Gun Collingwood youngsters Matt Scharenberg and Darcy Moore are currently recovering from injury and slowly building fitness and form. Unfortunately, both players will not be ready for Round 1 but they should play senior footy at different stages this season making them ideal downgrade targets.
Other rookie priced defenders that could come into Fantasy and Dreamteam contention this season include Dillon Viojo-Rainbow, Tom Clurey, Brett Goodes, Caleb Marchbank, Jake Lever, Michael Manteit, Shaun Edwards, Jake Kolodjashnij, Oscar McDonald, Daniel McKenzie, Josh McGuinness, Tom Fields, Henry Schade, Jordan Kelly, Daniel Howe, Nick Holman, Ariel Steinberg, Brodie Murdoch, Seb Tape and Matthew Fuller.
Look out for my post NAB Challenge analysis on the defender rookies that performed well, those that struggled and maybe one or two that snuck under the radar! Remember rooks are classified as players under $250,000 in either Fantasy or Dreamteam.
FOLLOW ME ON TWITTER: @JeppaDT for all for all things AFL Fantasy, AFL Dreamteam and more!