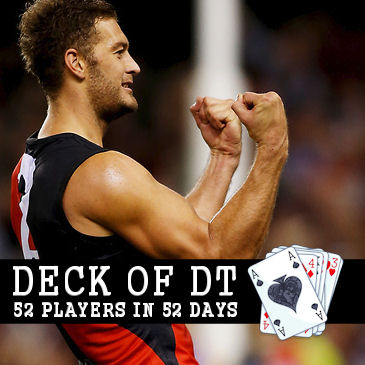 Name: Tom Bellchambers
Club: Essendon
Position: RUC/FWD
AFL Fantasy: $281,000
AFL Dream Team: $308,000
Bye Round: 12
2014 Average: 54.57
2014 Games Played: 7
Predicted Average: 82
Click here for DT Live Profile.
Why should I pick him?
The the off-season departure of Paddy Ryder, the number one ruck spot at the Bombers is up for grabs and it looks like it has Tom Bellchambers' name all over it.
In 2012, Bellchambers enjoyed his best fantasy year of his career. Playing 16 games for an average of 80.1. This included 7 games over 85 with three of those scores over 110. He backed up in 2013 with 18 games at 73.7 topping the fantasy ton on four occasions.
While it is important to see what his scoring potential is, the key in Bellchambers' fantasy year that number one ruck role (along with some of his durability issues).
Last week Wayne Ludbey snapped some shots from Essendon training and the tweet below was an interesting one. Bellchambers, in the Bombers' playing kit, looks to have it sewn up at the moment. Jonathan Giles was recruited from the Giants to add some depth to their rucks stocks. Giles can play and we all remember – and loved – his debut season for GWS where he pumped out an 81.7 average over is 20 games after starting at just $117,800. Cash cow! Shaun McKernan was also picked up in the off-season from Adelaide.
Does Bellchambers being in the playing strip mean he'll be the #1 ruck for the Bombers? $281,000 RUC/FWD. #AFLFantasy pic.twitter.com/hNaB6AcXGo

— DT Talk (@DTTALK) February 6, 2015
Due to playing just 8 games last year, Bellchambers has been given a discount in fantasy on an already low season average of 54.5.
Bellchambers' price is obviously tasty, but it's the RUC/FWD status he has that could make him a very worthy pick in your squad. Many coaches are going with the Kreuzer/Leuenberger combo due to their price. At $281,000, you could nearly argue that having Bellchambers on your ruck bench would work, but how about taking advantage of his DPP and sit him at F5 or F6 with the $120,000 American-Pie Mason Cox as a swingman? People are worried about having cover for the rucks and this would provide that.
In the world of two trades per week in AFL Fantasy, this may not be such a big deal, however for the limited trade games, this could be a very handy. With only one ruck bench spot now in SC and RDT, this strategy could be a winner. Also, make sure you have him up a fair bit higher in your draft rankings as he should be able to knock out an average of over 80 this year.
Why shouldn't I pick him?
Injury has crippled Bellchambers throughout his career. He has never played a full year and after an ankle reconstruction in the 2014 pre-season, he was restricted to 8 games. Further surgery this pre-season saw him start full training before Christmas and, wait for it, he's now burning up the track.
While this all looks promising, there has to be some risk about his body.
The departure of Ryder should be all positive for Bellchambers, but we are going in a little blind with knowing how he will work with Giles. The NAB Challenge will be interesting to watch so we can get a bit of an idea about how Essendon will use the two big men.
…oh and here's the token ASADA comment. (If any of the Bombers miss games through drug suspension, hello Giles!).
Deck of DT Rating.
Queen – Bellchambers will make us some cash regardless of what role he plays. If he can be the number one ruckman, then those numbers can get up as high as possible. At this stage we have no idea how the ruck combo will work and may not really know even with NAB knowledge. The RUC/FWD swing could be an awesome thing for team structure, but the way a lot of teams are looking, many won't be keen to spend around the $280K figure on a forward.
Loading ...
FOLLOW ME ON TWITTER: @WarnieDT for all thing AFL Fantasy (and more). Got something to say about the deck? Use the hashtag… #DeckofDT.
This is the last Deck of DT for 2015. Thank you for reading and being involved in the polls, discussion and fun of what this pre-season has been so far. There's still a heap of stuff to come on the site with the podcast returning tomorrow and daily content right through! The NAB Challenge starts in less than two weeks. Get excited!