Sam Jacobs – Deck of DT 2015
The penultimate card in the Deck of DT has been turned over by MJ and it's potentially the ruck who will be #1 at the end of the year, Sauce Jacobs.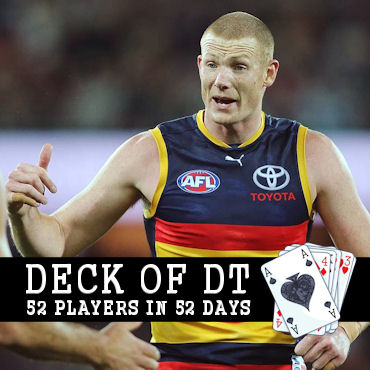 Name: Sam Jacobs
Club: Adelaide Crows
Position: Ruck
AFL Fantasy: $550,000
AFL Dream Team: $548,300
Bye Round: 11
2014 Average: 97.1
2014 Games Played: 22
Predicted Average: 96.4
Click here for DT Live profile.
Why should I pick him?
Last year he scored 15 hundreds, that stat alone is why getting a good scoring ruck can set your team apart from the rest. That's the same amount of hundreds of magpie skipper and fantasy stalwart Scott Pendlebury. It's also more tons than midfield premos in Lewis and Heppell (14), Beams and J.Selwood (13).
Unlike other teams who have 2 rucks the Crows choose to play Sam as the clear #1 with Full Forward Josh Jenkins  as a relief ruck. Don't worry too much about  former Hawk Luke Lowden, he's only around for insurance purposes.
Last year Sam averaged 34 hitouts a game, that's 1/3 of the way to a fantasy ton without him having to do anything else. Sauce was the second second highest ranked for hitouts (behind Sandilands.) What's most impressive about Sam was that he aerobically had a dramatic improvement and covered so much ground that he was even used as a link up option both out of defense and into the forward
He's super consistent, only missing 1 game in the past 3 seasons, so for limited trade formats where you have only once bench spot for cover he's golden.
A few week ago he injured himself at training (not uncommon for injuries this time of year with workloads being increased.) However, Sauce is already back into light training and looks ready to roll for the NAB Challenge. Don't let this 'minor' injury put you off selecting him, especially if you've had guys like Pendlebury, Swan or Ablett in your team. Sam has had a much better (and more involved) preseason than all of them.
Why shouldn't I pick him?
The term value can often get thrown around carelessly in fantasy footy circles, but this season we've got unprecedented value in our rucks. Deck of DT entries on Kruezer, Bellchambers and Luenberger (click here to view them all) are the obvious #1 ruck for their respective clubs and due to injury interrupted 2014's they are priced nicely in 2015.
You can play your rucks with a number of strategies, one being the value rucks and hope that the above mentioned injury riddled rucks sneak you through the year unharmed. Secondly, you can pair one of the value rucks with a premo ruck eg. Sauce & Belly. Or finally, you do a 'set and forget' where you pick two premos and barring injury you  don't have to worry about the rucks all season. Of course your able to upgrade those picks that are needed as the year goes on.
Especially in AFL Fantasy to pick a simple 4 rucks of Jacobs, Luenberger, Nakervis and Cox your spending $1,067,000 but a deeper and more flexible ruck combination of Bellcambers, Luenberger, Kruezer and Nankervis costs $922,244. That's a saving of $144,756, or in other words that's the gap between starting Scott Selwood and Andrew Carazzo in the midfield or Joel Selwood and Rory Sloane. That's a big points difference!
Deck of DT Rating.
ACE – He was the most consistent fantasy ruck of 2014, and with the Crows yet again looking to make him the sole ruckmen (with back up relief from Jenkins) Sauce will spend a lot of time around the contests. AS far as rucks go he's as a good a scorer as we can get. If you don't like the midprice option and are looking to play it safe in the rucks the Sam is your man. If your looking for a mid season upgrade then Sam is your man. In short, you gotta get him, how you wanna structure your squad will determine what you do with hi,.
Loading ...
FOLLOW ME ON TWITTER: @mjwant for all thing AFL Fantasy (and more). Got something to say about the deck? Use the hashtag… #DeckofDT.