Andrew Swallow – Deck of DT 2015
Going under the radar this pre-season, Matt looks at the Kangaroos skipper in today's Deck of DT.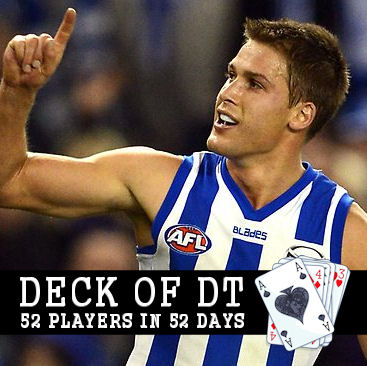 Name: Andrew Swallow
Club: North Melbourne
Position: MID
AFL Fantasy: $508,000
AFL Dream Team: $506,100
Bye Round: 13
2014 Average: 89.7
2014 Games Played: 15
Predicted Average: 104
Click here for DT Live profile.
Why should I pick him?
Swallow is flying well under the radar this pre-season, I'm here to uncover his potential. Straight of the bat, there's no doubt he is underpriced. Priced at an average of just 90, you are getting a bloke well capable of averaging upwards of 100. Look back to 2012, when Swallow was an emerging gun of the DT landscape. He averaged 103, including a massive 5 scores of 130+! The pinnacle was his 160 against Melbourne, including a whopping 17 tackles. The man has some serious DT potential. He kicked off 2013 with scores of 141, 114 and 123 and was on everyone's watchlists. Now we have a chance to pick him at the prime of his career, at peak fitness and at a bargain price. How did this happen? One ping of the achilles.
"Oh sh*t, steer clear" I hear you say. Wrong. Swallow has picked up a tag for being injury prone, which quite frankly has me baffled. He is one of the most durable players in the AFL, and the stats back it up. He had played an insane 106 games consecutively before picking up that freak injury, playing 22 games in the 4 seasons prior. The only other injury during his career was an ankle injury sustained when he was dropped to the VFL in 2008. 2 injuries throughout a whole career doesn't sound prone to me. Now I know achilles can be tough to come back from, but he proved himself beyond reasonable doubt last season by playing the next 18 games consecutively (Including 3 finals). If you need an example of a player coming back from an achilles setback, look at Roughead. In the 3 seasons since returning, he has played over 20 games every year. Funnily enough, all 3 seasons are by far and away his best (Averages of 92, 87 and 89).
Not only is Swallow durable, he's also consistent. He averaged 99 in 2010, 99 in 2011, 103 in 2012 and 95 (98 discounting sub) in 2013. You know you're going to get an average at least in the high 90's, and his high ceiling means his price will definitely spike at some point this season, making him the perfect stepping stone to a top midfielder or fallen premium. That's a safe scenario. Best case scenario he finally puts everything together and averages 105+. How will he make that jump?
Nick Dal Santo's arrival has him attracting the number 1 tag most weeks and will continue to do so, while Harvey's incredible form has him attracting close attention also. This will allow Swallow to run free, and provided he is back to peak fitness he can easily get back to his 2012 level. Can he go past that? Aged at 27 and coming into the prime of his career, North coach Brad Scott stated that he thought the skipper would "play the best football of his career over the next few years". That should be true in Fantasy as well.
Thus we get to the cherry on the cake. Hearing him speak about his fitness levels last month made him unmissable value for me. "I didn't start running until well after now (last year); end of January, early February was when I actually started. So to be running around, feeling fit, doing all the drills and pretty much every part of training – I'm a mile ahead." After signing a contract extension last week he also stated that his achilles was "stronger now than it's ever been." Every piece of the jigsaw seems to be in place.
On top of his potential to make a mockery of his price tag, there are some added benefits. He has a round 13 bye, which personally I have been struggling to fill. The GWS boys and Joel Selwood are the only other solid alternatives in midfield, and there's not much competition at his price tag. We must remember that we can't fill our starting teams with the most expensive players for Round 1. Sacrifices have to be made somewhere, so picking a guy like Swallow may free up the cash to upgrade another mid to a gun captain like Rockliff. He's also a genuine POD (Currently selected by under 5% of players), which is also nice to have.
Why shouldn't I pick him?
I made that all really pretty, and for good reason in my books… However there are some downfalls. He is at an awkward price, so he may not fit into all squads depending on what tactic you are planning on. He is also facing direct competition for a spot in a lot of teams with Brad Crouch, who many (including myself) expect to see him enjoy a massive breakout season.
There is a plethora of great midfield alternatives, so selecting Swallow is taking away a place for another gun mid that you may believe is in for a stormer of a season. Rockliff and Ablett aside, Barlow, Pendlebury, Selwood, Greene, Treloar and Sidebottom are all hard to ignore. Fitting him in to your starting squad isn't easy.
The biggest downfall in my books is that he's unlikely to be a top 8 mid. That doesn't bother me in Fantasy as he can easily be used as a stepping stone and shifted out later in the season (or during the byes if things don't go well). However I like to pick premiums I believe will be in the top 8 mids in RDT and even though it's a possibility, it's highly unlikely. An average of 100-105 seems more realistic, which could leave you short come the end of the season. It may end up as a wasted trade.
Deck of DT Rating
Queen – Swallow is by no means perfect, however I have him locked into all my squads leading into the NAB Cup. If he gets through that fine, I can't see him going anywhere. You can almost guarantee him an average of 100, not bad for a bloke priced at 508k. The only way is up.
Loading ...
FOLLOW ME ON TWITTER: @MattCraigDT for all thing AFL Fantasy (and more). Got something to say about the deck? Use the hashtag… #DeckofDT.