Dayne Beams – Deck of DT 2015
The element of unknown is huge for the new Lion, but Roy thinks Beamer will flourish in his new pen, or is that den?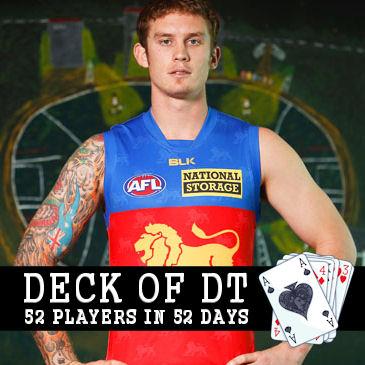 Name: Dayne Beams
Club: Brisbane
Position: MID
AFL Fantasy: $609,000
AFL Dream Team: $607,200
Bye Round: 11
2014 Average: 107.5
2014 Games Played: 19
Predicted Average: 115
Click here for DT Live Profile.
Why should I pick him?
Dayne Beams has been a Fantasy star for the past four years, averaging over 100 every season during that time, including impressive totals of 108 and 116. From the moment Beams burst onto the scene, it was obvious that he was a Piglet, averaging 76 and 87 in his first two seasons and ever since it has only been injury that has held him back from serious Pig discussion.
Coming into his seventh season, and in the prime of his career, Beams has become an intriguing proposition on the back of his move to the high scoring and 'stacked' midfield of the Lions. If Beamer had stayed with the Pies, we could have locked him in for a 105-110 average, knowing the number one tag will continue to go to Pendles and Beams will continue to have a field day.
This is the exciting thing, his move north has created a huge element of the unknown and it could be a huge positive if he joins right in with the likes of Rocky, who finished the season pumping out scores of 150 like it was the norm. The end of 2014 became a scoring frenzy like we have never witnessed before in the den, and Beamer will fit right in if that style of play continues. What could a natural scorer like Beams do in a feeding frenzy like this? I'm thinking 120 potential.
As we know he is more than capable of a big score as it is, with four scores over 130 last season and he eclipsed that mark 6 times in 2012, so if Leppa continues with the Lions game plan, prospective Beams owners will be licking their lips because he will be in his element and is arguably under-price.
Why shouldn't I pick him?
I am a huge fan of Beams, so I find it difficult to name up reasons not to pick him up, but here are a few things to consider before spending the big bucks on this midfield Premium.
As good as his midfield support cast is at Brisbane, Beams is one of the elite players in the competition and without Pendles being the 'walkup' man to tag, Beams will cop a lot more close attention than he has in the past, which at times has been at a huge detriment to his scores.
As the Lions are lacking forward line punch, Beams ability to kick goals could see his 'resting' in the forward line become 'extended rests' if the Lions need an avenue to goal, or he kicks early goals in a game.
Injury is the only real concern I have for Beams, as he has never completed a full season in his career. In fact, in the last four years he has been restricted to 14, 21, 7 and 19 games which makes his selection a risk for such a high asking price.
Deck of DT Rating
King – This is a very easy choice and Beams should be considered an Ace for anyone who chooses not to start with Rockliff. The only reason not to select Beams would be the fear of loading up with too many Lion mids as Daniel Rich will also be highly selected due to his basement price. He is enjoying his move north and will flourish among this crop of developing midfield superstars.
Loading ...
FOLLOW ME ON TWITTER: @RoyDT for all thing AFL Fantasy (and more). Got something to say about the deck? Use the hashtag… #DeckofDT.