Ryan Griffen – Deck of DT 2015
There's little doubt that the former Bulldog offers some value this year if he can return to a triple figure average in 2015. Griff takes a look at the new Giant.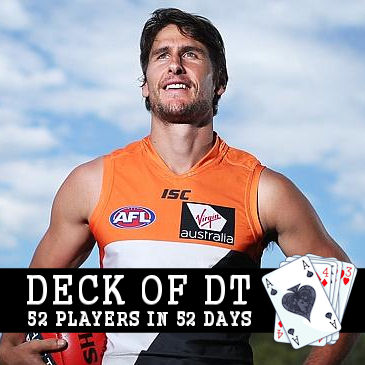 Name: Ryan Griffen
Club: GWS Giants
Position: Midfielder
AFL Fantasy: $485,000
AFL Dream Team: $483,000
Bye Round: 13
2014 Average: 85.5
2014 Games Played: 19
Predicted Average: 105.5
Click here for DT Live profile.
Why should I pick him?
Sending the AFL world into a feeding frenzy by announcing his intention to join Greater Western Sydney in the last week of trade period, Ryan eventually swapped shirts with Tom Boyd at the Kennel. In the process Ryan shed the weight of the captaincy, the weight of a club and the Melbourne limelight, for the anonymity of an AFL player at Homebush.
In 2014, the (former) Western Bulldogs captain entered the season with a back complaint. Despite being under-done, he was thrown into 19 games throughout the year that he shouldn't have been playing, and it resulted in a 20 point deficit on his 2013 year. Essentially, Griffen comes into the year with a 20pt discount.
Between 2009 and 2013, Griffen had gone: 84.7, 91.3, 98.3, 97,1 & 105.5. His low average last year was purely injury affected. Near criminal scores of 45 (Round 2), 48 (Round 3), 48 (Round 11) and 41 (Round 14) showed just how much he struggled; often sitting in the forward pocket with a walking frame.
Despite his struggles, Ryan also managed some pretty decent scores too. Low by his standards, Griffen scored 100+ in 7 games, with a 144pt high in his last game of the year – against the Giants. An elite ball winner, Griffen should be able to pick up where his form left off in 2015.
Griffen has always been a big accumulator. In 2013, a truer reflection of his potential, Ryan scored 100+ points in 55% of his outings, including huge scores of 126, 129, 166, 133, 136, 133 & 121. Should he recapture that form with the Giants, the big numbers should return.
The Giants have needed a bigger framed midfielder and a clearance specialist for a while; especially one who can sweep across the backline and prevent the opposition from controlling the ball. Griffen brings that to the team, and he will get a lot of the ball. It's hard not to see him having a career best year if his body holds up. Which brings us to…
Loading ...
Why shouldn't I pick him?
This week a report from 3AW suggested the the Giants were gravely concerned for Griffen's back condition; reaching out to the Bulldogs for his medical history. The concern about his back has already been rubbished by the club and Griffen has partaken in just about every training drill and match play since arriving. But back injuries are also notorious for being difficult to shake.
Should Griffen continue to suffer the same troubles as last year, well, it won't be good. You don't buy rookies for four scores under 50. You sure as hell don't pay big dollars for it. And that leads us to another point…
Griffen is a rollercoaster. One of the biggest going around. Yes, last year his lows were really low, but even fully fit, he can still go missing. Despite his ability to go 150+ several times a year, in each of 2011, 2012 and 2013 season, he had five scores under 80pts. Simply, this rules him out of captaincy considerations, and makes him incredibly frustrating if you need him to perform on one of his down weeks.
Deck of DT Rating.
QUEEN? KING? ACE? – Griffen is the guy who will be having me changing my team every day until lockout. It will go as so…
He has the round 13 bye – sweet.
He may not be able to play every week – oh.
He can score 160+ – hell yes.
He may score -60 – oh hell no.
He is priced $120,000 under what he should be – yeah boy!
He is as consistent as a two year old on a sugar high – good point.
He can score 160+ – you've said that already – but hell yes again!
And so on and so forth until I go just a little bit crazy.
In summary: If you are after a bargain and you like to live on the edge, Griffen is your man. If you you like to know what you are getting when you pay for it – stay away. I'm so confused.
FOLLOW ME ON TWITTER: @RLGriffinGWS for all thing AFL Fantasy (and more). Got something to say about the deck? Use the hashtag… #DeckofDT.