Jack Steven – Deck of DT 2015
A player not too many would have considered is up for analysis. See what Jeppa has to say about the Saints most influential midfielder.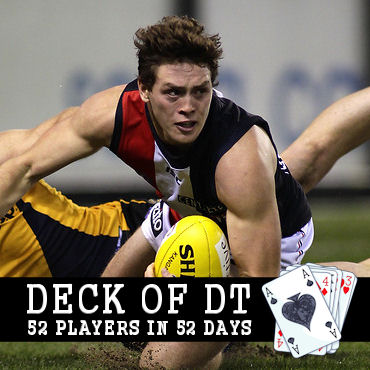 Name: Jack Steven
Club: St Kilda Saints
Position: Midfielder
AFL Fantasy: $491,000
AFL Dream Team: $489,100
Bye Round: 12
2014 Average: 86.6
2014 Games Played: 17
Predicted Average: 95
Click here for DT Live profile
Why should I pick him?
Did somebody say underpriced premium? It's true! Steven was well below his best last year after a foot fracture derailed his preseason and the start of the season proper. He averaged just 86.6 as a result after 98.2 the previous year. Thankfully, Steven's preseason has gone to plan this summer and he'll be ready for the NAB Challenge (source). If he stays fit and healthy it's very likely that he'll get back to his best footy and provide Fantasy coaches with plenty of three figure scores.
A bigger role and responsibility amongst the St Kilda midfield this season will give Steven the opportunity to score well each week. With such a young list, coach Alan Richardson will rely on Steven, Montagna and Armitage to do the bulk of the work in the middle. If he is on fire early in the early rounds (Giants, Suns, Pies, Blues and Bombers), which is likely, then it will be high scores as well as a handy little cash boost for owners .
When Steven goes big, he is almost pig like. Scores of 148, 145, 125 and 124 in season 2013 (his career best year) would please anyone and it's because he contributes in all areas. Not many players can win the ball, put pressure on the opposition and kick goals like Steven can. Picking players that rack up the numbers across all stat lines makes Fantasy scoring a lot easier.
Why shouldn't I pick him?
With no Goddard, Dal Santo and now Hayes at the Saints, Steven has risen up the tagging order faster than a 'rat up a drainpipe' (credits to the Honey Badger, Nick Cummins). Like most players, he struggles with the extra attention. Last season, Carrazzo held him to 62, Guthrie 57, Macaffer 72 and Hocking 73. There's no doubt that similar failures from Steven will occur at various stages this year it's just a question of how often?
When spending a fair chunk of money, you want some guarantees. Unfortunately, Steven provides little surety. He scored 100+ in only six games last season (35% strike rate) and even when he averaged 98 Fantasy points a couple of years back, he reached three figures just 7 times from 22 games (32% strike rate). Sub 100 scores from a player priced at almost $500,000 make it pretty hard to win those all important head to head league battles.
Deck of DT Rating.
Queen. Solid but not outstanding. Most in and under ball winners that can break the lines, push forward and kick goals are Fantasy relevant. Steven has these qualities but there is a big question mark over his consistency. Being one of the most damaging midfielders at the Saints means he'll cop heavy attention from the opposition and history tells us that he hates the tag. With plenty of young teammates around him there won't be much support coming his way either. These issues will deter many coaches and rightly so.
Steven is quite cheap for the potential he possesses and a decent start to the year could pay very healthy dividends. Recognising this and assuming a clean bill of health for the remainder of the preseason, he could also be a unique point of difference. I'd only consider him for Fantasy though just in case it goes belly up.
All in all, a risky pick but every team should have a smokey or two. I wont be picking him.
Loading ...
FOLLOW ME ON TWITTER: @JeppaDT for all thing AFL Fantasy (and more). Got something to say about the deck? Use the hashtag… #DeckofDT.