RDT is open for 2015
Virtual Sports' AFL Dream Team is now open for 2015. There's plenty of cash to be won and a few new features for 2015.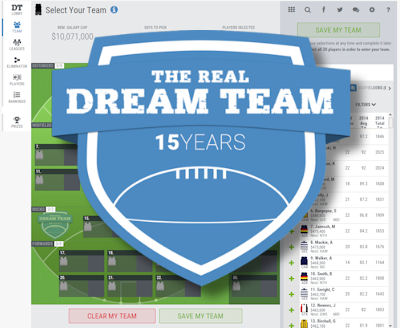 Virtual Sports' AFL Dream Team is now open for 2015.
$35,000 for the winner, $1,000 for runner up and if you finish 3rd-10th, you'll receive $500. There's a $2,700 price for the best league and plenty of other prizes on offer.
WHAT'S NEW IN 2015
In Season 2015, VirtualSports celebrates its 15 year anniversary with an all new-look for Australia's original and longest running Fantasy AFL competition. While instantly familiar to anyone who has played Dream Team – AFL in the past, we bring dozens of new features, changes and enhancements to improve your game. Some of the highlights include:
Simplified Registration & Improved Navigation – Now it's quicker and easier than ever to register for the game. All-new enhanced navigation means it's easier to get around to all of the comprehensive features that Dream Team has on offer.
Dream Team Lobby – View all of your results, activity feed, connections, results and updates, plus Dream Team Draft and related games in our network that you participate in and more, all in the one place. Keep track of all the new games available to play in 2015.
Private Leagues, Groups and Rivalries – In 2015, coaches can take part in up to 10 leagues. Plus, up to 10 unlimited-size Groups (ranked on total points) and head-to-head Rivalries are back – take on anyone, any round or every round!
Custom Private League sizes – Try our new 10 team leagues, making it even easier to get involved. 10-team leagues kick off from Round 2, with the opportunity to play against everyone twice – and finals series follow. You can setup or join any combination of 10 and 18-team leagues, within the new 10 league limit.
Responsive Design – Access your team anywhere, anytime with a responsive design that allows you to manage your team from any device. Plus, all-new apps for iOS and Android.
On-field line-up changes – There are now three midfield bench slots and just one in the ruck – we reflect the way the real game is played.
Assistant Coach – is now even better-integrated into your team, stats view, player research centre, trades centre and more – with new features being added right through the 2015 season!
Player Notes – look out for the latest news and updates on your players with Player Notes, for quick trading and substitution decision-making.
All-new Dream Team Draft – completely revamped for Season 2015 to simplify trading and team/league management, plus Keeper Leagues re-generation.
And much, much more…
Click here to play AFL Dream Team.