Michael Hibberd – Deck of DT 2015
Today Warnie is looking at his modern day fantasy (and real footy) man-crush, 'his boy' Hibbo.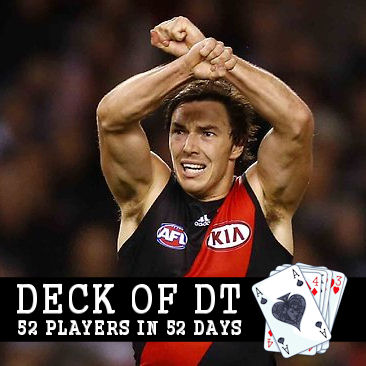 Name: Michael Hibberd
Club: Essendon
Position: Defender
AFL Fantasy: $506,00
AFL Dream Team: $504,200
Bye Round: 12
2014 Average: 89.33
2014 Games Played: 18
Predicted Average: 90
Click here for DT Live Profile.
Why should I pick him?
Coming into his fifth season at the prime fantasy age of 25, my boy Hibbo started his career as a mature aged player and has grown into one of the most consistent Fantasy defenders in the competition.
Nine games at 70.4 in his debut season and backing up with 13 games at 66.6, the Bomber smashed it up in his 3rd and 4th year averaging 87 and 89.3 points form 22 and 18 games respectively. His 2014 return ranked him 9th overall for defenders on average, but taking out the guys who lost DEF status, he sits at #4 on the list.
I'm going to say he is safely going to be in the top six defenders in 2015.
Possibly a big call, but his consistency and natural fantasy game (for a defender) has to see him producing about the same again this season. With a favourable standard deviation – 12 of his 18 scores fell between 88 and 104 points (this doesn't include his season high 116) – you pretty much know what you're going to get with Hibbo. Week in, week out he performs. An injury affected game in round 18 saw him score just 51 points and a tag from Rhys Palmer in round 12 held him to 67, but they were really the only scores that would have upset you as an owner.
As stated, the best part of having Hibbo is knowing he'll get the job done. So many times he'll have a big final quarter to get him to his 90-odd point par score. I wouldn't call it total junk time scoring, but he loves a +6. In 13 games he took six marks or more which is nice with his epic kick to handball ratio. Across his four seasons it has looked like 1.4:1, 1.9:1, 1.7:1 and 1.5:1. So tasty.
Also, his nickname is Pig. Lock and load!
Why shouldn't I pick him?
Am I blinded by my red and black glasses or the binding ties of our love to not be able to find something to write in this section?
Maybe… but here goes.
Hibbo was hampered by a two week ankle injury and a two week hamstring injury in the latter stages of last season. Although he has been relatively durable, two separate injuries brought on frustration especially if you held him like Calvin (that still makes me feel a little bad telling him to hold when I traded… but only a little bit). The forward tag can be a little bit of a worry if others have a decent crack like Palmer did. He is pretty damaging off the half-back line and that may cop come attention from opponents. However, a lot of the time he has a direct forward opponent and just takes advantage of his ability to peel off and run, linking up for those plus sixes up the ground.
The only other thing is maybe saying "why I won't start with him". The fact the Bombers have a pretty tough start to the season with the Swans, Hawks, Blues and Pies in the first four games, could be enough to consider him as an upgrade target. That is, if you think he's going to be in the top echelon of defenders anyway. There is an argument that he may be borderline of top six and if that will be the case, then you don't want to be paying top dollar for someone who doesn't really have a whole heap of upside in him.
I used to think Birchall was the solid "get what you pay for defender" but the last couple of years provided a few headaches. Maybe Hibbo could be the same.
…oh, and the elephant in the room; there is the ASADA ban risk sitting there, but hopefully we'll know the outcome of anything well before the first lockout! At this stage we have to assume they're going to play, right?!
Deck of DT Rating.
King – I'm definitely starting with Hibberd, but I understand why coaches wouldn't have him in their initial squad. So many of us are looking to save money down back and looking for some guys who will improve in 2015. Apart from loving his hard edge and fearless playing style, watching games knowing those +6's are getting added to my score and having a block with such consistency will take one less back line headache away from me week to week. I think he's a lock to be a top six so I might as well have one of my keeper defenders in the side from the get-go.
Loading ...
FOLLOW ME ON TWITTER: @WarnieDT for all thing AFL Fantasy (and more). Got something to say about the deck? Use the hashtag… #DeckofDT.