Scott Selwood – Deck of DT 2015
What do the Boy Who Cried Wolf, Pinocchio, The Snappening and this DODT article have in common? Yep, They're all cautionary tales. Beware, Scott Selwood fans.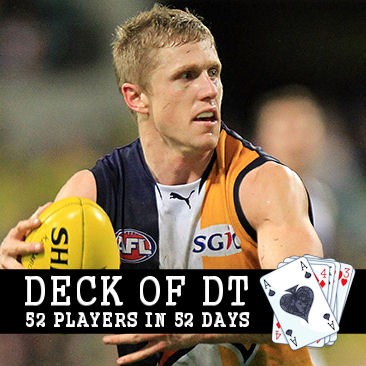 Name: Scott Selwood
Club: West Coast
Position: Midfielder
AFL Fantasy: $459,000
AFL Dream Team: $457,200
Bye Round: 13
2014 Average: 81.0
2014 Games Played: 12
Predicted Average: 89
Click here for DT Live Profile.
Why should I pick him?
Well…
I'm sorry. I can't do this. There is literally no reason for you to be picking Scooter in your initial team this season and I can't, in good conscience, pretend that there is. Unfortunately, this article is going to read like a Sex Ed class from the 1970's – abstinence only, folks.
Forget the fact that up until last year's ankle-affected debacle of a season, Scooter improved his average each year by at least 10 points. You read that right – 10 points a year. Double digits. He laughs in the face of the Career Arc theory.
Please ignore his tempting $460k-odd price tag, based on his injury-affected 81-point production last year. You know, a monstrous 27-point drop from his best work, brought on solely due to a Round 2 ankle twist that restricted him to 12 hobbled games.
Whatever you do, don't pay attention to the fact that, even playing on one leg, Selwood still went to work on a respectable DT/min ratio. Given that he dropped down to 77% TOG from his normal 85%, one might be encouraged by his fantasy potency… Don't be that guy.
Above all, erase the concept that he's capable of pumping out 26 touches a game, along with 4 marks and 8 tackles, from your mind. To clarify, I don't mean just once every now and then – he's capable of doing that EVERY WEEK. That's a cheeky 109 DT points, and that's before you even add in all those bonus stats. The only player to top those figures last year? You guessed it – Tom Rockliff. 
As I said, forget all that stuff.
Why shouldn't I pick him?
So why have I issued this blanket ban on the Selwood lovers? It's simple. Scooter isn't even close to approaching something that we could call 'fitness', thanks to that recurring ankle injury that plagued his 2014 efforts.
West Coast football manager Craig Vozzo admitted earlier in mid-January that Selwood "had a secondary procedure after his initial operation (and) it has put him behind where we would naturally like training to be at this time of the pre-season", than later threw around worrying buzzwords such as "managing", "special program" and "no timeline".
A week later, Coach Adam Simpson himself added some bleak words of his own, letting slip that Selwood was "progressing towards starting to run" and that he was "not sure about Round 1".
Yep. Sounds super promising, right? Grab that red texta and strike a long, slow and deliberate line through Selwood's name on your initial squad's watchlist. He's already been ruled out for the bulk of the NAB Cup and even if he does suit up for Round 1, what can we realistically expect from someone who is thinking about maybe, possibly, kinda running in the future, probably?
Some might think this is the waste of a card in the Deck and there's certainly an argument for that – but I recognise the value in a cautionary tale. If, like me (and the 24% of coaches who've backed him into their early AF Drawing Board squads), you've had Scooter locked at M4/5 all pre-season thus far – then now you know it's time to scribble out his name and start looking for a replacement. And I think that's worth it.
Deck of DT Rating.
JOKER – It's a classic case of loving the idea of someone, and not the actual person. I would love to waltz into the 2015 with a crazily underpriced Scott Selwood surrounded by unicorns and rainbows and sliced bread; but unfortunately, the actual Scooter that we've got has a bung peg and has forgotten what real life running is like.
Stay away initially, but don't keep him off the radar completely.
Bonus Stat: Scooter didn't have a full pre-season in 2013 either (back issues), yet belted out a 115-point average over the first 6 games of the year. Interesting… My point being: he can play, no matter the situation. Maybe Scoot starts slow or gets a vest or two early and his price drops – it could become a very different equation then.
Loading ...
FOLLOW ME ON TWITTER: @Tbetta9 for all your AFL Fantasy banter requirements! While you're there, if you've got something to say about the deck, use the hashtag: #DeckofDT.