Dustin Martin – Deck of DT 2015
Did you know that last season Dusty didn't score under 70? Or that he has only missed 4 games in his whole career? Matt looks at him in the Deck of DT today.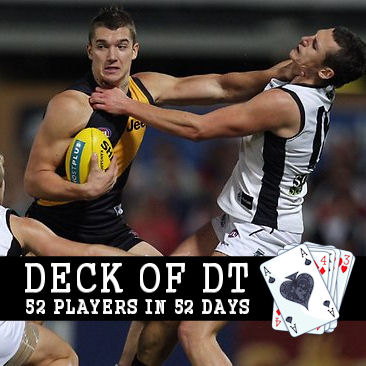 Name: Dustin Martin
Club: Richmond
Position:  Forward/Midfielder
AFL Fantasy: $553,000
AFL Dream Team: $551,000
Bye Round: 11
2014 Average: 97.6
2014 Games Played: 21
Predicted Average: 103
Click here for DT Live profile.
Why should I pick him?
Where to begin. Firstly, he's incredibly consistent. Last year Dusty didn't have a score under 70 all season, you'd take that from a forward in a heart beat. He also goes consistently big, notching the ton in over 50% of games during 2014. This proves that not only is he going to bank you safe points every week, he can win you games as well. 11 tons including 6 over 110 proves he has got the ceiling to go with the consistency. Cotchin and Deledio will continue to attract the majority of the tags (for now), so he is free to roam around each week and avoid any potential 'shockers'.
One of my favourite stats is his durability. To put it simply, it doesn't get any better than this. He has played over 20 games in every season over his entire career, missing only 4 games out of a possible 112. Take for example Lance Franklin. Over the past 5 years Franklin has missed 20 games compared to Martin's 4, not completing a 20 game season since 2009. He could have averaged slightly more over that period, but averaging 3 less games per season means you will be relying on a bench fodder on each occasion. In the long run this can hurt, and potentially cost a few head to heads. Martin is as reliable as they come.
Some may look at him as an upgrade target, but early fixtures suggest otherwise. Sure he struggles against Carlton (Past 2 seasons average of 65), but then he faces Western Bulldogs (102), Brisbane (103), Melbourne (102), Geelong (100) and North Melbourne (106) in the next 5. In fact he averages under 100 over the past 2 years against just 2 teams before the bye, Collingwood being the second in Round 7.
He is yet to reach his prime, however turning 24 this season he is ready to take his game to the next level. He played in the midfield during 2013, boosting his average up to 97. Unfortunately it was a step too far too early for Dusty, his tank let him down on numerous occasions and lead to a tag of the fade out king. Aside from his poor second halves, there were positives. He managed three 130+ games including 2 monstrous scores of 144 (Still career highs). When he gets his opportunity in midfield he can go huge. Last season he was used more conservatively, playing the majority either up forward or down back, conserving his energy yet maintaining his average. This was due to the added consistency to his scoring. 2 years later we sit here contemplating him for our squads, and only one question should be asked. Is he ready to break back into the midfield and maintain it? Why trust my mere conjecture, here you have Dusty's free pass into every one of my squads and hopefully yours as well.
BOOM.
This is why you lock and load him. Hardwick basically guarantees him more midfield time. It will allow him to crank out those massive 120+ scores more regularly, while his improved tank will help him turn from the nearly man into an uber premo forward. This is his year to breakout. This is the year you don't want to be passing on Dusty.
Why shouldn't I pick him?
There's not many convincing arguments I can come up with to ignore him this season. He disproved the theory that he can't run out games with his uber consistent 2014. Discipline issues seem to be an issue of the past, regardless he is proven to be the most reliable forward option going around.
Sure there are a lot of alternatives in the forward line this season, but that becomes irrelevant if you believe he can be a top 3 forward, which I'm totally sure he can and will be. At this stage Deledio may miss out on an appearance in the deck (I'm sure he will be covered elsewhere) because I think he has peaked, where as Dusty is yet to reach his full potential. That being said, he is direct competition for a spot in your teams and many will side with the more experienced option.
I guess the only real downside is that compared to the alternatives around him, we haven't seen him deliver an average near what they're capable of. Franklin, Deledio, Goddard and Swan have all pumped out monstrous 100+ averages before, while we are relying on natural growth and progression with Dusty.
Deck of DT Rating.
Ace. There's not much left to say really. Everything is set up for Dusty to push his average well above 100 this season, my predicted average was fairly safe. I get the feeling this might be the final season we get to select him as a DPP, so enjoy it while it lasts. I reckon Martin is one of the safest picks this season and should be locked into everyone's starting teams.
Loading ...
FOLLOW ME ON TWITTER: @MattCraigDT for all thing AFL Fantasy (and more). Got something to say about the deck? Use the hashtag… #DeckofDT.