Steve Johnson – Deck of DT 2015
He was the most expensive player in 2013 after averaging a massive 118pts. He now comes to us 10pts below what he can do and with all the hype around other premium midfielders, maybe this guy is a sneaky option for you.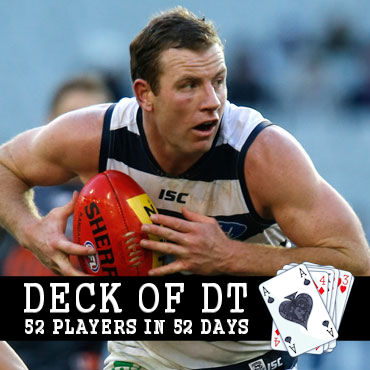 Name: Steve Johnson
Club: Geelong
Position:  Midfielder
AFL Fantasy: $613,000
AFL Dream Team: $610,000
Bye Round: 13
2014 Average: 108
2014 Games Played: 17
Predicted Average: 116
Why should I pick him?
Steve Johnson's name is regularly thrown around to be the next pig in the pen and rightfully so. As you can see below, he can pump out some massive scores on his day. Over the last two years, Steve has scored over 140+ in 23% of his games and when you compare that to the other greats of our Fantasy game such as Swan (8%), Ablett (14%) and Rocky (28%) you'll see he measures up exceptionally well.
Loading ...
In 2013, Stevie was the highest averaging Fantasy player in the game (118.3pts) and last year he averaged 10pts less. He is under-priced!
He's cheaper than Rocky (but who isn't it). In fact, after being the most expensive player in the midfield in 2013, he's now ranked at #6. Instead of picking Rocky, Stevie will save you
a cool $150,000 and $60,000 by passing on Ablett.
Steve Johnson loves to find the ball, the reason he could gain pig status this year is not only because of his big scores, but his potential to pick up cheap possessions and easy uncontested marks. If he's having a bad day, he'll find the ball and find you points.
Why shouldn't I pick him?
Firstly, let's cover his injuries and his 2015 pre-season issues.
Stevie J hasn't played a full season of football in the last six years and he enters his 13th season this year, only to have completed a full season once. Add to this, in the last two years, he has missed a massive 11 games. It's very safe to say that he's very unreliable, lacks durability and often 'rested' by the Cats.
Early in this pre-season, Stevie was given 'downtime' by the Cats and missed a fair amount of training. His reoccurring right foot injury is a huge concern for Fantasy coaches.
Another reason that might steer you away from Stevie this year, is the fact that he has some tough games firat up on including… another clash with Crowley in round 2. Last year, Stevie only managed 58 and 56 against Freo, and then in round three and four he plays Gold Coast (103pts in 2014) and then the Kangaroos (67pts).
Deck of DT Rating.
ACE – What we have here… is a top 5 averaging midfielder in 2015. The biggest issue with Stevie is of course his durability and his inability to play out a full season. We have a truck load of trades and a guy like Stevie now comes with less of a risk because of this.
Will I be picking him?… at this stage YES. Providing he can clock up some NAB games and his foot injury isn't an issue. He will be unique and may just join the pig pen if he can stay fit.
Loading ...
FOLLOW ME ON TWITTER: @CalvinDT for all thing AFL Fantasy (and more). Got something to say about the deck? Use the hashtag… #DeckofDT.