Taylor Adams – Deck of DT 2015
It's the first card of February! That means lock out is just around the corner!! Anthony thinks that Taylor Adams is one player you should be locking into your teams when that time comes.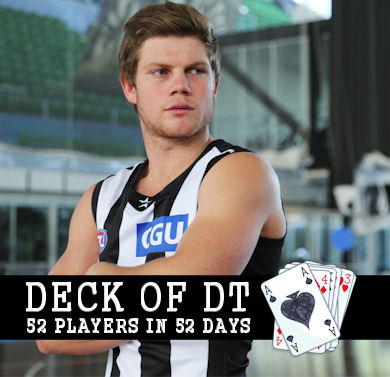 Name: Taylor Adams
Club: Collingwood
Position: Midfield/Forward
AFL Fantasy: $404,00
AFL Dream Team: $402,600
Bye Round: 12
2014 Average: 71
2014 Games Played: 18
Predicted Average: 90
Click here for DT Live Profile.
Why should I pick him?
Taylor Adams has been publicly identified by Collingwood's List Manager Derek Hine as a logical replacement to fill the midfield void left by the departure of Beams, Lumumba and more importantly, fellow inside midfielder Luke Ball.
2014 was a year of a very steep learning curve for the former Giant who admitted to struggling with the difference between playing in front of massive crowds for Collingwood as opposed to past games playing for the Giants.
Drafted by the Giants with pick number 13 in the 2011 draft. The highly rated youngster played 31 games in two years, developing well as an inside midfielder and proving he can find the ball and score well fantasy wise. Averaging 77 over his first two seasons while being managed as all GWS youngsters are with vests and omissions, Adams still showed us his potential registering two scores over 120 in his final season with them. The AFL took note and so did Collingwood, who when premiership player Heath Shaw asked to leave, the Pies and Hine were more than happy to straight swap for Adams.
In his first season at Collingwood Adams went through everything but consistency. Bouncing between the Magpies VFL and AFL sides, being an emergency, wearing a vest on occasion, copping a suspension and ending the season due to injury.
So once again, why should you pick him?
Adams eventually found his spot in Collingwoods side stringing together 7 games after round 13. During this run of games he averaged 89.8, including high scores of 122 and 111.
When given the chance, Adam's can play a very fantasy friendly game, averaging over 25 disposals when his tail is up and registering 6 or more tackles in multiple games! This all equates to more points for us!
If all goes well for Adams this season, that'd be the kind of output i'd expect to see more often.
He's spent this preseason training closely with former Geelong player Travis Varcoe who's mentioned how impressed he has been with Adam's ability and dedication, saying he inspires players around him to try and 'keep up' with him.
Time on ground has been something that has hampered Adam's scoring in the past, but if his preseason training has been any indication, along with him putting on a few kg's of muscle and running personal best times he has also been splitting his time between the midfield and forward's, hopefully meaning we'll see him resting forward instead of on the bench.
Why shouldn't I pick him?
I'll be honest, I really don't have many reason's not to start Adam's this year but here we go…
Even during his DT Friendly run of games last year, his disposal efficiency can be at times woeful. While this isn't exactly a negative in terms of Fantasy scoring (see Nathan Fyfe) it could see him on the outer at Collingwood's selection table if it doesn't improve.
Adams has a round 12 bye that may affect your structure, that one is pretty self explanatory.
Also, while he did average 89 points during that run of games last year, it wasn't a consistent average. With scores of 122 and 11 certainly being a highlight, he also served up scores of 69 and 70 during that run. That is a pretty terrible standard deviation. While that may not concern some coaches who are perhaps focused on an overall score, a player with massive standard deviation is typically the player who'll cost you in a head to head.
I wasn't sure whether to mention the next point but in the interest of examining everything we should look into Adam's attitude. After recently (as in this week) receiving an on the spot fine for being drunk in public, Adams has also been involved in past incidents such as noise complaints at his birthday at 5am last year and an assault charge in 2012 after being drafted by GWS.
While this may seem like something that isn't relevant to fantasy scoring potential, I feel it could go either way.
We could see Adams really knuckle down now as if he really has something to prove and go a lot harder. Or we could see Adam's act out again and miss games through possible club disciplines ect, which is never fun to have to account for.
Deck of DT Rating.
You know what? Queen! That's right, if Adam's slips in to Ball's position as all signs are pointing to and can produce the number's he did when given the chance last year, he is more than capable of pushing for a 95 – 100 point average by seasons end in my opinion.
Considering he'll be starting the season priced at an average of only 71 points and is able to be selected as a dpp midfield/forward, Adams is an underpriced gun just waiting to go bang! He's a lock for me.
Loading ...
Any questions or comments? Drop them below or…
FOLLOW ME ON TWITTER:  @Anthonydsmith86 and don't forget to hashtag #DeckofDT