Mitch Grigg – Deck of DT 2015
This kid can play and as a cheap forward he is certainly one to watch in 2015. But is he even in the Crows best 22? Adelaide fanatic Mr. MJ Want, has all the bases covered. Check it out!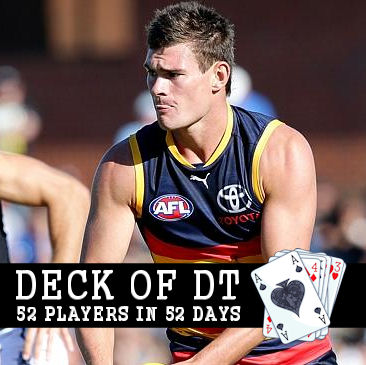 Name: Mitch Grigg
Club: Adelaide Crows
Position: Midfield / Forward
AFL Fantasy: $273,000
AFL Dream Team: $281,000
Bye Round: Round 11
2014 Average: 49.78
2014 Games Played: 9
Predicted Average: 74
Click here for DT Live Profile.
Why should I pick him?
Last year Mitch managed 9 games of AFL football but has really developed nicely in the SANFL. Mitch Grigg earned fourth place overall, polling 14 votes from eight matches including four best-on-grounds. These are just some of his numbers from 2014: In Round 13 he scored 164 fantasy points including 2 goals and 34 touches. The round prior he scored a 103 and a 116 in round 9. While granted these are SANFL numbers his fantasy friendly game style is very evident. Across all his SANFL games he averaged 24 disposals and a goal a game.
Mitch has had several games (like many new kids) starting off his career in the green vest. However, in round one against the cats last year he punched out an equal-career high 21 possessions at 82 fantasy points. Paying for a bloke below 50 whose shown he can get mid 80's as your last forward option is pretty handy, especially considering he's about $25,000 cheaper than last years #2 pick Christian Petracca.
Phil Walsh has spoken about his desire to bring more skillful kickers and especially left footers into the crows line up, they have one who can be both in Mitch Grigg. He has a  booming and accurate left-foot kick and to go with it he's a strong endurance runner.
In this year's AFL Prospectus it says about Grigg "Across his 89 matches outside the AFL covered by Champion Data he has averaged an impressive 21 disposals, four clerances and a goal per game." 
Why shouldn't I pick him?
Because he's not Best 22, and not by a long way. The Crows midfield depth is actually quite strong and no that's not just the biased Crows fan, that's for real. Dangerfield, Sloane, Crouch, Thompson, Smith, Douglas, Van Berlo, Kerridge and even young Matt Crouch will be in front of him let alone MacKay, Wright and Laird who also spend time through the Crows Midfield.
Even if he does play he's a massive vest candidate, last year from his 9 AFL games he spent 6 of them starting the game in the Green Vest, and while a different coach may look to use the green differently it's a factor that serious coaches need to be aware of.
His average of 68 when unvested is still not enough to seriously consider, while it is still 20 points per game increase on average it's still not high enough to seriously consider. He'd need to have pushed that average up towards 80 + have greater job security for him to be an option.
Deck of DT Rating.
Jack – I'll be clear from the get go, Grigg is purely a AFLFantasy Classic option, the speculative nature of him being in the Crows best 22 matched with plenty of unknowns about how Phil Walsh will play his Crows means in limited trade formats he can't be really on your radar. At the SANFL level he's a massive ball winner and throughout the NAB Challenge we'll get a good look at Grigg and also some of the game style of the Crows. It's still over 2 months til round 1 so it's important to still keep an open mind on players and structure across the different game formats. He's a watch-list for me.
Loading ...
FOLLOW ME ON TWITTER: @mjwant for all things AFL Fantasy (and more). Got something to say about the deck? Use the hashtag… #DeckofDT.