BBL Final Preview
IT'S UPON US! The BIG final is here! Eight teams, thirty-two matches and two semi-finals later, we've narrowed the field down to the two best franchises in the competition.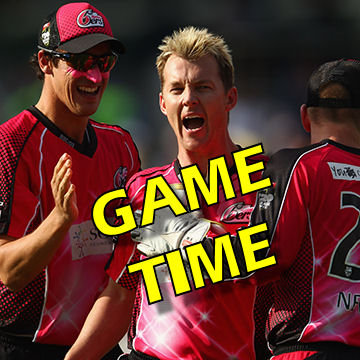 IT'S UPON US! The BIG final is here! Eight teams, thirty-two matches and two semi-finals later, we've narrowed the field down to the two best franchises in the competition. These teams will battle it out for glory, bragging rights and the trophy in front of a huge crowd of 13,500 at Manuka Oval TONIGHT!
I'm guessing most people will have about 7-8 players that are the same, so it's the few POD's you have that will make the difference. Set yourself a goal this round, whether it's moving fifty places up the rankings or winning your league final. Nothing too major, because it's a little hard to jump up bulk places when you've got basically the same team as the next bloke, but enough to keep you interested. Since I'm currently ranked 214, my goal is to crack the top 200 and then the top 150.
Anything higher than about 1000 is a great ranking in this game, so if you get around that, pat yourself on the back. If you don't, that's okay – we all have shockers once in a while. You learn more from your mistakes than your victories.
RANT ALERT: Manuka Oval
The whole concept of the BBL is pretty good. The franchise system works really well, allowing young batsmen to play with and against their idols. The compressed season also makes it a lot more enjoyable, rather than playing one or two matches every week like the English tournament.
BUT (and there always is a 'but') I do not understand WHY they have the final at Manuka Oval. They did it right the first three seasons, having the final at the home ground of the team that was ranked highest. It provided motivation, excitement; a reward for the team that performed the best throughout the season. Having a pre-determined ground takes away from that.
There were some rumours that the hierarchy didn't like the fact that the Scorchers kept winning, but I'm not sure how true that is. I think they just wanted a neutral ground, but it has come at the cost of a) fan happiness and b) ground size. How does it look to the people watching around the world, that our keynote competition's final is played at a ground that has a capacity of 14,000. It's just a little embarrassing.
Also, if they wanted a neutral ground, they're not going to get it. There are some tickets allocated to members, but the majority of the people walking through the door are going to be the general public in the area, who will probably support the closest team to them – the Sydney Sixers. So effectively, even though we finished higher, it's a home ground for the Sixers. It just annoys me.
Pick some POD's.
You need to have POD's that'll fire if you want to move up the rankings this week. If you're not in the running to win overall prize, you've really got nothing to lose. Consider throwing in a couple of these guys:
O'Keefe
Lumb
Voges
Bollinger
Turner
Hogg
Be prepared for some disappointment.
At least a quarter of your team is going to fail. The most probable fraction will be a half. When there's just one match, that comes with the territory. Don't worry about it. A score of over 400 is an excellent score this week.
Captains
First of all, you CANNOT use the captaincy loophole this week. Since there is only one match, you have to go the old-fashioned way and lock someone in. Not only that, but if you nail a good captain, you will probably SHOOT up the rankings. If you don't, you probably won't, but then again, neither will anybody else.
Like I said before, if you're not in the running to win overall, then choose someone from left-field. Someone you would NEVER pick in round one. Go wild for once and back your gut. I'm thinking about Wessels. You've got nothing to lose, but everything to gain.
My top three:
S. Marsh – Still looks in bloody good touch. In a round where every player could potentially be a landmine, he should guarantee some safety.
Nathan Coulter-Nile – A premium option, but he's the type of player that could be hit and miss with the bat.
Michael Lumb – He's got starts in almost every match this season, and really only carried on it two of them. I'm considering him.
Cheers guys, good luck, and well played this year. Thanks for supporting us (Nic and I) throughout the season, we've had a blast covering it, and hopefully you've gained a lot. Make sure you stay-tuned to www.cricketgalore.com as we ramp up World Cup Fantasy coverage.