Dane Swan – Deck of DT 2015
Dane Swan has been a walk up selection in our teams the last few years, but all good things must come to an end.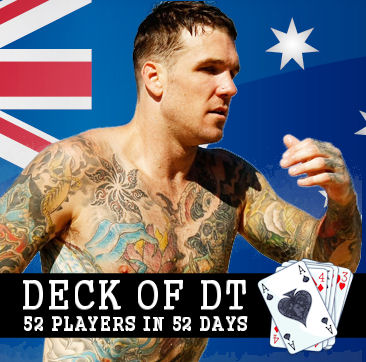 Name: Dane Swan
Club: Collingwood
Position: Midfield/FORWARD
AFL Fantasy: $531,000
AFL Dream Team: $528,900
Bye Round: 12
2014 Average: 93.71
2014 Games Played: 17
Predicted Average: 115
Click here for DT Live Profile.
Why should I pick him?
It's Dane Swan!
Really I should just stop this article here, after his many years of reliable captain service, that should have been enough.
But apparently there are some of you out there who are opting against starting with the original DT pig this year… So I'm going to take this chance to dedicate the Australia Day article to the man, the DT Legend and possible king of the bogans, Captain Dane Swan.
Welcome to 2015, where this is the cheapest starting price Swan has been at since 2011, which is an absolute bargain!
Priced at an average of 93.7! But why is he so cheap?
His scoring was hampered as he carried an injury last year before getting worse during his 57 point game in round 17 and getting given a few weeks off to recover.
He came back strong though, scoring 96 points playing mostly forward against Brisbane, then moving into the midfield and starting on fire against GWS with 29 points in the first quarter. Unfortunately he re-injured himself in the second quarter and was subbed out for 38 points.
Without these two sub/injury related scores, Swan's average lifts to a more respectable 99.8 which would actually give him the highest average score of the forwards available this year. Because that's right, the Great Dane Swan is available to be selected IN YOUR FORWARD LINE THIS YEAR!!! (yep, I'm still pretty damn excited about that!)
Even by his own admission and lofty standards, Swan's been quoted to say his last year was 'putrid'. Which is quite incredible to say, considering it still included scores of 145 and 122 before his injuries.
Once again though, just in case you're new to this game or have forgotten, lets take a quick trip down memory lane together.
2009 – 115 point season average
2010 – 124 point season average
2011 – 119 point season average
2012 – 130 point season average
2013 – 117 point season average
2014 – 93 point season average
2015 – ?
Swan is one of the highest scoring players of the last 6 years, with a massive 14 scores over 150 during this period compared to only 4 under 70 during this same time. I know I'd much rather have Swan scoring for than against me!
Why shouldn't I pick him?
So there are a couple of things to consider before locking Swan in, things that do seem to be scaring people off. I'd be remiss not to at least mention them!
First thing that has coaches worried is that Swan at this stage still hasn't taken part in contact drills during training. While he is running laps like a man possessed, his fitness shouldn't be a concern at all, but no body contact yet does have him slightly behind in preseason preparation.
Next reason could be his round 12 bye. Sharing the same bye round as popular forward options such as Franklin, NRoo, Goddard, Martin, Mitchell ect… depending on your team structure, adding Swan to an already stacked round 12 forward line could be detrimental.
Collingwood could be the next reason. They are currently in the middle of a soft rebuild which will see younger player given more opportunities, possibly over older players. With Swan starting this season as a 31 year old, he may be forced into the forward line more often to make room in the Pies engine room for their emerging young players.
Deck of DT Rating.
ACE – Not only in Fantasy scoring, but this brownlow medalist is an Ace in every sense! Even with Collingwood possibly looking to run young blood through their midfield, lets be honest, if you were Nathan Buckley and the game was on the line to be won, you wouldn't even think twice about sending Swanny into the midfield.
Swan is an out and out gun of game. Even though he has produced some amazing scores in the past, including the before mentioned high scores last year, we aren't picking Swan this year based on that. We're picking Swan this year based on what he could possibly produce as a top forward.
Worst case scenario – Dane Swan replicates last year's putrid season and you have a forward who averages 93.
Mid case scenario – Dane Swan turns in an 'average' performance and you have a forward averaging 100
Best case scenario – We get the DT pig back and you paid peanuts for a forward who averages 120!
But regardless of whether or not you start with Swan or not, at least consider getting Swan into your team for the ANZAC day and Queens Birthday clashes. Because we all know that when theres a medal on the line, Swanny will come to play!
Loading ...
Any questions or comments? Drop them below or…
FOLLOW ME ON TWITTER:  @Anthonydsmith86 and don't forget to hashtag #DeckofDT