Matthew Leuenberger- Deck of DT 2015
Everybody loves a 'Berger' and this one comes with a discount code that will leave your mouth watering.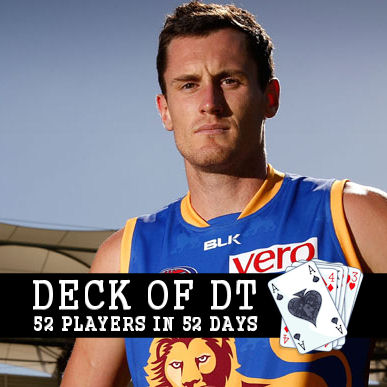 Name: Matthew Leuenberger
Club: Brisbane
Position: Ruck
AFL Fantasy: $277,000
AFL Dream Team: $325,100
Bye Round: 11
2014 Average: 57.6
2014 Games Played: 5
Predicted Average: 76
Click here for DT Live Profile.
Why should I pick him?
In 2011, Berger had a breakout year where his average jumped from 78, to an elite 93. During that season, people were touting him as the next Dean Cox after he managed an impressive 9 scores over 100, including 110, 111, 118, 120 and 140 to go with another 5 scores between 90 and 100.
Since then, he has had two seasons ruined through injury, but in 2013 he once again showed his potential to compete with the best rucks after averaging a competitive 85 over 20 games (coming off a serious injury).
After missing 17 games straight over the course of the 2014 season, Leuenberger popped back up in round 23 against the Cats where he reminded us that he is more than capable of racking up good numbers with 11 possessions, 2 marks, 6 tackles, 36 hit outs and 85 Fantasy points, despite playing in the same side as 2014 Fantasy ruck sensation Stefan Martin.
Based on a slow start to the season, missing 17 games (now discounted in 2015) and a round 4 injury on just 10 points, you won't find a better Berger deal in town.
Why shouldn't I pick him?
After proving to be one of the AFL's most durable rucks in 2010 and 2011 with 22 games across each season, Leuenberger has had a horrible run in 2 of the last 3 years recording 3, 20 and 5 games respectively, ruling him out if you like a 'safe' set and forget ruck strategy.
Our goal by the end of the season is to have the best scoring players in each position and coming off another year ruined by injury, it is unrealistic for us to have that expectation of the Berger in 2015.
Despite scoring well with Martin in round 23 last year, it remains to be seen whether he can consistently score enough points in a shared ruck role.
Deck of DT Rating.
Queen: Obviously there are a few question marks over whether Leuenberger can return to his premium ruck status at the new look Lions, but for that price it is a no brainer in my opinion and you need to lock and load. He won't set the world on fire for you but one thing is for sure, he will make you money and be a low priority upgrade when the time is right.
FOLLOW ME ON TWITTER: @RoyDT for all your AFL Fantasy banter requirements! While you're there, if you've got something to say about the deck, use the hashtag: #DeckofDT.