Nic Naitanui – Deck of DT 2015
It's the year of the NicNat, I can feel it in my bones! But do you trust the opinion of one desperate Eagles supporter? If you don't, that's fine… But at least trust the numbers – of which I have plenty!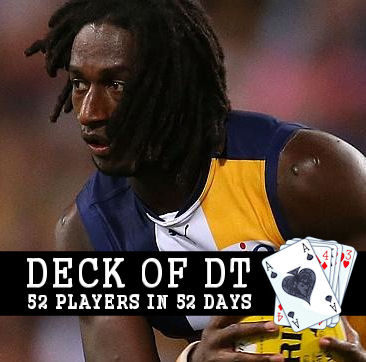 Name: Nic Naitanui
Club: West Coast
Position: Ruckman
AFL Fantasy: $413,000
AFL Dream Team: $411,500
Bye Round: 13
2014 Average: 72.9
2014 Games Played: 20
Predicted Average: 88
Why should I pick him?
As a West Coast Eagles supporter, you'll have to forgive me for thinking that NicNat is akin to a bee's knee. So, in an attempt to prevent any bias hijacking this article, I'll give you my argument and the statistical proof, side by side.
Argument: Despite playing 20 games last season, there's no doubt that Naitanui was playing winged last season. That gives him a nice little natural discount, a penny-saver where other Premiums options like Stefan Martin ($635k), Jacobs ($550k) and Mumford ($524k) all have you breaking the bank.
Proof: While NicNat himself admits that "Obviously last year (I was) a bit hampered and (wasn't) able to perform as well as I wanted to", the real proof is in the numbers. A lack of pre-season training had him starting slowly, producing just 55.1 DT per game up until the Bye; a rest and some actual match fitness proved to work wonders and he pumped out a hefty 84.8 DT per game from Round 10 onwards.
Argument: With Dean Cox moving on, many punters have warmed to the idea that Naitanui steps up as the main ruckman and that's where the bulk of his improvement in 2015 will come from. However, I'd argue that NicNat was already the kingpin last year, with Cox increasingly playing second fiddle last season with Scott Lycett sliding into a similar role when the veteran ruckman was rested.
Proof: Dean Cox's TOG% dropped to a four-year low (roughly 75%, down from 80-82 in previous years), as did his hitout rate (24 per game, down from 26-29 in previous years); meanwhile, his Fijian friend feasted on all his midfield minutes.
Argument: With the Naitanui and Lycett pairing expected to be the Eagles' preferred ruck set-up moving forward, we should see a similar breakdown to what we saw in the 2nd half of 2014 – NicNat the first-choice roaming ruckman, with Lycett anchored closer to the big sticks given he's the more natural forward. I'm expecting NicNat to get as bite a bite of the ruck cherry as his body allows him.
Proof: Lycett's last four games as WAFL level last year produced hauls of 2, 5, 3 and 2 goals respectively. Naitanui kicked multiple goals just twice from 20 games last year. They'll let him leap buildings and stalk packs while the padawan Lycett plies his trade via cameos.
Argument: The most tantalising aspect of Naitanui's prospects for 2015 is where natural progression can take him. After an All-Australian calibre year in 2012 that culminated in an 86-point average, the sky seemed the limit for NicNat. Every year his numbers improved across the board, and simple career arc theory says that's nowhere near his peak just yet. Obviously, two injury-affected years damaged his Dream Team curve, but a fit Naitanui should pick up right where he left off and that suggests he'll top the 90-point threshold!
Proof: Whilst researching Will Minson for last year's DODT, I noticed that ruckman tend to peak a lot later than their smaller counterparts. If we look at the most successful ruckmen of the past decade, the years in which they produced their best DT seasons are as follows: Dean Cox mustered his best average at 29, joined by Sandi (27), Brogan (31), Hudson (32), Lade (29), and Everitt (30) all up at around the 30 year-old mark. Obviously, at 25 years old in May, the dreadlocked ruckman still has his best statistical days ahead of him.
Secondly, check out his Career Arc! NicNat's fantasy growth was super consistent until a bung groin stunted his 2013-14 campaigns, and while I won't bore you with the specifics, you can check out his clockwork-like improvement across the board statistically here  if you're unconvinced. If we act under the assumption that a fit Nic essentially kicks off where he left off in 2012, the graph paints a picture where a 95-point average is a serious reality.
Argument: Don't feel like risking $413k-off on the concept of a career arc? Fair enough. Let's look at it another way. Naitanui is fitter this pre-season than he's been for years, and that means he'll be on the park more often, doing more things while he's out there, too.
Proof: Without getting too complicated (and trust me, I could), NicNat's averages have closely followed his TOG% in the past few years. His career-high game time over the course of a season was 82.3% – his best DT year with an 86-point average. When his groin issues stunted his minutes in the 2013 and the first half of 2014 at just 72%, he averaged 71 points.
The second half of 2014 though? 80% TOG and an 85-point average! It's not rocket science people: a fit Naitanui = more Naitanui = more fantasy fun.
As for his chances of reaching full fitness this year, just ask NicNat himself. In a recent puff piece, he stated that "in previous years I've only clocked up maybe 20 or 30 hours of actual track time in the pre-season. I've surpassed that by a couple of hundred hours so far" with the article claiming that he's "in the midst of his first full pre-season for three years". Boom!
Why shouldn't I pick him?
Have you ever tried to run without a groin? How about jumping? Me neither, but I'm sure it's not easy. With a history of osteitis pubis and groin issues spanning 2 years, it's no sure thing that Naitanui can fight through the whole season without breaking down again.
If we're splitting hairs, there's always the concern that he's more of a SuperCoach gun than a DT stud, and that's undeniably the case. I've heard many accuse him of being all fizzle and no pop, all bang and no bullet. Flashy, without actually accumulating the pill. Yeah… I can see that. His statistical ceiling will always be limited as an impact player that demands extra opposition attention, meaning he's unlikely the crack the top 2 or 3 Ruckmen for the year.
However, the main factor that'll keep a fit NicNat out of my starting side is the ridiculously tempting price tags of two former Premiums in Kreuzer ($244k AF, $333k DT) and Leuenberger ($277k AF, $325k DT). If you overlook this pair – with a decent NAB Cup showing behind each of them – then you're borderline crazy.
Deck of DT Rating.
KING – The equation is simple for me.
I'll be rolling out the red carpet for The Kreuz and The Berger for Round 1, but if either doesn't get up, we'll need another potential Premo to fill the void. At this stage, Naitanui looks to be the best value outside this pair – and with a realistic shot at cracking the 90-point threshold and beyond, he should be your man too.
Loading ...
FOLLOW ME ON TWITTER: @Tbetta9 for all your AFL Fantasy banter requirements! While you're there, if you've got something to say about the deck, use the hashtag: #DeckofDT.