Jack Martin – Deck of DT 2015
After coming into the AFL with sooo much hype, Jack Martin had a very unlucky season due to injury and ended the season with an average of 50. Oh and did I mention he's a forward in 2015? Will you be getting on?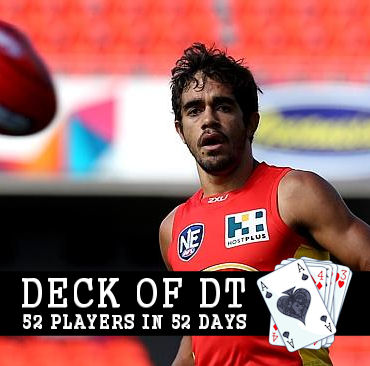 Name: Jack Martin
Club: Gold Coast
Position:  Forward
AFL Fantasy: $285,000
Bye Round: 12
2014 Average: 50.3
2014 Games Played: 11
Predicted Average: 71
Why should I pick him?
Firstly, let's forget about what happened in 2014 and focus on the hype this kid had around him, heading into last season.
In 2012, in the NAB U/18 Championships, Jack Martin averaged 101pts finishing #4 in Champion Data rankings. He was #2 in tackles, #4 in kick rating and was rated as 'elite' in contested possessions, pressure acts, tackles and scores.
Woop de doo basil!
In 2013, in his time in the NEAFL, Jack was just 18 years of age. There, he averaged 20 disposals (13 contested) at a total of 97pts per game.
Then he was picked up in the mini draft and debuted for the Suns in round one and from there things got ugly. After scoring 6pts, he then busted his shoulder and missed the next 13 games.
So let's get back to the question: "Why should I pick him?"
He's massively under-priced based on the scoring capabilities he has.
He's listed as a forward this year for the first time.
He's fit and ran a PB in the 2km time trail recently
He's 5kg heavier (muscle) in 2015 and still managed to run a PB
Why shouldn't I pick him?
When he returned in round 14 and played out the rest of the season to finish the year with a deplorable average of just 50.
From round 14 onwards, he averaged 55 and received NO vests, he just scored poorly and struggled to find the pill. He did play the majority of his time forward and posted 4 scores under 40 and against Port, he scored a miserable 24pts and that included 5 tackles!
Although he's cheap, depending on your structure, players like Mitch Clark ($156,000) will save you a cool $130k and may just average about the same. Clark is carrying a small calf injury though at the moment so watch him carefully.
Deck of DT Rating.
JACK – Jack is a Jack (Boom Tish)… The kid was hyped up to be the next BIG thing. Even better than his team mate Jaeger O'Meara (avg. 93 in 2014). Injuries have set this kid back massively. His time forward in 2014 would have been a fair amount of 'risk management' and I expect Jack to be released a lot more in the Gold Coast midfield this year. Will I be picking him?… at this stage I'm 60/40 for him. I can see him improving up to 20pts but his pre-season efforts, games and his role will determine this immensely. But he's certainly one I'm watching to hold one of the last spots in my forward line.
Loading ...
FOLLOW ME ON TWITTER: @CalvinDT for all thing AFL Fantasy (and more). Got something to say about the deck? Use the hashtag… #DeckofDT.