Matthew Kreuzer – Deck of DT 2015
Kreuz is fit, firing and ready to attack 2015 with the aim to make it his best season yet. At a bargain price, are you on board? McRath states his case.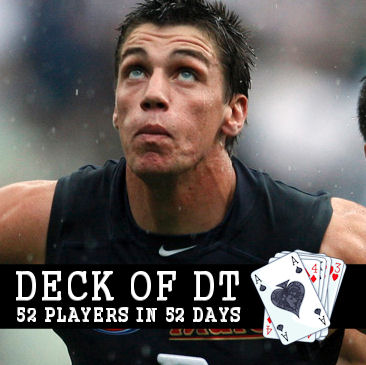 Name: Matthew Kreuzer
Club: Carlton
Position: Ruck
AFL Fantasy: $244,000
AFL Dream Team: $333,000
Bye Round: 11
2014 Average: 59
2014 Games Played: 1
Predicted Average: 84
Today I continue my raft of Deck of DT Articles in the format of The Numbers. Here we go.
Why should I pick him?
86 – Prior to his foot injury in Round 1, 2014, 'Tractor' was coming off a career-best season – averaging 86 point per game from 16 games in 2013, playing predominantly in the ruck but also swinging forward with moderate success. He kicked 8.11 for the year, whilst netting an average of over 25 hitouts per game.
94.6 – Given 2014 was essentially a total write off; let's stick with 2013 for a minute. I know our mate Rainman loves the 'NVA' or non-vested average: a figure that perhaps more accurately reflects the player's true fantasy potential. Well, to go one further – if we take out just 2 x games – a vest-affected 21 and his subsequent return game whereby he was thrown around like a puppet (40), his season average all of a sudden jumps to 94.6 – premium for a ruckman in any language, and what would've been the 3rd highest average in his position. What's even more tantalizing is that Kreuz totaled 6 x scores above 100, including just one below 78 from this 14-game sample. Not bad at all.
43 – 2015 sees the big man priced at just $244k in AFL Fantasy, which is equivalent to a starting average of 43.11 points. By comparison, this type of investment would get you a Shaun McKernan or Daniel Currie-type: two guys that no learned fantasy coach will consider. So unless you look a bit higher at the $277k-priced Matthew Leuenberger (now dueling with Stef Martin for #1 ruck at the Lions), there is simply no better valued ruckman this year with the job security and known potential as Kreuzer.
25 – Still just the tender age of twenty-five, word out of VISY is that the former #1 pick is projecting a massive presence around training; back to the running capacity that sees him regularly compared to his shorter compatriots (didn't you see that he earned the fluro hat for trainer of the week?) Safe to say, Kreuz will be ripe to hit the ground running at the NAB Challenge and charge into Round 1 fully fit.
"Another one of the big boys Matty Kreuzer is looking fantastic and showing some of us little blokes up in the running – so he's flying which is good to see."
– Dale Thomas
Why shouldn't I pick him?
3 – In a huge adjustment to the fantasy structure, there will only be three spots available for rucks in 2015. With Berger, NicNat and the multiple premium options on offer, does the Carlton big man fit into your plans? Sure, we'll have DPP up our sleeves – but in a time where the ruck always seems to wreak havoc with our teams, this is the one position on the field that we need to nail from Day One. EDIT: AFL Fantasy will still have 4 spots for rucks in 2015. This change will only be applicable in Supercoach.
6 – There is a lot of talk about Kreuzer being played forward more this season: something he has had limited success with in the past; and could curtail his influence – and more importantly – his fantasy output for the season ahead. From the 16 games he played in 2013, he only kicked a major in six of those – kicking multiples on just two occasions. This trend has been a fixture in his career to date, having only kicked a goal in 8 games and multiple goals twice in 2012 from 20 games. Should he be forced to play up forward too often during the season, he may not produce the goods that we desire.
104 – In his 7 year career, Kreuz has been seen as a bit of a fantasy tease – only having played 104 out of a possible 154 games for an average of 72.3. With his only full season coming in 2009 (his sophomore year), the chances of you getting a full 22 games from the big Navy Blue #8 is fairly low. Will 2015 be the year he finally sheds this persona and fulfils his fantasy potential?
Deck of DT Rating.
KING – With the lack of confidence-inspiring options in the ruck this season, in addition to the incredible value and positive news surrounding him in the preseason; Matty Kreuzer is deeply-entrenched in my ruck division for 2015. At $244k, he's effectively rookie priced in AFL Fantasy – the risk simply cannot get any lower. With all signs out of Carlton-land begging us to pick this fan-favourite, do yourself a favour and put the big man in your team and move onto the next position.
Loading ...
FOLLOW ME ON TWITTER: @McRathDT for all thing AFL Fantasy (and more). Got something to say about the deck? Use the hashtag… #DeckofDT.