Jack Ziebell – Deck of DT 2015
He can be an enigma at times, but when Ziebell gets it right heads turn. Matt takes a look at North's potential DPP steal.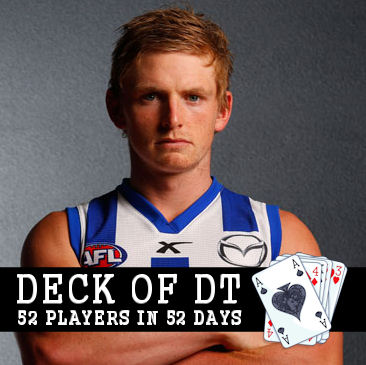 Name: Jack Ziebell
Club: North Melbourne
Position: Fwd/Mid
AFL Fantasy: $480,000
AFL Dream Team: $478,400
Bye Round: 13
2014 Average: 84.8
2014 Games Played: 17
Predicted Average: 97
Why should I pick him?
Just 12 months ago there was a lot of expectation that Ziebell could be in for a breakout year, perfectly set to boost his average over 100. One year on and we have the chance to pick him up at an average of 85 as a forward. With his DT relevance now huge due to his newly gained DPP, it's worth looking at a few of the areas that could boost him into a top 6 forward.
Firstly, he has 2 sub affected games in that average due to injury. I love a player that is discounted due to a one off injury, however it should be noted that Ziebell suffers these injuries more than most. Regardless he averaged 90 without those scores included, which would place him as the 8th best scoring forward of 2014. Considering that he didn't have the best of seasons, that's not a bad base to build from.
Secondly, Jack has so much room to grow. He's only turning 24, meaning his tank should continue to improve. Having clocked up his 100th AFL game last season, he is ready to take his game to the next level. Ziebell's 2013 season just proves that he can be a strong force in all forms of Fantasy, notching up an average of 94.7. Crucially he was consistent (For a forward), contrary to popular belief. That year he dropped under 70 just twice, you would take that from a forward in a heartbeat.
It was obvious that his scoring took a huge hit last season due to increased time up forward. He averaged just 17.8 disposals, down from 21.1 in 2013. We won't know for sure until we see how North line-up in the NAB Cup, but with Greenwood's exit there should be a spot up for grabs in the Kangas midfield. They have been relying on Ziebell to contribute with his strong marking up forward, but hopefully Waite's inclusion (If he doesn't do something stupid… Forgot I ever said this) can free him up significantly. The fact is that Ziebell is a wasted talent up forward, just like Rocky was 2 years back. When he moves into the midfield on a permanent basis he will be a deadly force, and he seems primed to do just that.
Strangely he averaged only 76% game time across the whole season. Whether he wasn't fully fit I'm not sure, but he should be able to improve on that figure with a full pre-season. For a comparison, Dustin Martin has played a similar role in a similar style (with similar faults). He averaged 83% time on ground. That equates to around an extra 8-9 minutes on the ground each game, which would equal an extra 10 points per game. Needless to say it would almost instantly make Ziebell a star forward for our teams. Definitely something to keep an eye on.
His scoring potential suggests that it's only a matter of time before he pushes his average above 100. He has notched a whopping 13 tons over the past 2 seasons, not bad from 35 games. He can also go huge, passing the 130 mark on two occasions last season. All the ingredients are there to make him the steal of the season, there are just a couple of things… Multiple things holding him back.
Why shouldn't I pick him?
I'm not going to lie, there's a few drawbacks to selecting Jack. I rate durability highly when selecting my squad, unfortunately it's not a strength that Ziebell possesses. He has played 16, 18 and 17 games over the past 3 seasons respectively. The last thing you want is one of your premiums missing 5 games a season. Injuries have been a constant plague throughout his career. Shoulders, knees, weak bones in his legs. You name it, Ziebell probably had it. Fortunately he seems injury free at the moment, having undergone shoulder surgery after the completion of 2014. He has returned to the track and is in the full swing of pre-season. All good, right? Not quite, his love for a suspension must also be considered. He has been sent to the tribunal 4 times over the past 4 seasons, missing a total of 10 games. He avoided any trouble with the MRP last season, so hopefully he has matured beyond his early recklessness.
Not only is the bloke likely to miss games, he is also capable off the odd shocker. His sub scores not included, he still managed 5 games under 70 last year, including a 45 and a 51. I would suggest that the pivotal factor in these horror scores has been his time up forward, so an inclusion into the midfield is going to be vital if we are to consider selecting him in our starting squads. If not, you're in for a roller coaster ride. If you include his finals, he scored under 68 (Or didn't play) in 50% of the matches he could have played last season.
One major flaw in his fantasy game is that he doesn't really find much of the pill. Even in his brilliant 2013, he only averaged 21 disposals (dropping below 18 last year). Incredibly, his career best disposal count is only 27!!! He has either relied on bagging a handful of sausage rolls, tackled like a maniac or plucking 10 marks. This would explain why he is so inconsistent, it's a lot easier to just rack up the disposals each week. This could be seen as a positive or a negative. On one hand, he may not be great at finding the footy. It's a unique skill that not many players have. Sure he can do brilliant things once he gets it, but that's not what we're after in DT! On the other hand, it leaves him plenty of room to grow. If he does get more midfield time he should easily boost on those possession stats of 17.8 last year, leaving more room for improvement!
Lastly, there are a plethora of forward options. He is competing against the likes of Harvey, Bartel, Martin, Goddard, Gray, Deledio, Franklin, Swan the list goes on. However you are paying a premium for those guys, Ziebell has the potential to match any of them at a discounted price. He also has a very handy bye round, only Bartel, Harvey and Gray share the Round 13 bye with none of them really considered locks. If you're one who is very picky about team structure, Ziebell could help out greatly.
Deck of DT Rating.
King. I see him averaging 90 at a minimum, making him a relatively safe bet to improve on his starting price. The question is do we take the punt in starting him, or do we keep him as a possible upgrade target. Yes there are risks involved, but no reward comes without an element of risk. I think in this case the reward outweighs the risks, there's no doubt he has the potential to be a 100+ average player and he comes as cheap as you will get him. If you can find a spot for him in your sides, you'd be stupid to not consider him strongly. It's a game of make or break decisions, and Ziebell is definitely going to be one of them. Do you have the guts?
Loading ...
FOLLOW ME ON TWITTER: @MattCraigDT for all thing AFL Fantasy (and more). Got something to say about the deck? Use the hashtag… #DeckofDT.