Tom Mitchell – Deck of DT 2015
We all know that this kid is gonna explode one day. Is 2015 the year for Tom Mitchell?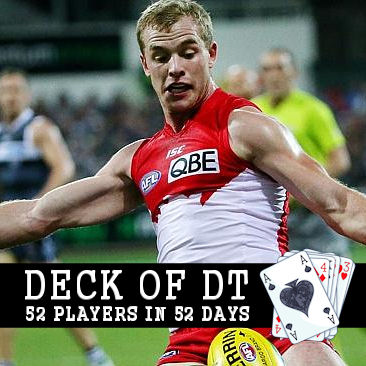 Name: Tom Mitchell
Club: Sydney
Position: Forward/Midfielder
AFL Fantasy: $432,000
AFL Dream Team: $440,300
Bye Round: 12
2014 Average: 86.7
2014 Games Played: 6
Predicted Average: 95-100
Why should I pick him?
Tom Mitchell is one SOB… Yep Son of Barry. For those younger readers, Barry Mitchell was a little pocket rocket that was a ball magnet back in the Mid 80's to Mid 90's for the Swans and not so much for the Blues. He was known for his quick hands and ability to just find the pill. He formed an awesome midfield combination with Greg Williams and Gerard Healy.
Forward the clock to 2015 and we have young Tommy. This kid is a jet, gun, magnet (Insert your superlative here) that is just waiting for his regular chance to show the fantasy world what he can do. It is well publicised that last year in a NEAFL game, Tommy picked up a lazy 64 disposals. Yes I know the NEAFL isn't the AFL, but 64 disposals…That is Huge!!
28 Kicks
36 Handballs
14 Marks
5 Tackles
oh and just dobbed the 4 goals.
But if we wind back the clock to when he first exploded on the scene, Round 10, 2013 against the Bombers. He started as the Sub and didn't come on till the second Quarter and still had 98 points to his name at the final siren. He then went on a rampage scoring 144, 81, 89, 104, 113, 74 and 112 from his next 7 games.  After his first 8 games he was averaging 102. To put that into perspective, the highest scoring first year player we have ever known in Michael Barlow was averaging 105 after his first 8 games. Not bad company to be in.
2014 was full of expectation and for many there was a choice between Tom and his fellow young gun Luke Parker. Those that chose Tom would have been very happy with his first 2 games pumping out a 93 and 95. He then put in a stinker v the Crows and was handed a red vest at 3Qtr time for a measly 41 points. Next game wasn't much better 17 possessions, 5 marks for 67 points.
Then.. round 4 he injured his ankle and was subsequently dropped to the reserves. He played through the reserves through most of the remainder of the year, also battling another ankle and a knee injury.
Recalled to the senior side in round 22, he managed a handy 86 from only 69% game time. Then round 23 he smashed out a 138. 29 possessions, 8 marks and an amazing 13 tackles… this was from 82% game time!
Let's put his point scoring ability into perspective. Of all available forwards this year, he is only behind: Goddard, Swan and Chapman. He is equal to Dustin Martin and ahead of Gray, Deledio, Harvey, Franklin, Smith, Bartel, Riewoldt to name a few. Again that is some nice company.
Oh and my favourite stat.. the Non Vested Average. Exclude his 41 (I know it was red vested because he stunk, but just humour me) and he averages 95.8. That is a top 6 Fwd average easily. He is excellent value at around $100k cheaper than some of the more fancied Fwd options.
Lastly… He is training the house down J and Teddy Richards believes he will be this year's Luke Parker.. http://www.afl.com.au/news/2015-01-13/mitchell-the-next-parker
Why shouldn't I pick him?
I think that there are 4 reasons:
Injury – He had lots of injuries before breaking onto the scene in 2013 and has had his fair share since.
Job Security – Where does he fit in at the Swans? They have a power packed midfield already with Kennedy, Parker, Jack, Hannebery, McGlynn, McVeigh, Bird and young kids Cunningham and Lloyd.
Round 12 Bye – Shared with Swan, Goddard, Franklin, Bennell, Riewoldt
Smorgasbord of forwards available
Deck of DT Rating.
KING – There is no doubt in my mind that he is in the Swans best 22. With McVeigh the likely replacement for Malceski, Mitchell becomes the perfect player to help extract from the midfield. Seriously if Gary Rohan can be best 22, then Mitchell is easily. He is a magnet and his point scoring ability is top class. I think he has all upside and is well worth the punt, particularly in fantasy.
FOLLOW ME ON TWITTER: @RainmanDT for all thing AFL Fantasy (and more). Got something to say about the deck? Use the hashtag… #DeckofDT.