Garrick Ibbotson – Deck of DT 2015
This is a super cool excerpt about Garrick Ibbotson. Unfortunately, you're gonna need to read the whole article to figure out whether he's worth the $336k price tag.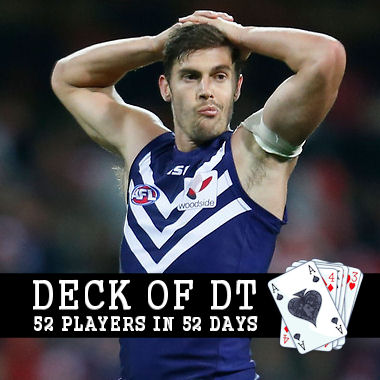 Name: Garrick Ibbotson
Club: Fremantle
Position: Defender
AFL Fantasy: $336,000
AFL Dream Team: $335,300
Bye Round: 12
2014 Average: 59.4
2014 Games Played: 10
Predicted Average: 76
Click here for DT Live Profile.
Why should I pick him?
The main allure is certainly because he's anywhere from moderately to severely underpriced at just $336k. Ibbotson showed us what he is capable of in a stellar 2013 display; pumping out an average of 92.3 DT from 13 games as he compiled a compelling case for All-Australian honours to compliment his budding fantasy stardom.
But, as the story always goes, injury cut his blistering run short and his health woes continued well in the 2014 season. A red vest here, a couple of green vests here and boom! – Ibbotson's average drops from a serviceable 72 points to the lacklustre 59, which he currently finds himself valued at. This is significant to note, given that he's never failed to average less than 59 in a season since 2007 – his debut season, which consisted of the single 37-point effort.
In other words, his worst-case scenario still involves an increased output of fantasy points. Let that percolate for a moment.
Another key factor is the alarming lack of Premium options in DEF this year, while the FWDs appear stacked. It's already attracted a lot of discussion early in the pre-season and the overwhelming consensus seems clear – go top-heavy up forward and round out your backline with discounted/mid-priced defenders. Players like Henderson, Waters, Geary, Hunt, Seedsman and Whitecross all fit the bill, with Ibbotson's name just as viable among that cheaper crew.
Also, do you really want to miss out on having the Hibbo & Ibbo backline combo? Didn't think so.
Why shouldn't I pick him?
Common sense says he'll definitely better last year's hobbled effort, but there are a few factors which could easily cap his fantasy ceiling.
The obvious concern is a fitness track record that has proven to be spotty at best. Achilles problems in 2013 ended his career-best year, while a dodgy shoulder haunted his 2014 campaign. Ibbo seems to be tracking well after off-season surgery, flashing green lights in an early December puff piece while a Jan 10 pre-season update on the Dockers revealed that he's re-joined the main group. While we have every reason to be optimistic, obviously his durability is a career-long issue and needs to be carefully tracked right through until the end of the NAB Cup – I think it's fair to suggest that we'll need a pristine bill of health before we'll send $336k his way.
Even if he looks fit and firing for Round, we still need to think about the aging Luke McPharlin's fitness. Let me explain.
Let's look at Ibbo's averages over last two years:
2013: 99 with McPharlin in the side; just 69 without.
2014: 82 with McPharlin in the side; this time 66 without.
This is my largest single concern when it comes to Ibbotson – he needs to play that mark-heavy intercept role across the backline to pump out the bigger totals. Unfortunately, Garrick's only freed up to do that when McPharlin is wrestling the opposition's goal-hungry gorilla, and, to a lesser extent, Michael Johnson is available to keep the next tall quiet. If Ibbo's not playing that third stopper role, he's forced to play a much more accountable brand of footy – choking his most potent supply of fantasy points… The Mark.
As you can see, in Ibbo's best DT year, his scoring was heavily handcuffed to the amount of marks he was able to accumulate. This is definitely not the norm for an AFL player; possessions usually dictate the flow of fantasy points, not marks (see Ablett's 2014 graphs below), a statistic that is much harder to come by in the AFL battlefield.
This is not necessarily a bad thing – he can easily prove to be a marking fiend again in 2015 – but it does highlight a significant Kryptonite in his DT game. It just takes one injury to a McPharlin or a Johnson, and Ibbo's stuck in a back pocket, super-glued to his man, left begging for a lick of the leather.
Deck of DT Rating.
QUEEN – Ibbo is a low risk option at D4 or so this year, but his upside is capped unless he hits the sweet spot in a structural perfect storm, just like in his break-out 2013 year. If you're looking for a steady earner and aren't set on bagging a bargain Premium pick (like, say, David Swallow circa 2014), then Garrick is your man.
PS. Based on Ibbotson's 2013 data and the resulting line of best fit, an average of 6 marks has him hitting 76 DT per game, my predicted output. If you think he can reach 8 marks an outing, then the numbers say a 90-point average is within reach! Food for thought.
Loading ...
FOLLOW ME ON TWITTER: @Tbetta9 for all your AFL Fantasy banter requirements! While you're there, if you've got something to say about the deck, use the hashtag: #DeckofDT.