BBL Fantasy 2014/15 – Trade Period 7
It's in games like the Heat vs. Renegades that you really learn to appreciate when your captain gets off the mark.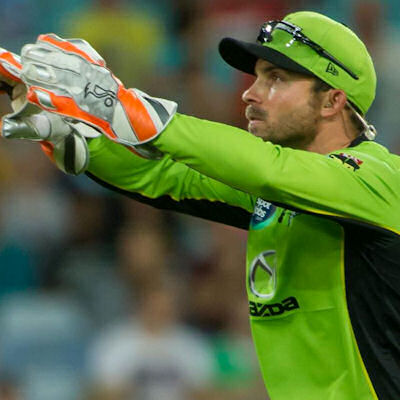 It's in games like the Heat vs. Renegades that you really learn to appreciate when your captain gets off the mark. Cheers Dan. When Chris Lynn chipped one back to Al Hasan, it was the first time I was actually happy to have a duck, because it meant the multitude of people who captained him copped a -40. I was ecstatic.
Apart from him, Laughlin, Simmons and Dan Christian (<3), there wasn't a huge amount to cheer for this round. I struggled to a par (I think) score of 637 but gained about 100 rankings places to around 220. Others weren't so lucky. One unlucky bloke in my league had a grand total of -6 halfway through the round. Ouch.
The BBL Ladder is finally taking shape
Apart from the Scorchers and Strikers, we haven't been sure who is going to make the finals all season. Finally, we can narrow it down to a handful of scenarios, most of which can be split by the outcome of the opening game; in which the Stars play the Thunder. Bear in mind that the Hurricanes are unable to qualify at all, regardless of what occurs over the following rounds.
If the Stars win…
The Thunder are knocked out, because even if they win their last game, they'll be stranded outside the top four on seven points. The Sixers, Stars and Renegades will battle it out.
If the Thunder win…
This makes it interesting. They jump from seven to four, and all four teams (Sixers, Thunder, Stars and Renegades) have a chance. If the Thunder win both, then they're guaranteed a finals place.
It's going to be interesting as each game goes on to narrow down the possible outcomes, since if the Renegades or Thunder lose their games, they're knocked out.
Captain an Allrounder!
I've been trying to emphasise this all season in my captaincy articles over on Fantasy Cricket Galore. Allrounders simply have more opportunities to get points than players that either just bat or bowl. Occasionally a batsman will play a freak innings or a bowler will take five wickets, but that's rare and you shouldn't plan/count for/on it. Anyone that captained Botha, Ten Doeschate or Botha would be super happy! Special mention to Christian for finally pulling his finger out and Botha rewarding his owners with 127 in one game after doing sweet FA in the first.
So,as you'll see in the captains below, guys like McDonald and Kallis should be given the most consideration this round. Wright is slightly different, because even though he is listed as an allrounder, he hasn't bowled an over in the tournament this year.
Do your research!
Laziness is the number one cause of fantasy-related deaths. Face it, we've all unknowingly traded in someone who is injured/unavailable at one point or another! That was me last week. I checked the initial Australian ODI squad, but missed the news that Sandhu and Richardson were called up. Many other people also did the same thing, which means that we now have to find a replacement for them. If you can afford Bird, get him, as he's the only Stars bowler that's really 'nailed on'. Other Thunder/Stars bowlers that should play two are (in descending order of safety): Hauritz, Lalor, Beer, Nannes, Boland.
Anyway, my point: make sure you check out your players fully before trading them in, ideally as close as possible to lockout. A couple of great ways to do this are by typing their names into google news and the search bar in twitter. Those two methods should return useful and recent results.
Captains
As I've said before, I'll only be picking between Thunder and Stars players because they have two games in this round. I will also be prioritising allrounders.
1. Jacques Kallis –  Could you go with anyone else for the DGW? He opens the batting and has bowled in every single match so far. You literally couldn't want more than that. If you were going for a league victory though, or trying to gain some ground, he might not be the best option, as everyone will be giving him the armband. That's where the three options below might come in handy.
2. Jackson Bird – Bird edges out Wright for the number two slot because he can't get negative points, which is actually really nice to think about when you go to sleep at night. Bird should pick up at least three wickets, along with at least one economy bonus. That gives him a minimum of around 70, but if you add in a couple of catches and another wicket, you're suddenly over 100. Pretty tasty.
3. Luke Wright – What's better than safety? The allure of big points. And boy, does Wright have that. He's shaded KP because, while KP has been consistent, he's also been really, really slow. Run-a-ball slow, which puts him a lonnngggggg way off strike-rate bonuses. Wright only needs 20 runs, and he's made a guaranteed forty. If he stays in until the tenth over, you've got yourself around 70-80 points. He only needs to make one score like that, take a couple of catches, then reach twenty the other time, and KABOOM, you're on 150 and cracking open the champagne. I'm lining him up.
Let's Get Funky: Andrew McDonald – This one really is from left-field, but trust me. The Thunder have a real dearth of quality bowlers at the moment, which makes me think they'll use McDonald's four (because he's as experienced as they come). He has also batted at three a couple of times during the tournament. Think of him as a high-risk Kallis. One for the people who have nothing to lose.
Alright, this is the last round before the finals (and unlimited trades, yay!!!), so if you need to make up ground, this is the time to do it. Take risks on guys that you would never normally touch, i.e. Hauritz/Lalor/McDonald. Saying that, if you're happy with your position, then just make Kallis your captain and sit tight, as that's what most of your competitors will be doing.