Rory Sloane – Deck of DT 2015
With all the preseason love heading towards fellow teammate young gun Brad Crouch, we could be forgetting just how good this potential future Crow captain could be again in 2015.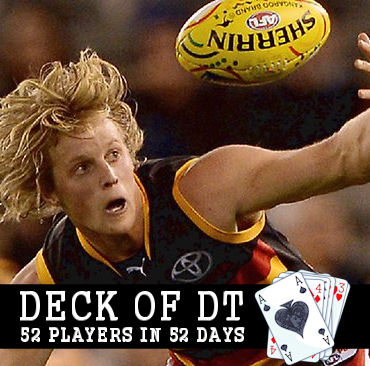 Name: Rory Sloane
Club: Adelaide Crows
Position: Midfield
AFL Fantasy: $592,000
AFL Dream Team: $590,300
Bye Round: Round 11
2014 Average: 104.59
2014 Games Played: 22
Predicted Average: 105
Click here for DT Live Profile.
Why should I pick him?
He became a premium fantasy midfield option after breaking through the 100 average last season for the first time ever.  In 2014 he was the 5th highest scorer overall in fantasy and scored 14 separate occasions over 100. A common myth about Sloane is that he doesn't have a high enough fantasy ceiling, nothing could be further from the truth. In 2014 alone he posted a 130 and 131 against the Saints, 143 against GWS and in round 20 (week 1 of fantasy finals) he was the difference in plenty of match ups with his massive 160 against the Lions.
It wasn't just towards the end of the year when he delivered good scores too, after the opening 5 rounds of 2014 he was the only player in the league to score 5 consecutive hundreds and was averaging 113.
Last year he ranked 4th for tackles (149) and 7th for inside 50's (99) in the entire AFL and if you throw in the average of 24 touches that he gets plus his average of a touch under 5 tackles a game and you've got a hard nosed midfield who rarely has a bad game. So good was Sloane's 2014 that later in the season opposition teams chose to start tagging him over Dangerfield. With the exception of a round 18 match up against Macaffer (the Darth Vader of fantasy football) these taggers were unable to negate his impact on the game.
At 24 and with an improving young midfield around him with the likes of Dangerfield and Crouch the best of Sloane is still ahead of him and as such coaches can have hope that he'll potentially even improve on his average if not maintain it. Crows new coach Phil Walsh will love having this man in his team with his team first approach and desperate willingness to win at all costs.
With highly popular premiums Pendlebury and Ablett still not back to full training and the endless arguments of how the lions midfield lines up Rory has no such question marks over his fitness or role.
Why shouldn't I pick him?
One great year doesn't make you a fantasy premium, that's just one great scoring year. Look at new Giant Ryan Griffen, one season (2013) he averaged over 100, but prior too and since then nothing… That's it. Some would call him (attack dog Griffen) a premo, even a fallen premo, but he's not, he's just had one very good season. OK, I hope you see my point. One great scoring year, doesn't mean anything unless it's backed up.
With players like teammate Brad Crouch, Luke Parker, Callan Ward, Tom Liberatore, Trent Cotchin and Dion Prestia just to name a few all cheaper and likely to score similarly, some possibly more you'd be better spending your cash elsewhere.
Deck of DT Rating.
KING – Although the Crows have a very handy opening few rounds I'll be looking to upgrade towards Sloane.  He's a great footy player and an even better bloke, I wouldn't at all be surprised if he's awarded the clubs captaincy this month. Even if he rips up the pre bye rounds and averages 110 with his round 11 bye and being priced at 105 he won't cost me much more than currently and will help you nicely in the run home. Don't mess around with your midfield premos in your starting squad, pick blokes that can be captain options regulalrly, and with only 6 scores over 115 in the past 43 games that's not security enough for me, sorry Sloane Dog.
Loading ...
FOLLOW ME ON TWITTER: @mjwant for all things AFL Fantasy (and more). Got something to say about the deck? Use the hashtag… #DeckofDT.