Beau Waters – Deck of DT 2015
Is the reward worth the risk with this oft-winged Eagle? Either way, it's going to be rough Waters for any coach that jumps on the Beau boat – will you be one of those strapping on a life jacket?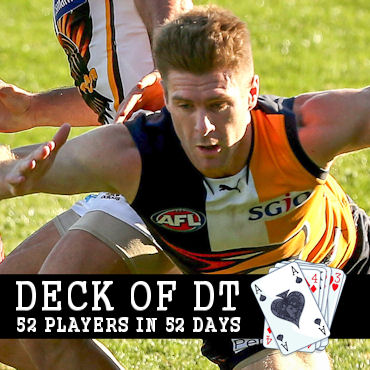 Name: Beau Waters

Club: West Coast Eagles
Position: Defender
AFL Fantasy: $344,000
AFL Dream Team: $261,700
Bye Round: 13
2014 Average: DNP (86.8 in 2013)
2014 Games Played: DNP (7 in 2013)
Predicted Average: 79
Click here for DT Live Profile.
Why should I pick him?
Beau's Dream Team prowess is well known and wide-reaching. While he was bounced all around the field, pinballed between small defender duties and awkward flanking roles in his younger days, he's carved out a beautiful little niche as a slash-and-grab backman over the past few years; when hes not cracking skulls and crash-testing spines, of course.
The mission statement is simple for Waters: float off your man, slot yourself between the kicker and the target, take a signature backpedalling grab and, most likely, butcher the ball on the rebound. It's been a winning formula for Beau, notching averaged of 87 and 92 in his past two seasons at AFL level – easily placing him in the elite bracket for a defender.
As pretty as Waters' cheap +6 combo methodology is to watch as a fantasy coach, it doesn't explain why he's currently sitting pretty in a monster 82% of DT Live Drawing Board squads. That'd be due to his hefty discounts in both competitions, priced at 60.7 in AF (30% discount) and 46.3 in DT (47% discount). Put simply, he's cheaper than a Ty Vickery ruck wrestle, and cash savvy coaches are taking advantage at D4 or beyond.
Obviously, Beau missed the entirety of the 2014 season through injury – hence the generous price tag – but he's reportedly been the leading cause of property damages out here in WA, given the ferocity at which he is training houses down. If you're one to buy into the pre-season hype machine, then the fact that Waters has "not missed a single session" yet this Summer will have you frothing at the mouth and itchy on the trigger finger.
Why shouldn't I pick him?
So this is the part where I pump out three or four paragraphs saying basically the same thing; that Waters is about as durable as soggy Weetbix.
He boasts pipes made out of stained glass – they look good, but are easily shattered. Beau's undergone multiple surgeries on his dodgy shoulder in the past 18 months, has suffered multiple serious elbow injuries, and that's just his arms – osteitis pubis, lateral ligament issues and constant calf concerns have further plagued his bill of health.
In the last 7 years, the rugged backman has suited up for 63 games, but missed a huge 91. Put another way, he's failed to reach a double-digit games tally in 6 of his 11 seasons as an Eagle. How much faith can we realistically hold in a guy who has sat on the sidelines for an entire year on THREE separate occasions (2005, '09, '14)? I honestly have more confidence in the longevity of a pair of Bali Ray Bans, which breaks my heart as a West Coast tragic.
Is it borderline crazy/idiotic to blindly cross our fingers and pray that Beau can bounce back his best and make it through the first half of the year unscathed, while his fellow teammates and coaches don't even know if he'll make an impact this year? Will Schofield labelled him a 'wildcard' in December and used language like 'hopefully' to describe Waters' situation; meanwhile, Adam Simpson confirmed, just yesterday, that Beau was "being left out of full contact drills to give him every chance to play", and went on to concede that he "won't know until the real heat of the battle" whether Waters' body is still up to the rigours of AFL footy.
At the end of the day, can you honestly see Waters getting through the first 12 rounds (ideal for upgrading him prior to the Eagles' R13 bye) unscathed? If not, and I have grave doubts obviously, then you're already sacrificing one of your precious trades before the show has even started. I understand that plugging Beau into your backline helps structurally and provides salary cap relief, but I'd be looking at someone like Ricky Henderson ($330k-ish) as an alternative if you're dead-set on a discounted defender. At least he has a realistic chance of making it through the year.
Deck of DT Rating.
JACK – When it comes to Waters, I'm not even worrying about scoring ability, fixture, role, etc. It's all about durability – if he gets on the park, he'll smash his early Break Evens and churn out a tidy little average for his initial price tag. However, that's one mighty 'if'.
In the interest of keeping objective, I will point on that the last time Waters sat out a year on the sidelines, he bounced back with a 87.5 avg in to be one of the picks of the 2010 season. Then, having missed more than half of 2011, Beau countered with a monster 91.6 avg from 19 games the following year. His track record with bounce-back seasons is pristine, and even I can't deny that it's a legitimate source of optimism for his 2015 chances.
At the end of the day, it comes down to the age-old question: does the tantalising reward outweigh the significant risk in this case?
We'll be tracking his progress closely over the course of the NAB Cup, but I have a feeling that the tipping point might sit between his pricing in the competing fantasy footy providers. Valued at just a 46-point average in RDT, he's almost impossible to ignore if he lines up for Round 1 – but priced at a significantly higher 60.7 equivalent in AF, it's worth exercising a little more caution with how you're throwing your cash around.
Loading ...
FOLLOW ME ON TWITTER: @Tbetta9 for all your AFL Fantasy banter requirements! While you're there, if you've got something to say about the deck, use the hashtag: #DeckofDT.