Tom Liberatore – Deck of DT 2015
Will Libba thrive as the #1 midfielder at the Kennel? McRath takes a look at whether the Bulldog will be among the Fantasy elite in 2015.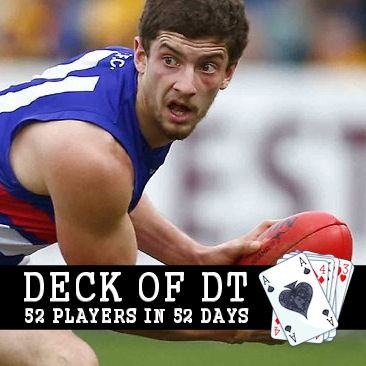 Name: Tom 'Libba' Liberatore
Club: Western Bulldogs
Position: Midfielder
AFL Fantasy: $559,000
AFL Dream Team: $557,000
Bye Round: 11
2014 Average: 98.68
2014 Games Played: 22
Predicted Average: 106
Click here for DT Live profile.
Given my circumstantial lack of presence in writing circles throughout 2014, I thought I'd change it up a little for my Deck of DT Articles in the format of my much-loved baby – The Numbers. So here goes.
Why should I pick him?
22 – 2014 saw young 'Libba' establish himself as one of comp's elite young players, who at just 22 years of age netted 173 tackles & 154 clearances from all 22 games – the most of any player in the league across both categories, and fantasy gold for his owners.
1 – 2014 saw Tom earn his first Charles Sutton Medal last season for being the #1 player and Best & Fairest at the Dogs – far and away the best for the year. He was subsequently shortlisted for the AA side, only to miss out on the final team – stuck behind other gun midfielders Boak, Rockliff, Lewis and Kennedy. No doubt 2015 will see him try to eclipse a few of these guys and nab an AA Blazer for himself. With just 4% of Fantasy coaches currently on board, you'll be one of the few who have faith that he will do the same – both for your team and in the AFL.
120 – To illustrate his fantasy potential, the young bull went on a hot streak from rounds 6-14 – scoring 7 straight hundreds for an avg of 120 points. He is a big-time fantasy accumulator and loves to tackle more than anything, totaling 10 or more on no less than 7 occasions! Durable and consistent, he has now played every game over the last two seasons at averages of 97.2 and 98.6. 2015 is the year he takes it to the next level.
7 – Finally, the wildcard: Griffen is no longer at the Kennel. This means more responsibility for the young Dogs left behind, but also more points up for grabs. Sure, he is now the Dogs' #1 midfielder and will receive more attention. But heading into his 5th preseason, Tom is coming into his prime as a footballer so will learn to deal with it very quickly after getting a taste of it in 2014. Compare his year to that of Geelong champion Joel Selwood.
Sure he'll cop a hard tag and get beaten once in a while – but with his high tackle count and elite defensive work, Libba will still net you a handy score even on a poor day. Last season, he only had 4 x scores below 80 (identical to Joel Selwood). So all he needs to do is turn some of those mid-range scores into hundreds and he'll easily bridge the 7-point gap between his 2014 average and my projected 106-pts for 2015.
Why shouldn't I pick him?
11 – There will always be a crunch when it comes to midfield selection, a place where most of our points will come from. Whilst the Round 12 Bye arguably has more saturation in terms of midfield guns missing, Round 11 sees Libba share his week off with some very popular options in Rockliff, Beams and Cotchin – not to mention DPP players Hodge, Martin and Deledio. So if you're looking at more than a few of these guys, it might be tough to squeeze in the young Bulldog if you're being wary of the bye rounds (which you should).
559 – Money: it's what it all comes down to in the end. Can you afford to shell out over $550k for a kid who hasn't averaged over 100 yet in his career? Having the cojones to pick the guy who breaks into the elite bracket for the first time is a big move. So it will come down to whether or not you believe in the young pup. With most squads likely to only have one spot free for a guy in that $550-600k range, it may come down to a face-off between him and a Toby Greene, Luke Parker or Nat Fyfe. Will Libba still come out on top?
90 – One of the few negatives in Tom's year was that it reflected a clear bell curve in his scores. His previously mentioned hot streak was bookended by both a first-five-round average and last-six-round average of less than 90. This is a direct contrast to his 2013 season, whereby he started off in a flyer then hit a rough patch mid-season, only to fly home.  As a fantasy coach, you want your blue-chip players scoring hundreds from day one and being consistent. So can this 22 year old find that level of consistency in his fifth year of AFL footy? We'll soon find out.
Deck of DT Rating.
KING – Most signs indicate that Libba is set for a big jump in productivity in 2015. However, he will have to deal with added pressure given he is now the undisputed #1 midfielder at the Kennel. But cometh the hour, cometh Tom Liberatore – if there's one guy that can elevate himself to the game's fantasy elite in 2015, it's this guy. Do you believe?
Loading ...
FOLLOW ME ON TWITTER: @McRathDT for my honest and unbridled opinions on AFL Fantasy. Let's get the deck discussion going, using the hashtag #DeckofDT