The Never Again List
We all know it. We've all used it. We've all ignored it and been burned one more time. The 'Never Again' List.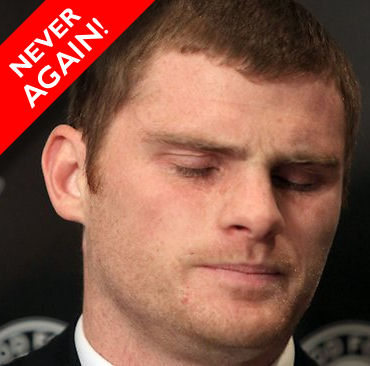 We all know it,
We've all used it,
We've all ignored it and been burned one more time,
The 'Never Again' List.
For those more normal people who haven't heard of this, the never again list is usually comprised of players that have scored consistently poorly whenever they are in your team, or the players that are seemingly always injured whenever you trade them in. The worst part about the list is that these players all have the potential to be top scorers which is usually part of the pain, you bring them in expecting big things and you get filth over and over again.
Before we look at a few 'candidates' for 2015, let's look at some hall of famers.
Shaun Higgins: The man known for his ability to break like wet toilet paper has found himself on many a never again lists. Higgins seems to start every season full of potential and hype before succumbing to injury after a good game or two (to sucker you all in). Now he is at a new club but I still wouldn't touch him with a one meter ruler.
Heath Shaw: In the era before reversing trades, we all remember 'that day' when Heath Shaw was the hottest player to trade in before a betting scandal and an eight week suspension left him sitting on your bench the week of trading him in. Oh and there are MANY are other examples I could give you as to why Shaw is on my never against list but I'd rather not get angry right now, so let's move on.
David Hille: 2009, top of the table clash in my league. I'm in control after an excellent Friday night game. I'm sitting back, ready to watch the Anzac Day match. The ball bounces and two minutes later Hille is off the ground injured with a score of zero. I would go on to lose that match by 30 points. Kind of left a bad taste in my mouth.
Beau Waters: IS HE EVER NOT INJURED? Like Higgins, I just cannot trust a player who is constantly injured, no matter how tempting his price is.
Without further ranting, let's look at a few new players to consider. Now, there aren't many players worth adding to the list but there are a few players that I won't be touching early on in 2015.
Patrick Dangerfield: This one has a large asterisk next to it. I'm not saying I'll never bring Dangerfield in again but I am certainly never starting the season with him again. He is the perennial break out player. Every year he is touted as taking the next step and becoming that 110 averaging player but every year we get injuries and inconsistent scoring. In 2013 I started with Dangerfield in my midfield and held him through scores of 70 and 50 before trading him out at the end of round 5. Dangerfield (possibly in spite of me) proceeded to score back to back 140's. Now, this is my stupidity that cost me these scores but its incidents like that that add a player to a never again list.
Colin Sylvia: Once upon a time, Colin Sylvia was a player who was scoring well, getting games and looking like a player that could break into the elite category. Those days are seemingly over but for his ability to get injured or dropped at the wrong time he still finds himself in this category.
Scott Selwood: After averaging 108 in 2013, many thought it was safe to start Selwood in their sides in 2014. However, it was a year from hell for Scooter. He averaged 81 and had to deal with quite a few injuries. Who knows, if he's fit he might be able to rekindle his form from 2013 but I think he's scared quite a few people off (especially Calvin).
Grant Birchall: Birchall has always been a consistent scorer and in a time where choosing the premiums in your backline is difficult, he may be the player you go to. Birchall is a guy I want to wait and see with. Last year, Birchall went 12 straight rounds without scoring 100 and after that one score of 100, he backed it up with 59.  This is because teams figured out how to negate him. For that reason, I'm going to steer clear of Birchall for the first few rounds.
Marc Murphy: Murphy is one of those players that is elite in almost every way, except for his ability to deal with tags. The year where he burnt a lot of people was 2013. After starting the year in blistering fashion scoring five hundreds in six games, Murphy dropped right off and ended up averaging 85 for the year. In fairness to Marc, 2013 was not his year. He suffered a knee injury early in the season which hampered him and then Luke Hodge proceeded to break his jaw in round 12 in a totally fair and legal bump. However, his scoring that year burnt a lot of people (especially Calvin). Murphy is once again priced in the top tier of players after a decent 2014 but if you look at the players priced around him, he's probably not going to be your first choice and I think 2013 has a lot to do with that.
Thankfully 2014 didn't bring many new additions to the list and those listed above are really only players I won't be starting with due to previous experiences.
There are also players who escape the never again list. Guys like Robbie Gray who people swore they'd never touch again, are now almost first picked in your side. So, if you're on this list remember that you can change! There is hope for you! Except for you Heath Shaw, never… again…