Daniel Rich – Deck of DT 2015
The Brisbane Lion has received a massive discount for this year and Roy think you should slot him into your midfield this year.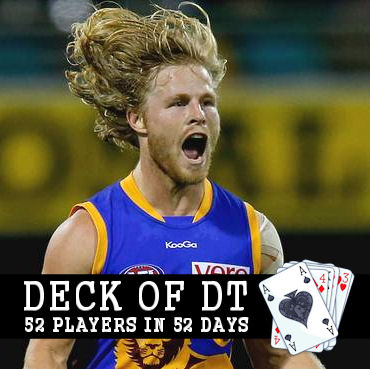 Name: Daniel Rich
Club: Brisbane
Position: Midfielder
AFL Fantasy: $268,000
AFL Dream Team: $270,900
Bye Round: 11
2014 Average: 60
2014 Games Played: 3
Predicted Average: 85
Click here for DT Live profile.
Why should I pick him?
Although the former Rising Star winner has never been considered a premium Fantasy player, he has shown to be very capable with averages of 81and 85 in 2010 and 2011 respectively.
Basically due to unfortunate (for Rich) circumstances, namely a slow start and a season ending knee injury in round 3 last year, we are now presented with a bargain that can't be passed up.
Rich is obviously best 22 at the Lions, and highly regarded by coach Justin Leppitsch who seems to take a liking to using Rich as a quarterback off half back, while also pinch hitting him through the middle. In the highly improved Lions line-up, it sounds like the kind of role that could see him record a personal best average if he can start the season 100%.
He is a proven player that is priced at about half of what he will average, not to mention he is starting the season cheaper than the top draft picks.
Rich is one of the few cheap players that does not have VEST written all over him.
Why shouldn't I pick him?
In 2013, Rich's Fantasy output was less than inspiring, averaging just 67 from 16 games. After such a good season in 2012, Rich was tagged in over 10 of his games and his scoring output reflected an inability to perform to his potential with the added attention.
The first two games of 2014, Rich avoided the tag but was still uninspiring with just 19 and 20 possessions resulting in scores 63 and 71, lacking the output you would expect of a player with his talent.
Rich has not played a full season since 2010, leaving question marks about his durability.
With the influx of midfielders moving to the Lions, the return of Jack Redden and the emergence of Pearce Hanley, Rich will see less midfield time than he has in the past.
Deck of DT Rating.
Queen – At that price, it is an easy choice, Rich is a must have (So arguably an ACE). He is a guaranteed Cash Cow that comes without the "risk of the unknown" we get with rookies. In fact, I think with the Lions making a significant improvement this year, and Rich falling so far down the 'tag' line that opposition teams may even forget to make a magnet for him, he will flourish. The Lions like to play high possession footy under Leppa, and Leppa like the ball in Rich's hands.
Loading ...
FOLLOW ME ON TWITTER: @RoyDT for all thing AFL Fantasy (and more). Got something to say about the deck? Use the hashtag… #DeckofDT.