Nathan Jones – Deck of DT 2015
Melbourne's leader and workhorse doesn't come up in Fantasy conversations too often but he is one of the most intriguing prospects in the deck thus far.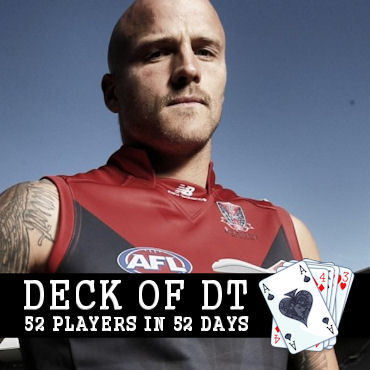 Name: Nathan Jones

Club: Melbourne Demons
Position: Midfield
AFL Fantasy: $572,000
AFL Dream Team: $570,100
Bye Round: Round 13
2014 Average: 101
2014 Games Played: 22
Predicted Average: 106
Click here for DT Live Profile
Why should I pick him?
If you're looking for Mr. Reliable in AFL Fantasy next season, consider Nathan Jones. The shiny headed, Melbourne captain is guaranteed to go to battle for you each week, doing his utmost to win the ball, stop the opposition and ultimately, help your Fantasy team succeed. In 2014, Jones finished in the Top 10 for disposals per game, total clearances and total Fantasy points! At 27 years of age, he's at the peak of his powers yet I bet he's not even on your watchlist!? Here are the facts…
Let's start with durability. Jones played all 22 games last year; in fact, he has played 20+ games for the last 8 straight seasons and no recent surfing mishap will stop that trend from continuing. Not having to waste trades on premium players due to injury or suspension will allow you to focus on improving your side sooner rather than later! This is a big plus.
Untaggable? Almost. The best midfielders at each club cop a heavy tag from the opposition each week but surprisingly Jones escapes the attention more often than not. The inspirational leader was tagged only 8 times last season thanks largely to new teammate Bernie Vince and well, because many clubs choose to go head to head against an inexperienced Melbourne midfield. Consequently, Jones had just 4 scores below 90 last season and I don't see any reason why such a trend won't continue this year.
Given that many Fantasy enthusiasts are set to pass on Jones in 2015, he'll be a unique point of difference in those all-important head to head league battles. The Dees have a very decent draw and given his role at Melbourne around the stoppages, there will plenty of smiles from the coaches willing to give him a go. Don't ignore the underrated!
Why shouldn't I pick him?
It's not often Jones gives us a score for the ages. He surpassed 120 only three times in 2014 hence why he doesn't really catch the attention of the Fantasy community. Not being a regular marker of the footy or goal kicker limits how big he can go and with few high scores, the affect on his owners when he has a stinker hurts hard! Not having a large ceiling isn't ideal but it's not a deal breaker given he still averaged 100+ last season.
I can't help to imagine how Fantasy relevant Jones would be if he played for a Hawthorn, Geelong or Sydney. No help from his young teammates at Melbourne means he has to win the ball on his own account. Very rarely does Jones get any 'free' outside possessions thus when the opposition midfield dominates, he is likely to score below par.
With Jones up against it most weeks, coaches will pay a large premium with very little guarantee. It's a massive risk! Picking Watson or Selwood for a little more coin will allow you to sleep easier given that both are proven premiums. So who likes to take a big punt? You don't get ahead in this game without making a few different selections but if Jones fails in the first few rounds, owners will lose you a fortune.
Deck of DT Rating
KING. He just misses the Ace rating. Jones is a consistent scorer and there's no doubt that he will finish this season with a very healthy, three figure average but he rarely goes on with it…a bit like Chris Rogers at the crease for Australia. I do feel however that this will be the year where he takes a significant step towards becoming one of the elite players of the AFL. He's too important to the Melbourne midfield to be rested forward thus the opportunity to win the ball will always be there. A risky pick and agonising decision. Personally, I think he is worth a start in my AFL Fantasy side however, with limited trades I won't be starting him in AFL Dreamteam. All in all, it's prudent for coaches to keep a close eye on Jones for the remainder of the preseason.
Loading ...
FOLLOW ME ON TWITTER: @JeppaDT for all things AFL Fantasy (and more). Got something to say about the deck? Use the hashtag… #DeckofDT.