Dale 'Daisy' Thomas – Deck of DT 2015
Dale Thomas is back in 2015 as a FWD/MID and McRath takes a look at why we should or shouldn't pick him… using numbers!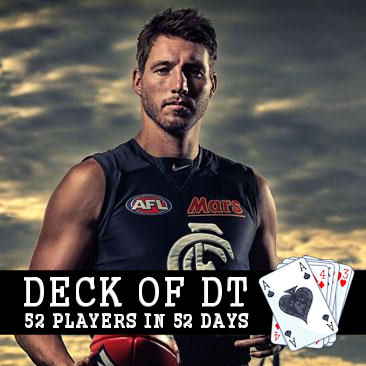 Name: Dale 'Daisy' Thomas

Club: Carlton
Position: Forward/Midfielder (DPP)
AFL Fantasy: $429,000
AFL Dream Team: $427,300
Bye Round: 11
2014 Average: 75.7
2014 Games Played: 20
Predicted Average: 88
Click here for DT Live profile.
Given my mysterious lack of presence in writing circles throughout 2014, I thought I'd change it up a little upon with my 2015 debut, and write my dose of Deck of DT Articles in the format of my much-loved baby – The Numbers. So here goes.
Why should I pick him?
20 – Coming off an injury-riddled final year at the Pies, Daisy was written off by most in the industry before his career at Carlton had even begun. Many projected that he would hardly play more than a handful of games in 2014 following his serious ankle injury that marred his 2013 season. Looking back, history will show that he smashed his critics to play almost a full season – 20 games – and had a reasonable impact (under the circumstances) for an injury-hit Blues outfit as he warmed into the season. With the likes of Marc Murphy, reigning B&F winner Bryce Gibbs and a fit-again Chris Judd roaming the MCG in Navy Blue, opposition teams will skirmish over who to target with the tag, leaving Daisy ample opportunity to fly under the radar and return to his best.
35 – Average percentage of time Daisy spent in the midfield across 2014. Before you start thinking that's a bad thing, consider this. Last season he was played around the ground a lot more, not because of a long-term positional change, but because he was being eased into the game and team structures as his running was monitored. Compare this to 2012 when he spent double that time – 70% – in the midfield. Now, all reports from preseason training say that he's running better than he has in a long time; and has regained that magic footwork and confidence that saw him regarded as one of the best in the game in 2011 – a season that saw him average 103 points per game. So with his fitness and running ability seemingly back to where it was, he should be set for considerably more minutes in the midfield this season – of which, will see his fantasy output skyrocket.
4.2 – With stats over at DT Live showing as low as 4.2% current ownership, Thomas is surprisingly unique at this point of the preseason. With similarly-priced players in Christensen (10.6), Wingard (5.5), Kelly (26.5) and Ziebell (14.5) all boasting more popularity – Daisy presents as somewhat of a POD and is going reasonably unnoticed at the start of the New Year. Warning: This is sure to grow in the months following, so why not jump on board now?!
Sidenote: Dale Thomas = DT = Dream Team. The guy was literally bred for this game! You can also see my 2014 Deck article of Daisy here.
Why shouldn't I pick him?
2 – One thing we want from our players when we invest in them for the year is durability. Sadly, Daisy has only played out a full season twice in his nine-year career – the last time being 2010. Take this into consideration when mounting expectation for the Blues' #39.
6 – 2015 has brought us A LOT of competition in the forward line, with a myriad of both tantalizing mid-price players in the same range (see above) and oh-so-many gun players at the top-end who must be considered (Goddard, Lids, Swan). Fantasy coaches face several tough decisions at the selection table with only 6 starting positions in this area of the field, so is there room to fit Thomas into your starting lineup?
3 – Despite playing a positive 20 games last season, the former flyer still only cracked the ton three times in 2014; whilst he had 8 x sub-70 scores, struggling to make the impact some were hoping for. The question must be asked, are his days of consistent premium scoring done and dusted?
Deck of DT Rating.
KING – With nothing in his way, Daisy is set to line up full fit in R1 for the first time in a few years; and I foresee a return to his former fantasy dominance – close to (or around) that of his 2012 return that saw him average in the early-90's. However a lot can still happen, and with the multitude of fantasy forward options this year – Daisy is one that will divide. Me? I'm on board. What about you?
Loading ...
FOLLOW ME ON TWITTER: @McRathDT for my honest and unbridled opinions on AFL Fantasy. Let's get the deck discussion going, using the hashtag #DeckofDT