BBL Fantasy 2014/15 – Trade Period 5
We head into round six of BBL04 and the 'Canes have the double. Here's Zeus' trade period article.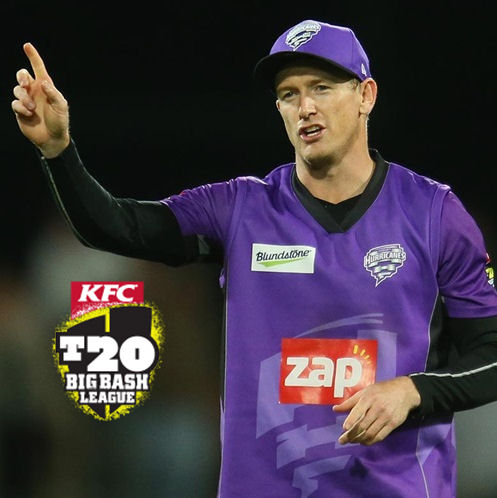 There's a moment in every season of any cricket fantasy game where you think (or shout) one of the following:
'Crap! *throw tv remote* Why did I pick him?'
'The player that I swapped out of my team with ten minutes to go gets a century, five wickets and a catch while my guy gets a third ball duck? Yeah, about right.' *Sigh and stare at wall for the next ten minutes contemplating whether to call time on your fantasy career*
'Get. A. F*cking. Wicket. You. Inbred. Son-of-a-bitch.'
*Before game, sitting on couch with beer in hand*: 'Yesssss, my boy's in at three, tonight might just be the night!'. *First wicket falls in the nineteenth over , after which your player walks in and promptly gets bowled by a toe (and hope)-crushing yorker* 'F*ck' *Goes on an unintelligible swearing rant*
'Are you f*cking serious?'
'Why is he not playing?' *Madly refresh browser to see if a mistake has been made with team selection*
'I'm forty, bowl medium and bat at ten for my D-grade side, but even I know not to f*cking flash at a good length ball outside off-stump you f*ckwit, Klinger!'
'I HATE THIS GAME!'
This round was my moment. I have serious beef with Klinger after giving him the armband, am pissed off that Mennie didn't play (I had cover, but he was part of my plan for this week's DGW), I feel like breaking Christian's other thumb and hitting Craig Simmons because he didn't get a third over, Carberry and Voges selfishly got all the runs and to top it off, Luke Wright gets a golden duck. I limped to a sub-par score of 496. It's not my worst score ever, and in reality, isn't even that bad. It's just annoying because it could have been so much better, which leads me to my first point…
Don't beat yourself up over 50/50 calls that will inevitably backfire. 
No, really. Don't. Shit happens, and there's nothing you can do to stop it. Sometimes I feel like I have a curse, but I'm comforted by the fact that the other 6192 owners of Luke Wright probably feel the same way. Any fantasy game is full of borderline calls, but I don't think any others punish you for making a right choice like cricket.
You did just read that correctly. I did say 'right', because it's true. Based on the available facts and statistics, you'll make the correct call on paper 95% of the time. The frustrating thing is, it never works out like that. It's almost as if there's a script-writing committee employed by the BBL to f*ck with us all in every and any way possible.
A recent example occured in the game between the Renegades and Hurricanes. Al Hasan and Stokes were added to the fantasy game. If I wanted to get one of them in, I would've gone with Al Hasan. If you've followed the game enough, it's a no-brainer. You probably would've thought that Stokes will bat down the order while Shakib will bat high and bowl a definite four. But noooooooo. Stokes comes in at first drop and smashes them everywhere! The emotional rollercoaster then reached a low point when Shakib went before twenty. Luckily, he bowled fairly well and picked up a couple, but it was still a fair way off of Stokes.
Make a couple of those unlucky calls and you're 150-200 points in the hole, while your mate (who picks his players based on their jersey colour) is rocketing along. How does mediocrity feel, champ?
Plan out your trades
There five (yes, five) double gameweeks (DGW's) and byes to come in the next three rounds. To finish as high as possible, you want to buy as many DGW players as you can. Keep in mind, however, that you shouldn't compromise on established fantasy principles by doing so. You don't want to be copping donuts, because a non-player and a double player evens out and then you've made a trade for nothing.
Who you're trading out for the DGW player is almost as important as who you're trading in. For example, if you were a Scorchers fan and you had a choice between trading out Klinger, Hussey and Simmons, don't be fooled into trading Huss or Simmo because 'Klinger's a legend'. Simmo bowls and has a DGW coming up. Huss is fairly consistent (Klinger usually is too, to be fair) while Klinger has a bye with no more DGW's. Laying it out on paper can help you see things more clearly.
By plan, I also mean a couple of rounds in advance. I've planned mine out through to round eight. Yes, injuries and selection issues will probably strike, but if you've put a bit of work into selecting secure players, it shouldn't be too much of an issue. By doing this, it forces you to think long-term and you can avoid going into the last round with three zeroes because you didn't realise how many Heat players you had.
Beware of trading in players after massive scores.
'If I could avoid a single stock, it would be the hottest stock in the hottest industry, the one that gets the most favourable publicity, the one that every investor hears about in the car pool or on the commuter train – and succumbing to the social pressure, often buys.' 
– Peter Lynch in "One up on Wall Street"
Peter Lynch probably knows nothing about fantasy cricket. But he knows a hell of a lot about stocks, and that's close enough. For me, that quote pretty much sums up my approach to this game. Basically, if you replace the word 'stock' with 'player', 'industry' with 'team', and 'investor' with 'fantasy coach', you get this:
'If I could avoid a single player, it would be the hottest player in the hottest team, the one that gets the most favourable publicity, the one that every fantasy coach hears about in the car pool or on the commuter train – and succumbing to the social pressure, often buys'. 
I'm going to go so far as to say that you should print that quote out and stick it on your fridge/toilet door. It THE guiding principle of this game. We as humans have a herd mentality and an aversion to risk, two things that are extremely damaging when it comes to any kind of investing. We see the price rising and the facebook posts from Fox Sports proclaiming a player, and we buy in, even though it's pretty much the exact time we should be selling! How many times has a guy got back to back good scores this season? I can only think of two, and that's Michael Klinger in his first two games and Jason Behrendorff. Others have posted multiple big scores, but they've been sandwiched between mediocrity. Look at Kallis: 140+, low score, low score, 140+. I guarantee you most owners would've quickly gotten off after his second failure; just as quickly as they got on after his first.
Conversely, we avoid the player who's had a string of low scores and is at a discounted price, even if he's previously done extremely well in the format. I mentioned getting Alex Hales in after his price fall, and I got looked at like I was crazy! If you did, you would've got an average of 30+, which certainly isn't terrible and is a hell of a lot better than some other blokes! Robin Uthappa is a classic example in the IPL earlier this year. He and Kolkata were failing horribly in the tournament before he went on a run of ten (yes, ten!) consecutive forty plus scores. By the end of the run, everyone was on, but the real value (in terms of points and price) was at the start. People only bought in after they saw the third or fourth fifty and thought it was 'safe'. I however, bought him in at his heavily discounted price knowing that he's a good player and those early points pushed me to a top ten finish. I'm not trying to be arrogant, merely showing you a real-life example, that these gold-mines are actually out there. Jason Behrendorff was another one. If you've watched him from year to year, he's been steadily improving. I warned people that this would be his breakout season, and not to miss out (actually on this very website) but yet most teams I saw didn't have him in for the DGW! They got him afterwards, sure, but by the time that happened, they were 150+ points in the red.
In summary:
Don't get a bloke in after one good score if you know he's usually a bad player (Peter Forrest is a prime example). 
Don't be afraid of trading a guy in after a run of single figure scores if his vitals are good i.e Alex Hales. Luck changes. 
Captains
I've been in okay form picking captains over at Fantasy Cricket Galore (FCG), so hopefully I can carry it over.
My top three:
Ben Dunk – He's fallen off a bit after his breakout season last year, but Dunk is almost a must-have for the DGW. He opens the batting and may keep. Please get him in.
Cameron Boyce – Boyce hasn't exactly shown what he's capable of this season, which makes me feel sorry for his upcoming opponents. A class act, he's sure to start turning it on, and boy, watch out when he does. His name has been mentioned a couple of times for the World Cup squad, something that's sure to spur him on. You guys might have your first gold mine!
Jon Wells – I'm not exactly sure when Bailey and Hales leave for the ODI series, but I'm pretty sure that it's soon. If so, Wells is the biggest candidate for a move up the order, and that can only mean one thing: more runs.*
*Note: If Bailey is assured of playing the two games, then I'd have him in ahead of Wells at three.
Let's Get Funky (LGF): 
Tim Paine – 55 off of 25 is nothing to be scoffed at, but Tim is one of those cricketers that I think is slightly over-valued by the general public. Yes, he's extremely talented, but so are a lot of cricketers. That's not enough. He hasn't done anything in the past to really grab the attention of the selectors, and that's continued in this tournament right up until last match. If he can improve his consistency, he could be a nice POD this round.
Alright! Thanks for reading guys, and good luck for the next round! Make sure you head on over to Cricket Galore to check out roundly articles like 'trade talk' and 'POD watch'.
Cheers!