Trent Cotchin – Deck of DT 2015
There's plenty of upside for the mega consistent captain of Richmond.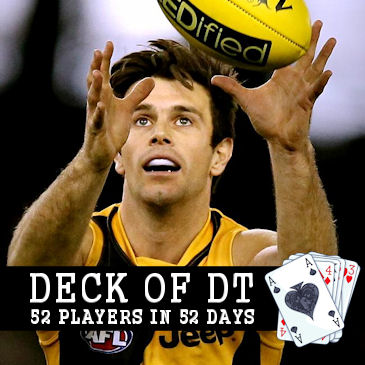 Name: Trent Cotchin
Club: Richmond
Position: Mid
AFL Fantasy: $571,000
AFL Dream Team: $569,300
Bye Round: 11
2014 Average: 100.9
2014 Games Played: 22
Predicted Average: 106
Click here for DT Live profile.
Why should I pick him?
There's plenty of upside to Cotch. Firstly, he's actually pretty consistent. He notched up 13 tons last year, only bettered by last seasons top 5 scorers and Priddis. Compared to his competitors in that second price bracket, he's fairly reliable. Also consider that he has the ability to go big, posting 4 scores of 137 or above over the past 2 seasons.
I can't get by without mentioning 'that 2012' season, where he smashed out an average of 110.7. This included a run home of 10 games not dropping under the ton, averaging 119.1 in the process. The guy knows how to score big and score consistently.
There's also the factor of age. If you like to build a team of players with a heap of upside then Cotch fits that category, turning 25. With Richmond in need of a big season and the captaincy duties now more natural to him, Cotchin seems ready to breakthrough for a massive season. We already know he's capable of producing much more than his price suggests.
Lastly and most importantly, he's durable. He has missed just 1 game over the past 4 seasons! When selecting our premiums, durability is hugely underrated. A player may average 110, but if you include a couple of emergency scores and an extra trade or two, suddenly the difference between the pair significantly shortens. If he can push that average up over 105, which there is a huge chance he can, Cotchin will prove to be an invaluable addition to your line-up. If he can go even better which we know he can, he will become a lock. When all else crumbles around him, Cotch will always be there to give your round some hope.
Why shouldn't I pick him?
I'm touch and go as to whether I will select Cotchin. Touch. And. Go. Whatever, the point is whenever you say Cotchin in a fantasy relevant sentence, the word tag should always be associated. After that delicious season in 2012, he has averaged 94.3 in 2013 and 100.9 last season. Those numbers aren't exactly suggesting he is about to become an uber premium over night. The reason for this drop off in numbers is the extra attention he is receiving from opposition, especially considering he hasn't fully developed as a footballer yet. He's only 24 after all! You'd be selecting him in the expectation that he can push that average closer to 110, which is a huge ask looking at his numbers.
Over the past 2 seasons (43 games) he has gone over 121 just 5 times. By comparison, he has gone below 80 a whopping 10 times. That really should be the other way around. If he is to turn himself from the panadol drainer into the premium we all want him to be, he has to cut out those horror scores. That will come with age and experience, it's anybody's guess as to whether that will happen this season.
Having dug through a lot of his stats, there was one area that really stood out to me. Tackling is not his strong point, which is exactly why he is so prone to the odd shocker. He averaged only 4.1 tackles per game last season, compared to Ablett's 6.1, Barlow's 5.1, Priddis' 7.3, Pendlebury's 5.5, Selwood's 6.0 (Forget Rocky)… I'm sure you get the point. He is losing at least 6 points per game due to his lack of tackles. It's an easy area to fix, but not something that will miraculously change because he has 'potential'. If he doesn't start tackling his way through a tight tag, he will continue to struggle. We need him to start padding his stats, think of us fantasy nuts Trent!
I'm sure many of his previous owners will have noticed a growing trend in his game. If I had a dollar for every time Cotchin was on 70+ at HT, only to end up crawling past the ton then I could buy myself a nice lunch, maybe even see a movie. He loves to burst out of the blocks, but running games out is another story. Once again that will come with age and experience. There's no doubt it will happen within the next few years, however it will be unforgiving if you pull the trigger early. If he does start to push on, look out.
Most importantly, there's huge competition for spots in midfield. With so many other premiums too tempting to leave out, finding a spot for Cotch will prove to be difficult. That's no reason to write him off however.
Deck of DT Rating.
KING. I was going to go with Queen but you know what, he has shown enough to suggest he will be a big player in Fantasy Land over the next few years. Personally I like to select players who are yet to reach their full potential, it's more exciting that way. Template squads don't end up winning! I think we can safely lock him in for an average of at least 100 this season, and there's a good shout he could do a lot better. Dusty and Ellis are beginning to attract the tags, and if Deledio returns to form then the burden will be well and truly lifted. If so, watch out. It could be the year of the Cotch.
Loading ...
Got a question? Feel free to comment below or…
FOLLOW ME ON TWITTER: @MattCraigDT and be sure to use the hashtag… #DeckofDT.