Patrick Karnezis – Deck of DT 2015
Anthony is keeping a close eye on Patty Karnezis this pre-season and he's the topic of today's Deck of DT.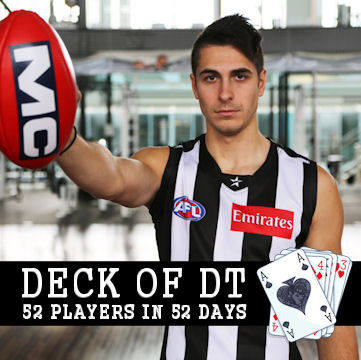 Name: Patrick Karnezis
Club: Collingwood
Position: Forward
AFL Fantasy: $197,000
AFL Dream Team: $140,200
Bye Round: Round 12
2014 Average: N/A
2014 Games Played: N/A
Predicted Average: 70
 Click here for DT Live profile.
Why should I pick him?
He's cheap and will be given every chance to play!
Karnezis was drafted by Collingwood at the end of 2013 to play a role and is in there best 22, if not 18 when fit!
Unfortunately he did not play an AFL game last year but from 13 VFL games he averaged 2.3 goals a game, playing between wing and half forward, storming home to finish the season in ripping form.
He's taken that form into this preseason and for the first time in his AFL career he hasn't missed a training session, is running Personal Best times and being used between wing and half forward in training drills.
Karnezis is coming into his 5th season in the AFL system and as a 191cm midfielder could be exactly the right size to plug a very noticeable hole in the Pies team.
With the list changes at Collingwood over the off season they have found themselves exposed in the area of experienced outside midfielders. Put bluntly, Karnezis is one of a few players who Collingwood need to perform and will given every opportunity to play. The Job Security is there to be earnt!
What this means for us as coaches is that if the stars finally line up for Karnezis then we'll nab a player who has the potential to play every game with average score in the 80's severely discounted at approx 40 points per game.
Why shouldn't I pick him?
Injury would be one of my biggest concerns here. Osteitis Pubis stopped him from playing early last year. He did tear apart the VFL impact wise when given the chance and was very close to debuting for Collingwood but then sustained a hamstring injury.
While he is now over his Osteitis Pubis, it was a hamstring injury that kept him sidelined for the majority of last season.
Also, while his VFL stats were very impressive, his scores come in purple patches as opposed to a consistent scoring effort. Meaning on occasion last year he went missing through big chunks of games.
Can also be very hit and miss with his skills at times which, while it doesn't impact his Dreamteam scores, may see him on the outer of the 22 if he can't produce early in the season.
Deck of DT Rating.
10 – Because while it's not the most valuable card on it's own, you still need a 10 to have a royal flush!
At this price I think he's too cheap to ignore. A lot of coaches will be gun shy, especially after that year Karnezis seemed to troll us all in the NAB cup before Voss decided he looked really good in Green.
In complete honesty, I'll be keeping a close eye on Karnezis this preseason and he is currently sitting in my forward line.
While researching this article I found an interesting trend in his career so far. He would tear it up at NEAFL level while playing in the midfield, only to be subbed into an AFL game then seemingly dropped after having no impact from half a game in a forward line role. This has happened on multiple occasions and I truly believe that if this kid gets given a chance to string a few games together in a running/mid type role then, well I think we will see the Karnezis who lit the 2013 NAB challenge up with a 119 DT points per 100mins performance!
But watch him closely in NAB and Karnezis could end up as your perfect F6.
Any questions or comments? Drop them below or…
FOLLOW ME ON TWITTER:  @Anthonydsmith86 and don't forget to hashtag #DeckofDT