Patrick Ryder – Deck of DT 2015
Paddy Ryder was one of the big name movers in the trade period, but has his move made him more valuable to your DT team? Or is it the rule change regarding the Ruck bench that makes him more valuable? Regardless, join me in having a look at the new Power big man.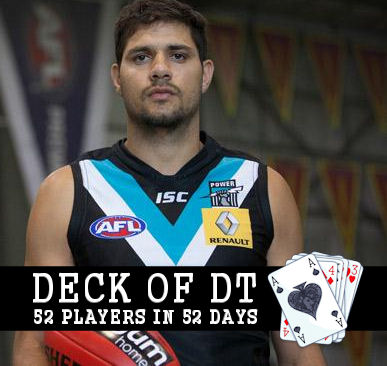 Name: Patrick Ryder
Club: Port Adelaide
Position: Forward/Ruck
AFL Fantasy: $510,400
AFL Dream Team: $500,100
Bye Round: 13
2014 Average: 88.6
2014 Games Played: 20
Predicted Average: 91
Click here for DT Live Profile.
Why should I pick him?
A change is as good as a holiday is how the saying goes, but will this be the case for Ryder?  Well he got his wish to come to Port Adelaide and Port got exactly what they needed, another key forward and back up ruckman for Lobbe.  How he will fit into the Power lineup?  Well that is anyone's guess!  Well I am here to try and guess for you!
In 2014 Ryder scored 29% of his points from hit outs and only 18 goals which was 7% of his points.  With him spending more time up forward he can certainly pick up a lot of points.  With Schulz and Ryder up forward Ryder won't always have the strongest defender so he should certainly be able to lift his goal production above 18.  His best years of goal kicking were in 2010 and 2011 where he scored 21 and 27 goals respectively.  I am expecting this to be where he is at this season as a minimum with him as more of a stay at home forward.  I am expecting him to average around 2 goals a game up from his 0.95 a game this season.  He has a 60:40 Kick to Handball ratio and with him spending more time as a key forward and less in the packs in the middle I am expecting him to kick even more.
To be honest, though the biggest reason to pick Ryder has come with the change in the setup of the game in RDT and SuperCoach.  With us now having only one player on the bench in the ruck it means that you need to make a call on how you want to use that one bench spot.  One tactic you could use would certainly help if you had Ryder.  The key here is to have two solid rucks and then have a cheap R/F on your ruck bench.  This would then allow you to swing Ryder into your ruck.  This change to the game makes him a very valuable player to have up forward.
Why shouldn't I pick him?
Making a change to his surroundings could also hurt him.  It may take him a while to adjust to the Power game plan.  It will also take a while for him to work out how to play alongside Schulz and Wingard and Gray.  This could take him a few weeks to get the hang of and could certainly hurt his points in that period.
With Ryder not being the number one ruckman at the Power this means that since 29% of his points came from hitouts you have to wonder if he can make up those points from other areas since Lobbe will shoulder the bulk of the load of ruckwork since he isn't a foward yet Ryder can play there.  For me this could be a deal breaker.
A reason to pick him was the fact he is an R/F, however he is the most expensive R/F.  You could use someone like Scott Lycett who is $100k cheaper, or better yet you could use David Hale who is $137k cheaper.  Obviously their game time will need to be monitored and how they will be used but if they are both getting good game time it may be worth using them intead of Ryder.
Deck of DT Rating.
Queen – Ryder could be one of those picks that either makes or breaks your season.  If he starts out great he could be fantastic, but if not, you could find yourself in a lot of trouble.  To be honest he isn't in calculation for my starting team at the moment.  I think there are too many unknowns about him and the way he will be used.  His price at $500k is just too high for me at this point to be used as that swinging ruckman/forward as there are far better forwards out there at that price.  But this could change after the preseason games.  Hopefully we get to see exactly how he lines up and what he can do in a Power jumper.  Keep him on your early watchlist for your team and also after a few rounds, if he drops in price sharply in those first few rounds he could be a great upgrade target from a rookie.  The one thing we do know is that he will get a game every week.
Loading ...
FOLLOW ME ON TWITTER: @pkd73 for all thing AFL Fantasy (and more). Got something to say about the deck? Use the hashtag… #DeckofDT.