Nathan Van Berlo – Deck of DT 2015
He ruptured his Achilles during training last year, and as a result missed all of 2014. He's been given a tasty discount, but is it enough to pick him?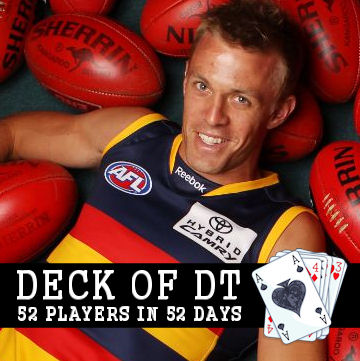 Name: Nathan Van Berlo
Club: Adelaide Crows
Position: Midfield
AFL Fantasy: $272,000
AFL Dream Team: $231,200
Bye Round: Round 11
2014 Average: N/A
2014 Games Played: N/A
Predicted Average: 65
Click here for DT Live Profile.
Why should I pick him?
How many players under $280K will you get this year that can boast previous seasonal averages of 93, 85, 83 &  81 in the past 6 seasons? One, Nathan Van Berlo. Injuries are a cruel thing in football, the slight bright side though for fantasy coaches is missing big portions of a year (or a full season in Nathan's case) mean they get nicely discounted the following season. In seasons 2011 – 2012 he played 44 games, of those games in 22 he scored 90 or more including some monsters of 143, 137, 132 and 128. Don't be worried about his injury reoccurring, already he's back in front winning all the Crows time trials. If the Crows were good enough to make finals last season Nathan would have been eligible to play, so clearly he's ready to roll. This man is an aerobic beast who for seasons has lead the Crows in all pre season running time trials and will be desperate to lead his Crows back into the finals.
Why shouldn't I pick him?
Under previous coach Brenton Sanderson the current Crows skipper was used in a negating midfield role. As such his scoring took a huge nose dive, so much so that in his past 40 outings only once has he scored 100 or above. In his most reason season of playing (2013) this was his scoring breakdown (times in brackets): 90-99 (2), 80-89 (4), 70-79 (3), 60-69 (4), 50-59 (4), 40-49 (1) and finally a 34. With a new coach comes plenty of unknowns about a teams line up, one thing is for sure NVB is competing for midfield time as a ball winner against the likes of Dangerfield, Thompson, Douglas, Crouch, Sloane and Smith. He'll make it into the Crows best 22, that's not the question. The real questions are 1) Will the pre-season reveal a cheaper midfield option capable of scoring more than NVB over the opening month? Honestly their is every chance. And 2) will he be used as a full time focussed tagger like previous seasons? If that's the case his numbers of 2013 where he averaged 68 are about right. I expect Demons new recruit Brayshaw who is $20K more expensive in AFL Fantasy and $20K cheaper in Real DreamTeam to outscore him.
Deck of DT Rating.
8 OF HEARTS – Watch the Crows pre-season carefully and check for the role of NVB. If he's used exclusively as the tagger than best too avoid. But if the Crows don't use a tagger (or someone else gets the role) then NVB could be a fast burning stepping stone to a fallen premium. Plenty of risk around him as preseason games never use taggers and as such you could get sucked in to selecting him. Be careful, even though I'm a Crows fan I'll be avoiding him.
FOLLOW ME ON TWITTER: @mjwant for all things AFL Fantasy (and more). Got something to say about the deck? Use the hashtag… #DeckofDT.