BBL Fantasy 2014/15 – Trade Period 3
It's a new year and that means all the dream team rankings restart and you get a fresh chance with your team. No? Damn, I really need one. Here's Nic's latest BBL Fantasy update.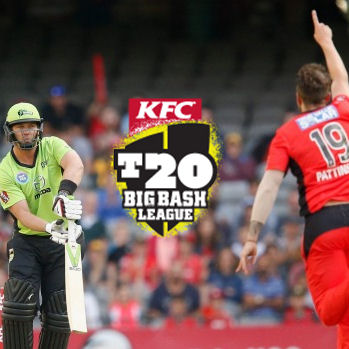 It's a new year and that means all the dream team rankings restart and you get a fresh chance with your team. No? Damn, I really need one.
But for those of you who aren't failing, here's a look at what happened in round three.
Price Changes
Most of the teams have now changed price and there were some rather large jumps. Tim Ludeman jumped from $41,000 to $72,300. Ludeman's price increased by over 70% and by comparison, imagine Dane Swan increasing by $365,000 in one price rise. There are a lot of reasons why that comparison is complete bogus, but it sounds cool.
Marcus Harris and Jonathon Wells lead the rookie priced player price increases, now sitting in the mid $50,000's. It is harder to cash in on your rookies in BBL Fantasy simply due to the lack of options available. If you want quick money, Daniel Hughes is probably the player to downgrade to but I don't recommend getting rid of Harris, Wells, Maddinson or Silk at this stage. Despite Maddinson decreasing in price this round, you have a bench player you can easily bring onto your field and you can expect him to perform. Unless you need the money, I'd hold back on the batsman downgrades.
Glenn Maxwell's $29,000 price drop was the biggest of the round. Then again, when you leave a ball on middle stump, you don't deserve to be $120,000. Internationals Pollard and Morgan also dropped significantly, mainly due to where they bat in the side. If they're going to bat at five or six, they're not going to sustain a high price tag.
Alex Hales has managed to lose price from his $59,000 and is now sitting at $45,000. I love to say I told you so, so I told you so.
International Availability
Remember that players like Dwayne Bravo and Andre Russell play their last BBL games this round. From this point forward, I'd be checking the availabilities of all your international players as you never know when one will just disappear. In saying that, Russell is in great scoring form and Bravo is one of the best in the world; you have the trades to bring players in for one round if you're so inclined.
Looking to Round Four
This week the Brisbane Heat play twice and the Sydney Sixers have the bye. It seems that very few teams actually have more than one player from the Heat and so you probably have a lot of players to choose from in terms of the double game round. Chris Lynn is the obvious choice for mine. He's hitting the ball well and he's likely to fire in at least one game this round. Ryan Duffield is a player you could choose to downgrade to as well. Dan Christian hasn't been in great form but as an all-rounder who bowls and bats every game, a large score is usually around the corner.
For your Sixers players, if you've got someone of value like Moises Henriques or Brett Lee, you should consider trading them out for this round as it might hurt your rankings if you just play a bench player. However, if you have Ashton Turner on your all-rounder bench, you probably could get away with playing him.
Nic's Captains
Aaron Finch – Finch has great form against the Stars and dominates at Etihad Stadium.
Chris Lynn – Lynn is in great form and has two opportunities to go big this round.
Ben Cutting – Again, the double game round is the reason here but Cutting's late order hitting and wicket taking ability could result in some serious points.
Luke Wright – Etihad Stadium is a road (unless you're the Sydney Thunder) and Wright could go large here.
Andre Russell – Russell's last game in the BBL and he's in a good form recently. If you have him, it's hard to go passed him this round.
Smokie: Tim Ludeman – The leading scorer in the competition is definitely worth considering.
Smokie: Dan Christian – Based solely on the double game round and his all-rounder status.
Good luck in round four!
Nic Negrepontis – @FeathertopDT